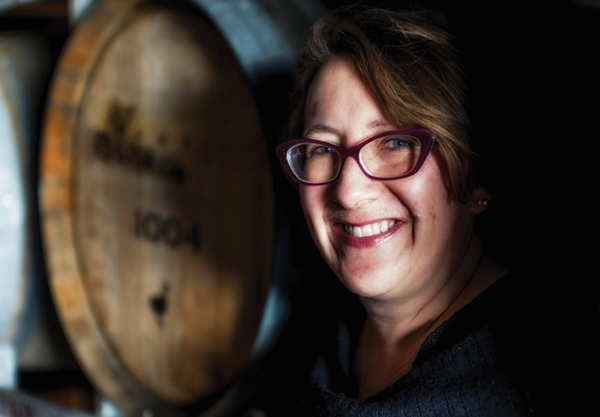 By Tracee Hutchison   Photos Yanni
Moorooduc Estate's Kate McIntyre loves wine. She loves the sensory overload of its palate and its nose, the way it plays with the light when it swirls and how it lands on the tongue. But, most of all, she loves the language of wine. To her, the finest drop makes an even finer dissertation.
"It's one of the few things in life that is equal parts science and art. The great wines in the world are as artistic as the greatest play, the best piece of music, the most beautiful painting in the world and they express themselves in that way. And they have a bit of alcohol in them so they help you relax as well!"
Yes, Kate is a wine-whisperer. And she has the wine world's most prestigious qualification to prove it. A venerable Master of Wine, that comes with an entitlement to letters at the end of her name, MW. It's also the toughest and most arduous to attain: A four-day exam. Twelve blind tastings. And a written thesis.
"When I sat it you had five chances to sit the exam in a six year period, but you have to pass either the testing or theory in the first three goes. I was on my last attempt.
"In my exam, the one I passed, I got 8 pinot noirs from different parts of the world. You need to identify grape variety, identify as closely as possible the origin of the wine and things that have happened in the wine making process."
That Kate hailed from prime pinot noir country might have helped, a wine she has handled from the vine from a very early age when her father, Richard, became one of the first to plant vines in the early 1980's, on the advice of Gary Crittenden who'd discovered the Mornington Peninsula as perfect country for grapes.
"Dad and Gary came down to the peninsula and looked around for different sites and found the original site for Dromana Estate which is now Crittenden Estate and the site for Moorooduc Estate at the same time and they both fell in love with the two sites and Dad stood in this big 20 acre empty paddock that had nothing except a dead tree and a great view and decided – yep – north-facing slope, good soil, not too good 'cos vines don't like good soil, very sandy soil and said: This is where I'm going to plant my vines.
Still in its original location, Moorooduc Estate sits in a classic peninsula setting: down an old gravel track looking out across Port Philip Bay.
"Dad and Mum bought the property in 1982 and we planted our first vines in 1983 and when I say we planted our first vines, we as a family physically planted. Dad had some cuttings from other vineyards and we all were involved in the plantings."
Now one of a handful of second-generation Mornington Peninsula wine families, the young Kate McIntyre never saw a place for herself on her Dad's 'hobby farm'.
"For a long time I thought wine was a nice thing to have in the background, it's a nice thing that Dad's doing. My great passion was languages and theatre and I thought I was going to be a playwright, theatre director and producing French theatre for all the millions of people who wanted to come and see absurdist French theatre productions in Melbourne."
Instead it was the theatre of wine that sparked Kate's real passion.
"Absolutely, I think all of that theatre training really helped me communicate both verbally and on paper about wine. It's a great passion I have communicating about wine. I have a lot of friends who enjoy drinking wine and they say 'But Kate, it just tastes like wine. What is all this wine commentary? Writing about wine, how can you find so many words to describe wine and to talk about wine?' And I think that's something I've had from my early days in the wine industry."
It was in the 1990's that Kate found herself in esteemed wine company, in retail, when Victoria was emerging as a major wine producer.
"I started out in the wine industry working in what was probably Melbourne's best wine shop at the time, Phillip Murphy Wine & Spirits in Toorak. I planned to work there for maybe six months. Phillip being Dan's son and Phillip now has a winery down here on the peninsula as well. I ended up working there for five years and the people who worked there at the time are now leaders in the wine industry in Victoria."
"I got to go to a lot of tastings, got to really start translating my love of teaching and communication, taking it from theatre and languages and talking about the language of wine which has been something that's fascinated me and beguiled me and drawn me on ever since."
That passion has taken Kate to the highest professional recognition her industry can bestow. The MW. A journey that began down a gravel track on the Mornington Peninsula thirty years ago and has come full circle looking out over Port Philip Bay.
"Coming back home to the Mornington Peninsula took me quite a long time because for a long time it was where my Dad had a hobby farm that took up too much of his time and where we spent our childhood. When I was young I always imagined I'd end up living in France or in London and being surrounded by Europe.
"But I realised more and more how special the Mornington Peninsula is for our wine and our produce. It's such a beautiful part of the world. Now, we've got the most incredible bourgeoning of food and wine, some of the best restaurants in Victoria are down here – Ten Minutes by Tractor and Paringa Estate are both winery restaurants that I think are world class restaurants.
"We're still a really young wine industry on the Mornington Peninsula, the first commercial vines were planted at Elgee Park and Main Ridge Estate and so in my lifetime is how long this region has been producing wine and to be producing such high quality wine so quickly is amazing and we're now seeing second generation winemakers being passionate about wine in the way our parents were.
"It's a really exciting time because we're starting to see the fruits of our parent's labours. The vines are maturing, our understanding of what we can make here is getting better and better and I just think it's going to keep going from strength to strength."
Kate McIntrye spoke to Tracee Hutchison on RPPFM, the Voice of the Peninsula.
Hear the podcast here:
Wordy Rappinghood – 22 April 2016 – Tracee Hutchison Interviews Kate McIntyre, Master Of Wine