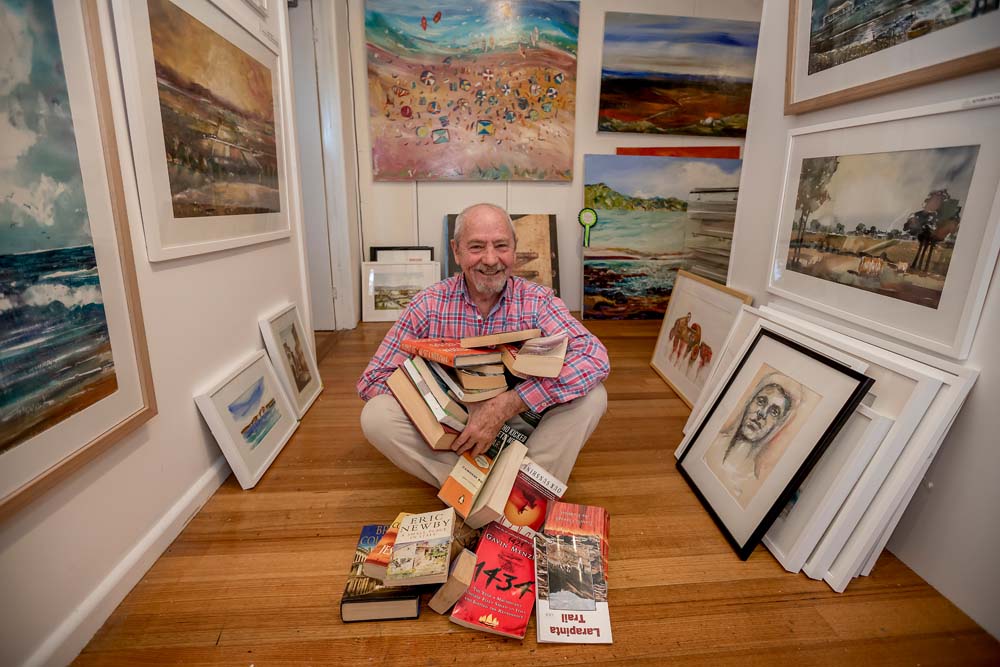 By Melissa Walsh  Photos Yanni
When Mark Twain coined the phrase about living a life with no regrets, he might as well have been writing about the philosophy of peninsula artist and passionate community ambassador, Michael Leeworthy. A Red Hill local for the past three decades, Michael is known for his contributions to art, reading, writing and social issues, never being one to back down from a challenge.
Peninsula Essence talks to the colourful character about life, the arts, his interesting career choices, and a unique book club he began a decade ago.
"I had always felt like the odd one out in a family of tradies," says the flamboyant 70 year old from his own gallery studio in Red Hill where he has taught painting and drawing since 2002.
"Three of my brothers are plumbers and dad was a builder. I knew I was different all along and didn't enjoy school so, at sixteen, I got a job as a window dresser in a menswear store which I loved. I swear I was the only straight window dresser in Melbourne," he says with a laugh. "I thought it was great; beer, cigarettes, women, sex. I didn't want to go back to school and the boringness of it. A Catholic College was the wrong school for me. Dad very quickly made me buy a block of land because he said 'You have to put your money into something for the future '. That would have been around 1967."
Although Leeworthy rebelled against his father's wishes initially to enter the building trade, he has managed as an owner builder to build three new homes and renovate another three in the area of Red Hill alone. "Divorce will do that to a man," he laughs.
However, it was a summer job that inspired Leeworthy to follow a path of window dressing, working for another eight years for Alexander's Men's Wear and then venturing out to start his own business on the peninsula.
After leaving Alexander's he ventured into the risky world of self-employment. To get himself started he sent out 300 letters to stores offering a free window…he achieved a 5% result.
"I was finding I would make my whole wage in two days but every day and weekends were taken up with window dressing," said Leeworthy. "At one stage I was window dressing 14 shops in Hastings. In those days it was like lawn mowing where you had to go back once a fortnight. I started window dressing when it was on the rise and was at the cutting edge of draping, with Carnaby Street and The Beatles. In the mid 90's window dressing as we knew it started to decline and I decided I wanted to do something outdoors. I was into bushwalking then and ready for a change so I made the interesting choice to work as a self-employed truckie."
Leeworthy leased an 18 foot flat tray truck and delivered timber for four years.
With his typical 'can do' attitude, he moved from window dresser to truckie with little fuss, not knowing it would turn out to be a decision that would transform his life. The year was 1996 and Leeworthy walked in front of a car in an accident that would change his life forever.
"The accident was marvellous as it started me on the journey of being me, and that is the greatest gift you can give to yourself," said Leeworthy of the serendipitous turn of events that led him on his true path. "Several years ago, I imagined myself on my death bed and I had a few minutes of sane thought. What would be my regrets? There were two…One was 'I had never given my art practice a serious go'…so I built my own Gallery and have been happy with the results. The other was 'I had never read enough'".
So Leeworthy set out on a journey to change his world, starting his own gallery in Red Hill and reading everything he could get his hands on.
"I knew there was no way I could ever catch up with all the books but again I would give it a go. This came after a visit to Paris with my daughters, Amy and Sarah. There were books written in English in the flat we were staying in. I read three in three weeks. They were Bear Grylls first book "Facing Up" an autobiographical story about how he overcame serious back injuries to become the youngest person to climb Mount Everest, and one on French etiquette…which I wish I had not read as I realised I had been doing everything wrong re etiquette in France. Sometimes it's best not to know," he says with a laugh. "The other remains as a favourite – George Orwell's 'Down and out in Paris and London'. I decided when I returned to Australia that I would continue the habit…knock off at 4.30 pm, a little cheese, and some wine and read before dinner. Unfortunately, I stuck with the wine and cheese but did not bother with the books."
Deciding he needed some discipline in the reading department, Leeworthy then looked into men's book clubs.
"There were several book clubs for women in Red Hill, but why not one for men so I started 'Books, Blokes and Beer'" he says of the club. "I figured a men's book club wouldn't be very enticing so had to have a hook which is how the name came about."
With 16 men arriving on the first night, Leeworthy could see there was a need for a club in the area.
"I have no idea if that's what got them interested or if it was just the fact that there was a book club for men happening in the area. I asked them how they would like the club run; would they like to read the same book and discuss that or would they like to choose their own? They thought that it would be strange to read books they were not interested in. We do however exchange books and it's interesting to see another point of view. The idea worked as the club has been going for ten strong years now even though it's no longer called 'Books Blokes and Beer'. I believe there is a need for such groups. Men do not generally socialise in the same way as women…we socialise but differently. Men rarely wear their hearts on their sleeve and we discuss 'our issues' in a less direct way. Sometimes just having some place to go to that's safe and non-judgemental is enough The book club is celebrating ten years this month and we are always welcoming new members. We meet the first Thursday of each month at my home and gallery in Red Hill."
As Einstein said 'imagination is more important than knowledge', and that is a philosophy that this creative soul lives by, through his art, his writing and community projects.
"Although I sold my first painting at the age of 15 in the Herald Outdoor Art show, I started to get serious with my art in the 1980s although I had always been interested in creativity and imagination. With my paintings I like to experiment with colour and texture and work in a variety of media with watercolour, ink, acrylics and pastel. My art and writing comes from reflections of life, feelings about something or somebody, or a memory from favourite childhood books," says the artist, who is also an author and illustrator of two books . They are 'So you want to be an artist?' and 'Get a Job', which is designed to help people find work.
"I believe everyone has skills and with a bit of soul searching and encouragement can market their natural abilities," says the self-confessed 'drop out' at 16, who has definitely walked the talk. "With a little imagination and hard work, people can take control of their lives. It is never too late to start on the journey of being yourself."