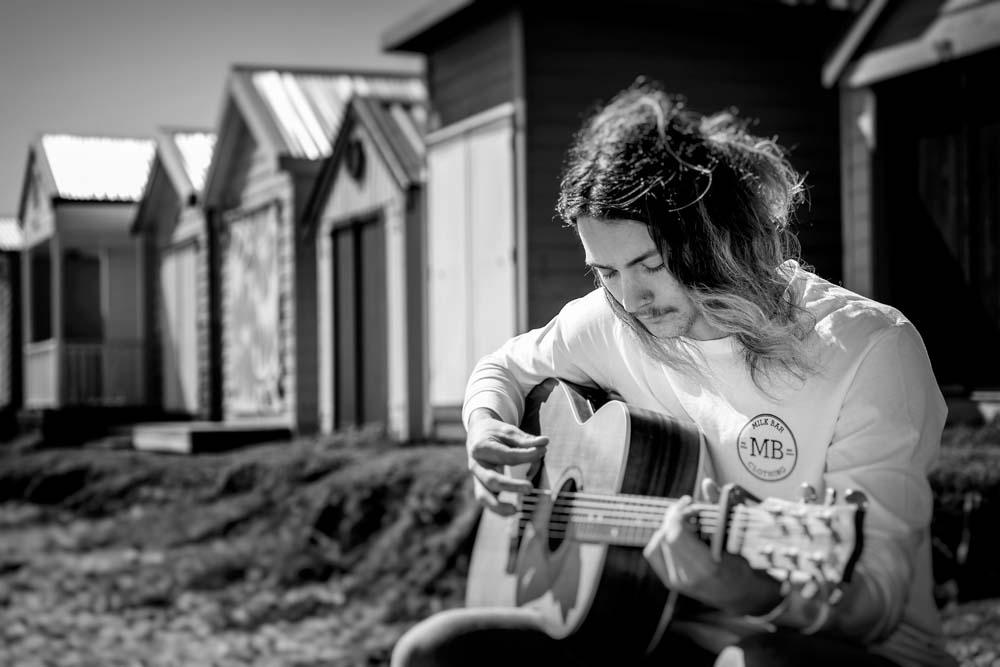 By Andrea Louise Thomas Photos Yanni
Mount Martha is embedded in the DNA of musician, Sam O'Connell. He's lived there all his life. He loves the local beach and the small-town feel of the place. Living on the Mornington Peninsula has shaped his identity and his sound. A singer/songwriter, he draws on memories of his Peninsula upbringing to create truly original songs that resonate locally yet universally. Part of what distinguishes O'Connell is his willingness to be vulnerable, to expose raw feeling and genuine emotion. This is hard for many young men to express, but he is unafraid. "I am eager to open up. I tell tales of love, heartbreak, adventure and wanderlust. I'm just being me," he says.
While his parents were not musicians, he was brought up with music. His Irish father introduced him to folk music and it had an enduring influence. O'Connell started playing guitar in primary school, but his real focus was on sport. He played soccer for many years until, at 16, he was laid up with a serious sports injury. He got back into playing music while recuperating. This changed everything. He found his true passion and confidence in his abilities. Because gigging was not possible for an underage musician, he spent two years practicing every single day exploring new sounds and styles.
Once he turned 18, O'Connell played his first live gig. The buzz from this performance was intoxicating. The audience loved him. And local producers took notice booking him for consistent gigs. He was hooked, but he didn't just want to play other people's music. So immediately after that first show, O'Connell began writing his own music. After completing his first original song, "I'm Not OK" he entered it into a competition called Melbourne Music Bank which seeks out the best and brightest original music. Not only did his song win runner-up, but most popular artist as well. This gave him the opportunity to perform live at the Melbourne Arts Centre and have his song professionally recorded.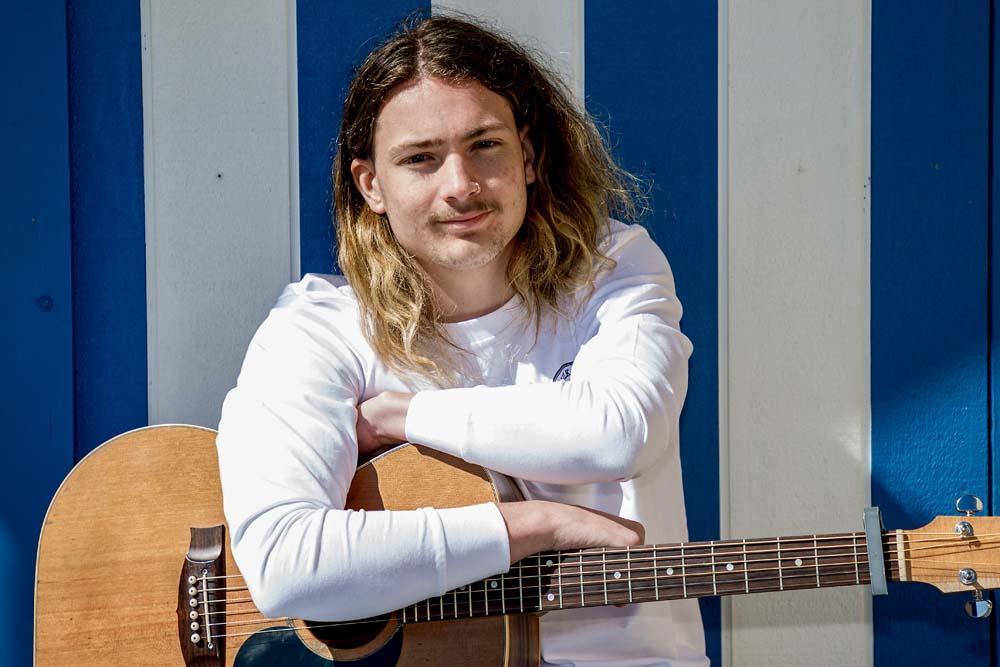 Shortly thereafter, he was fortunate to meet up with local producer, Chris Hoffman. They hit it off. "Chris gets my vibe," he says. Through this collaboration, they recorded and released O'Connell's debut EP, "Down the Line." The two continued to work together and in June they released his latest single, "Shanty." It's a departure from his previous songs that were more autobiographical. Shanty is carefree. It's actually an ode to the seas and the fictional adventures of pirates.
O'Connell is inspired by the musicians he most admires, such as, John Butler, Matt Corby, Mumford and Sons, Ziggy Alberts, Passenger and The Lumineers. They have all influenced his ear and his style. Each has provided different insights, but what he most admires is good storytelling, folk fingerpicking and brilliant harmonies. As for personal inspiration, "As corny as it sounds, I am inspired by love in all its aspects from happiness to heartbreak," he says.
"Finding my musical self was the turning point for me. Folk music is my jam," he says. He now characterises himself as an Australian folk singer with Irish roots. His music is built on a foundation of classic storytelling with guitar work that naturally follows. Though he works with the same basic chords as other musicians he tries to create a unique sound while perfecting his distinctive fingerpicking and soulful vocals.
Three things are critical in the success of a musician in O'Connell's estimation. First and foremost is originality, which comes from a strong sense of self. Hard work is the second; never losing confidence despite all the knockbacks. A musician must be dedicated and never lose that drive, the hunger to succeed. Finally and possibly most crucial is a stroke of luck; being in the right place at the right time can make all the difference.
Moving forward, he'd like to play at music festivals connecting to bigger audiences and soaking in that live music atmosphere. He's even entertaining the idea of moving overseas to a place like Nashville where the love of music is an ingrained part of the culture. No matter where the wind might take him, there is no denying that O'Connell's music is going to be heard.
---
www.facebook.com/samoconnellmusic