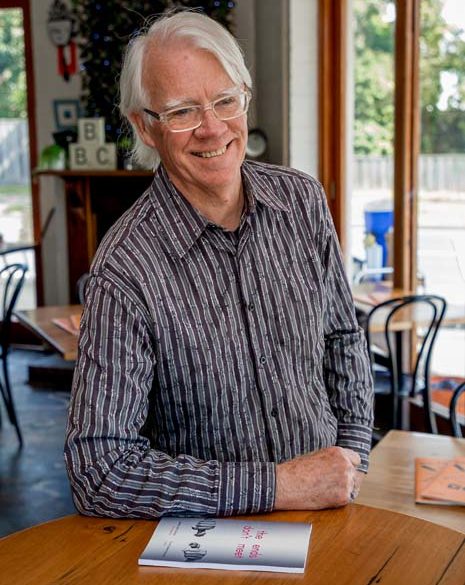 By Melissa Walsh  Photos Yanni
It was a chance meeting in a coffee shop in Boronia that inspired artist and writer, Ian Wood to pick up the pen and begin writing poetry again. The artistic soul had always had the desire to write, to paint and to play music, but spent most of his life working in jobs and being in business until 2002. This year the accomplished artist published his first poetry book with the title that derives from a poem in the book, outlining the frustrations and contradictions between having a career to make a living and the desire to pursue creative endeavours.
The Ends Don't Meet is a wonderful collection of verse and short stories by Wood, who shares his most intimate life experiences.
"It has been eight years in the making, with poetry that I have been inspired to write by my life experiences and results of those choices, some good and some not," he said of the book with a title reflecting the saying to make ends meet. "It was drummed into me as a kid that you must earn enough to make ends meet, to have a successful career and a good education. I grew up in Brighton and had a wonderful childhood but I always wanted to be an artist, writer and musician. My parents wanted me to pursue a more solid career so I compromised and got into advertising."
For young Wood that vocation would only see eighteen short months before he realised he had to pursue his dream.
"I did a series of jobs but have always gone back to my artistic side, working as an interior designer for many years. It was a compromise and a combination of pleasing my parents by having a real job and being creative. My mum showed signs of being artistic as well. She started getting into arts when she retired but I think she was afraid of creativity as it wasn't a good way to make a living in her eyes."
"I managed to spend a few short years writing for publications, painting and playing music which has been marvellous but stopped writing for some time until I met this young lady in the café, and my passion for the written word was reignited."
For Wood, writing and performing poetry was easy to fall back into as he had spent many years as a performance poet in the late 1960's and early 1970's.
"I would perform a lot in places like Fitzroy and North Melbourne and my poetry has always been a reflection of my experience," he said.
Moving to the peninsula four years ago, Wood has found a wonderful group of poets and artists within the community and often performs at the Poets Corner in Dromana.
"My inspiration comes from life experience or amusing observations of darkness and pains I have suffered," said the performer who likes to entertain the crowd. "It is very much about delivery and often my poems will take an unexpected turn at the end. I have a few poems that seem quite dark at the start but the content is not always what you think. Performance poetry is about performance, to draw the audience in and take them on a journey."
For this artist and writer, life is now about expressing his experience on canvas and on the page.
"It was during periods between exhibitions ad painting that I made sure to practice and improve my skills and love of the written word. The Ends Don't Meet is the result of those writings with over seventy works written since 2009 together with one from 2005."
For Wood when asked why it is important to share his poetry, the response is mostly philosophical.
"I love the people I am meeting through what I am doing. I love that I can write something that hits home for someone and helps them understand something in their life. I hope that people will come away feeling good about themselves when they read my poetry. I want them to realise that yes life can be a sewage farm at times but on the outskirts of the sewerage farm there is a large garden."
---
The Ends Don't Meet is available from The Book Barn in Rosebud, or by sending an email to ianwood@ianwoodart.com