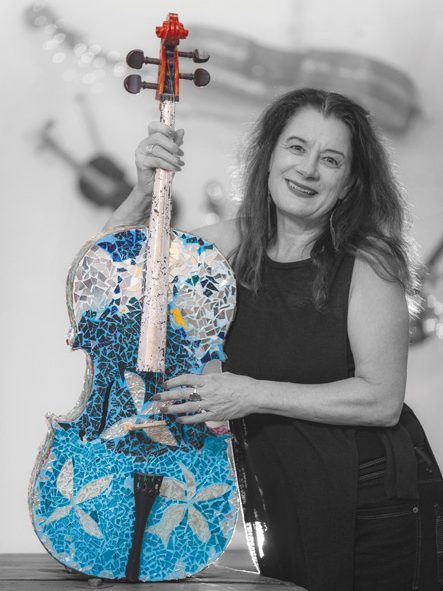 By Georgina Carroll Photos Gary Sissons
Sometimes you encounter a business where, when you step foot onto the premises and you can just feel the passion, expertise and sheer talent that oozes out of the people who run it. Teal House Gallery is one of those.
The gallery is run by artist and curator Steve Broughton, curator and artist Dr Brigid Burke and educator, curator, and author Melissa Sotelo.
The gallery grew out of Steve's large format printing company which specialises in printing photographs on canvas and has been operating for 30 years. His daughter Melissa, a teacher and published children's author and illustrator, and Steve have always been creative and artistic people, but, as so often happens, life got in the way of creative pursuits. "One thing that Dad and I have committed to over the past year is bringing art back to the centre of our worlds," she said. "Dad and I have always been dreamers and talkers; we have had so many ideas for projects, and we finally found one to bring to reality."
The father – daughter duo have paired up with accomplished professional musician, artist, composer, researcher, and educator Dr Brigid Burke. The gallery has been a way to connect back with her craft after covid halted her international touring and performing. She met Steve and the rest is art gallery history. "The gallery has given me scope to enhance even more inspired ideas so that the public and community can see the possibilities of the space, Brigid said.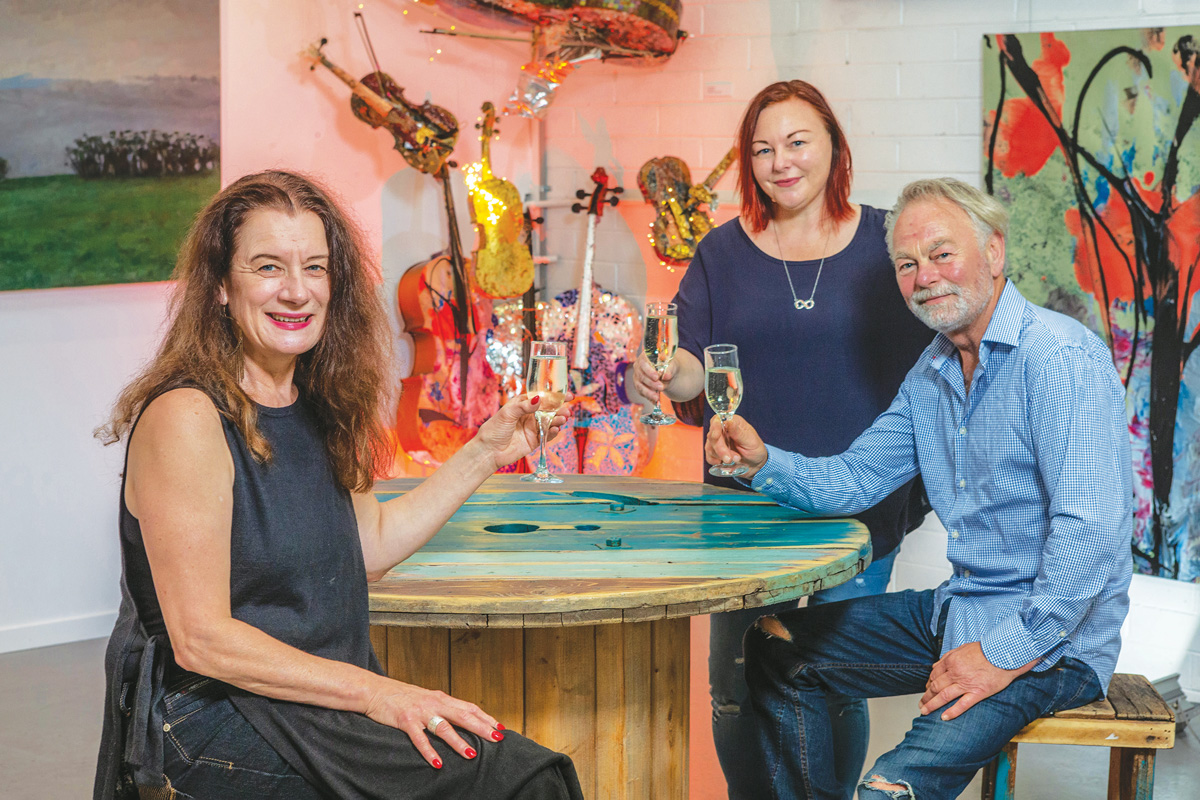 Brigid Burke, Melissa Sotelo and Steve Broughton.
"Brigid has been a great influence and has brought both talent and a wealth of experience to the gallery which has been integral to getting it up and running," Melissa said.
The gallery is a way for Brigid, Melissa, and Steve to be with likeminded people and to connect, which is at the heart of what the gallery represents. The principles of community, connection, sharing art and giving back through education are so evident in everything Teal House does. "My dreams and aspirations are to establish a community-based creative space where people can come together to be creative, feel safe, and share their story with like-minded people," Steve said. Community is particularly important to the gallery's ethos, and Steve hopes to be able to give local and emerging artists an opportunity to "put their toes in the water and put some art on the walls in a real gallery".
The building itself is industrial yet modern. It is bright, airy, and welcoming. The walls are covered in exquisite art of all different genres and mediums. From vibrant modern Indigenous art to tranquil coastal photography to thought provoking sculptures, every artist is welcome. There is a huge range of art displayed in the gallery; so much to look at and enjoy, a place definitely to see with no rush. You can also purchase locally made jewellery and gifts, as well as Melissa's children's books.
"Opening a creative gallery in these uncertain times is a positive for us and our community," Steve said. "It creates a hub for ideas and challenges our thoughts It makes people smile, laugh and question."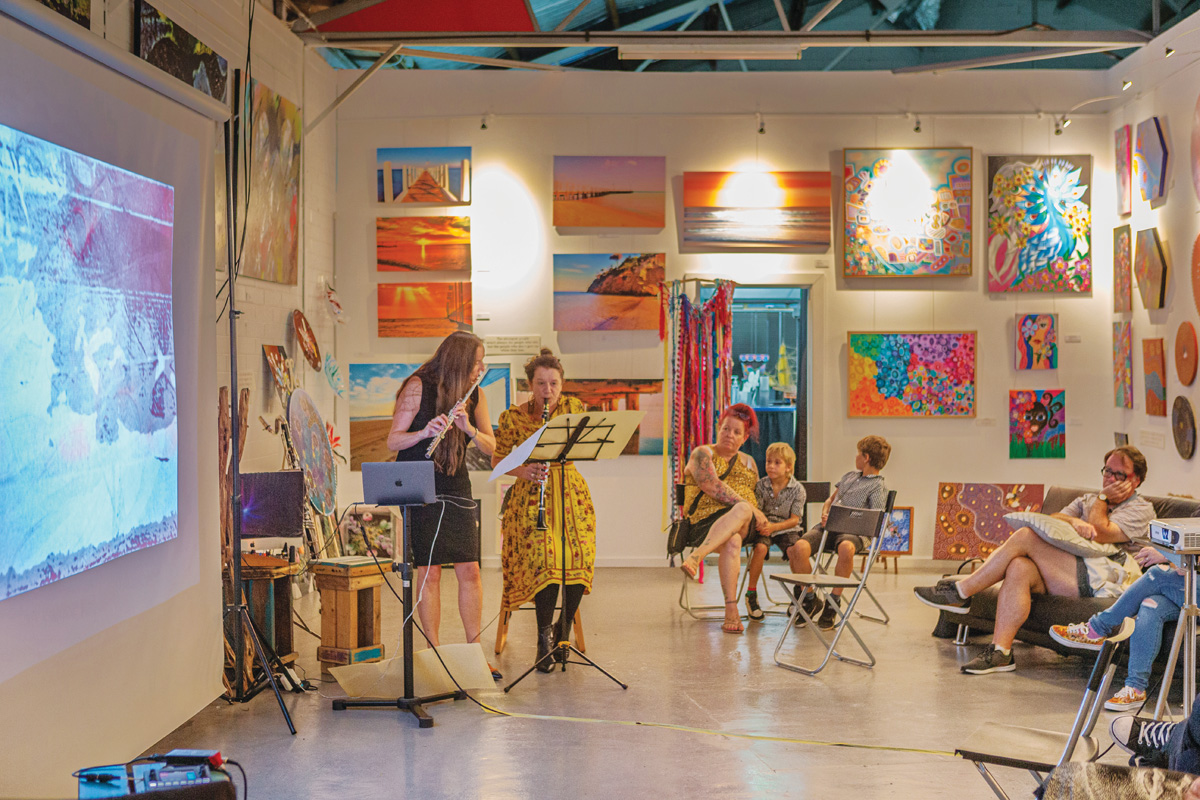 SeenSound: Visual/music series at Teal House gallery
The trio have huge plans for their gallery. As Brigid and Melissa both come from teaching backgrounds, education is a huge basis for Teal House Gallery's ethos. There are hopes to create community engagement between artists and the wider community through classes ranging from women's drawing classes, life drawing, children's classes, teaching music, art therapy and paint and sip classes and more. "There's something for everyone, and an opportunity for everyone," Melissa said. With such a big, bright space, the possibilities are endless.
The Teal House Gallery grand opening on 4 December was highly successful. "We had eighty people come through. It was a great night and we sold quite a few pieces; now we just need to put ourselves firmly on the map," Steve said.
"We are so proud of what we have achieved and can't wait to see what the Teal House Gallery brings in the years to come," Melissa said.