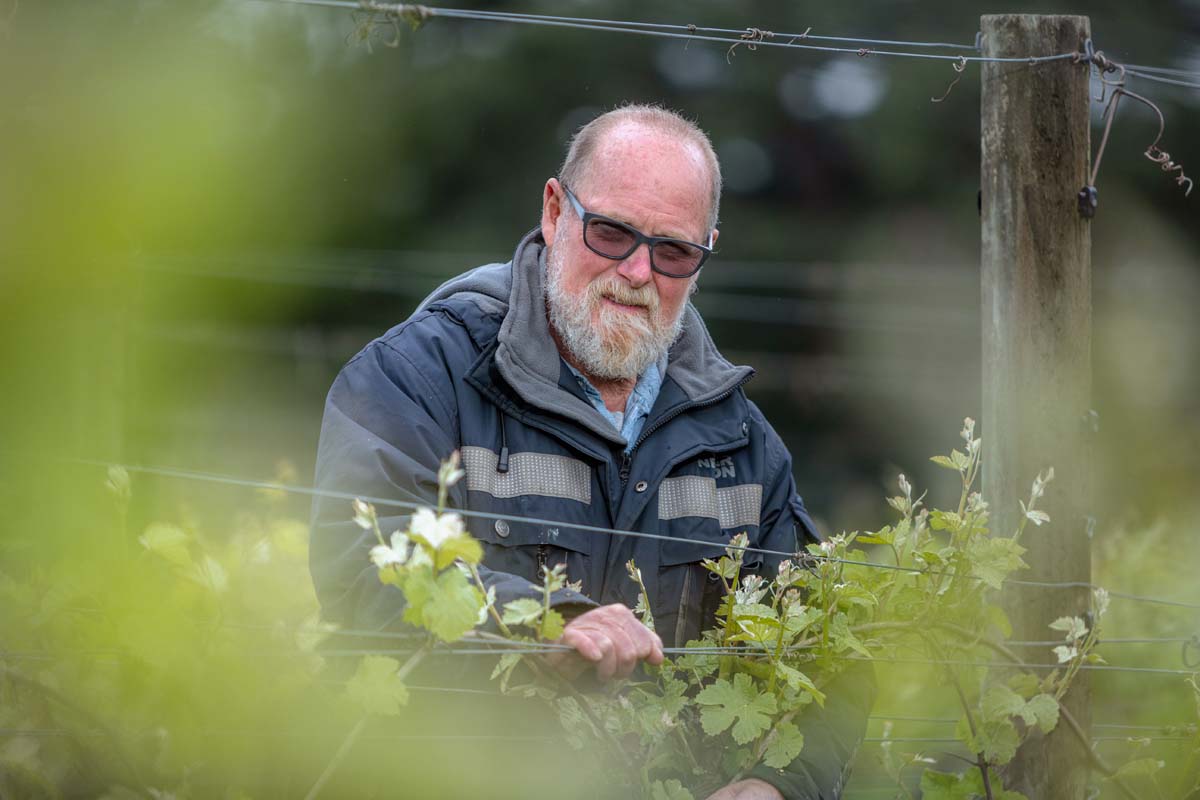 By Zahrah Ahmad Photos Gary Sissons
Joe Vaughan has owned his vineyard for the past 25 years. When he was looking for a site in 1996, he chose to settle in Tuerong on the Mornington Peninsula and '100 Hunts' vineyard is now one of the larger vineyards in the area. He grows Pinot Noir, Shiraz, White Chardonnay, Fiano, Traminer, Muscat Blanc A Petits Grains (Muscat Blanc), Pinot Gris and Friulano.
In September 2021, Vaughan received the inaugural Dr Allan Antcliff Vineyard of the Year award. This recognises the deep commitment of winemakers on the Mornington Peninsula to their craft and to conserving the environment and health of their vineyards. The leading industry viticulturists and judges, Dr Mary Retallack, Dr Mark Walpole and John Whiting felt Vaughan's practices stood out. "Vaughan demonstrated an attention to detail, integrated thinking, a capacity to innovate and a great deal of resourcefulness," Dr Retallack said.
The award not only honours Vaughan's work but will provide him with a $5,000 travel grant to further his understanding of sustainable practices. "Joe demonstrated to the judges his experience and resourcefulness in achieving a nice balance with a low input, sustainable system for his vineyard," Dr Walpole said.
Mornington Peninsula Wine CEO, Olivia Barrie believes the award is an important part of nurturing sustainable viticulture practices in the growing wine community.
Vaughan began working in vineyards in Dromana thirty years ago. He then went on to do maintenance for different farms around the Peninsula, gaining a lot of experience working with different vines and observing the practices employed by viticulturists in the area.
Having helped many of the vineyards that started up back then, starting his own vineyard with his wife, Amanda, felt like a natural progression.
Today, Joe is still eager to get out among the vines and dig around in the soil. "My interest in vineyards and growing a vineyard is a bit historical I suppose," Joe said. He enjoys being able to nurture the growth of his vines and find new ways to improve his farming practices.
What really matters to Joe is that his vineyard, the earth and ecology is thriving.
"We're still learning about it. You just have to observe and get back to basics.
Everybody grows their vineyards differently but there's no right or wrong way," Joe said. He believes that the farming community is moving away from destructive methods.
When he established 100 Hunts Road, many harmful practices were used that disturbed the soil. "Change just starts with one person; you've just got to start and it's happening," Vaughan said. He uses regenerative practices which provide the conditions so that the soil and vines can thrive and grow. "Sustainable is essentially damage and repair whereas if you're regenerating, you're really making it better," Vaughan said. Damaging practices include heavy use of herbicides, fertilisers and other synthetic chemicals. "I think people are learning more now about what is required and what is really, sustainable," he said.
Vaughan focuses a lot on mulching and composting to improve the soil and vines. He has spent a long time refining his mulch composition and makes his own organic sprays. "The compost consists of a blend of grape marc from some local wineries, wood chips from tree loppers, commercial mulch, horse stable manure from local racehorse trainers, grass clippings from mowing services, and old silage and hay from nearby farms. It is turned often and takes about six to eight months to become completed compost," he said.
Regenerative farming requires a lot of time spent observing growth and this is what Joe loves about viticulture.
"It is most important to have feet and eyes in the vineyard all the time, looking at the condition of the vines," he said.