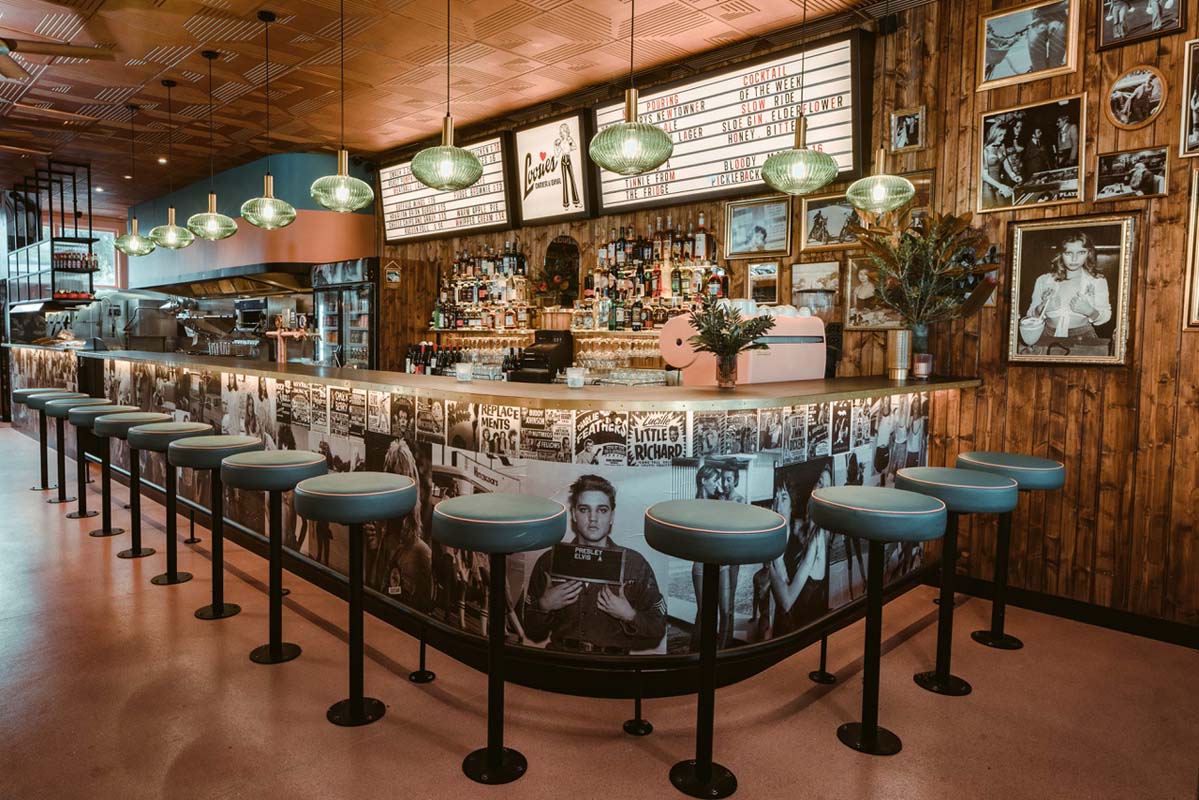 By Lilian Bernhardt Photos Supplied
Loosie's Diner and Bar in Mornington is the latest endeavour from the crew behind the local rock and roll dive bar, Wowee Zowee. Clint Hyndman (Something For Kate drummer and owner of Yellow Bird in Windsor), Simon Tarlington (Executive Chef at Jackalope), Cam Marshall (winemaker), and Craig Baum (fit-out expert/fisherman) decided to open Loosie's Diner and Bar as a group of friends, and fathers, consistently seeking new things and places to add to the mix.
Loosie's is American inspired and largely influenced by the 'dingy' diners found throughout Los Angeles during the 1970s. Loosie's diverges from the full dive bar style of Wowee Zowee, to offer more food options and create an inclusive environment, whilst still honouring the idea of getting loose. Hence naming the bar after the most popular cocktail at Wowee Zowee, 'Loosie Goosie.'
"We wanted to do something that was a bit more family-friendly. A place where parents can have a drink or two, and also bring the kids. It's a place where you can get a cold beer off the tap, but you can also have your kids with you, and they can munch on a burger" Hyndman said.
The menu seeks to showcase the food talent of Simon Tarlington, with what Hyndman describes as 'quality, greasy, diner food'. Fried chicken and waffles, a variety of burgers, and loaded fries are some highlights of the menu. Cookies and cream sundaes and the classic apple pie with whipped cream offer sweet options for dessert.
Loosies serves a list of American soft drinks such as A&W Root beer and Dr Pepper, as well as Pabst Blue Ribbon on tap. A variety of cocktails are available to choose from, their most popular being the 'Boozy Suzy,' which is pink prosecco and tequila based. Aiming to please the locals as well, Loosie's also stocks a wide range of local craft beer and wines.
"We aren't a cheesy American diner, we haven't gone the full way, but we've taken the things we like and added the stuff that makes it our own and gives it an Australian feel. We wanted the American diner feel without making it a copy," Hyndman said.
The fit-out was designed by Craig Baum, Clint Hyndman & Interior Design duo Life Installers, and intends to transport visitors into the full 70's vibe. The warm interior wood panelling, unique light fixtures, green booth seating, and bar stools, and lightboard menu and cocktail list work well to achieve this. Complementing this are the many pictures of artists, musicians, and cultural icons from the era placed everywhere around the venue.
"The way we've decked it out with pictures inside has been influenced by 1970's culture. The pictures are there to keep you in the vibe as well as to be great conversation starters to take you away from your mobile phone and soak up what's happening in the bar," Clint said.
The crew all live on the Peninsula, and Hyndman grew up in Rosebud before leaving for Melbourne at 20 to pursue his music career as a drummer and start the band Something For Kate.
Bartending is something Hyndman loves and says he has always wanted to pursue. His hospitality career began in 2007, when a one-year hiatus from his band led him to open the bar Yellow Bird, on Chapel St. He originally said he never wanted to return to the Peninsula, but after moving home with his wife and three children now never wants to leave.
"I think it's the best place to grow up and now I know why my parents moved down here, and many of my friends are moving down here as well," he said.
After running Yellow Bird for a decade, Hyndman wanted to create something similar on the Peninsula to create a bar culture he felt was missing. He runs and works at the bar in all his venues, aiming to create a welcoming environment.
"The bar at Loosie's is set up with fifteen bar stools, and the idea is that anyone can sit at the bar and talk. It's that old bar culture, talking to a bartender, and just relaxing and losing yourself in the space. Having a burger, and ideally forgetting about anything that's going on in your life," Hyndman said.
Music is an essential part of Hyndman's life, having drummed in his band for over two decades, and it also plays a large role in his approach to front-of-house proceedings. Loosie's took influence from touring across the United States, where Hyndman noted the necessity for diners to play the right music to create an atmosphere.
"The one thing that places get right, I think, is getting the music right, and getting that feel," he said.
"The soundtrack has always been a big thing for me with bars, it sets the tone and it sets the vibe of what we do."
Hyndman meticulously crafts his playlists, which at Loosies, consist mostly of classic 'dad-rock' of the 70's to create an atmosphere that you can get lost in. "We want it to feel like you're somewhere completely different," he said.
Come March the team's newest venture, Slim's Hot Pizza, a pizza/bar will open in Mt Eliza.
If you're looking to be transported from the suburban seaside of the Peninsula into a boozy 70's time capsule, Loosie's is open for service Wednesday-Sunday 4:30 till late.