By Erica Louise  Photos Michelle Pragt Photography
Two years ago, Mount Eliza residents Paul & Tonette reached a crossroad in their lives. This encouraged the entrepreneurial couple to brew a new business. They launched Revolution Roasters, to supply the Peninsula's bean-loving community with sustainable coffee, high-tech machinery, and old school customer service.
"The mission behind Revolution Roasters is quite simple," said Paul. "We build local businesses with beautiful coffee."
Paul lived in Sydney for most of his life and Tonette is from Ireland. The couple returned to NSW after residing in the Emerald Isle for a short while.
"Sydney was different from what we remembered. We found it so fast paced and expensive. Other family members had moved away, and some had discovered the Mornington Peninsula. We visited them and loved the lifestyle."
Enticed by the region's beautiful beaches and vibrant cafe culture, the couple swapped the busy streets of Sydney for the tranquil shores of the Peninsula. Paul worked in the corporate space, commuting 90-minutes to Melbourne each day. When Tonette became ill, this encouraged the couple to seek a better work-life balance.
"We had reached our limits. We wanted more from life. Although it sounds cliché we wanted to do something more fulfilling," said Paul.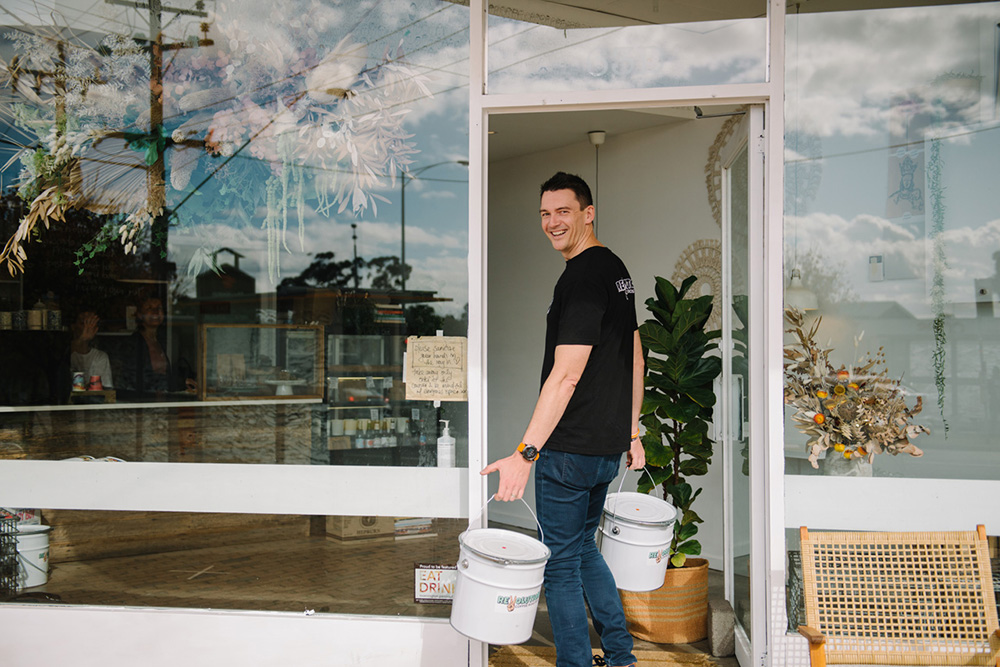 Wanting to stay on the Peninsula they soul searched to find what it was they needed to spend quality time with their children, in the place they loved. Paul's corporate role had involved building businesses in the coffee industry, but he had never roasted coffee before.
"While I was drawn to the idea I knew it would be a challenge. Roasting coffee is a dark art and a difficult skill to master. We bought a two kilo roaster and prepared our first batch of coffee from our garage. Then in the wet winter of 2019, we door knocked every single cafe in Main Street Mornington, speaking to cafe owners and baristas about our brand. It was a humbling experience. We got knocked back a fair bit because, obviously, they'd never heard of us."
Once their first customer came on board, Paul knew their wholesale coffee business was viable. Revolution Roasters coffee beans soon caught the attention of a handful of local cafes and the couple's exciting new business concept went from garage to warehouse within 12 weeks.
"Revolution Roasters is all about doing good business with good people and having a damn good time. Quality and sustainability are the highest priorities and not negotiable."
Paul explains that coffee beans are a farmed commodity, mostly sourced from developing countries.
"Coffee may be lucrative and glamorous in Australia but there is a lot of corruption in the supply chain with some terrible things going on. Our supplier is ethical, sustainable and credible, giving a small business like us the confidence to know we are doing the right thing."
Their original plan was to focus on supplying local businesses, but the COVID-19 restrictions pushed the couple to consolidate the gains they had made to develop an online store.
"We didn't even have a website before the pandemic because we were focused on wholesale. We grew quickly but the COVID-19 crisis gave us the chance to stabilise and prepare for the future. Instead of dwindling, our sales have grown. Having the website also means we can better serve the local community and businesses."
Revolution Roasters' commitment to supporting local business goes well beyond great beans. As the exclusive Australian supplier of Coffee-Tech Engineering roasters, Paul and Tonette ensure their clients get the most out of their machines.
The couple support like-minded coffee geeks by helping them build their own roasting businesses from scratch. The Revolution Roasters' business blueprint shares everything a new coffee business needs to hit the ground running. This includes how to source, roast, package, brand, and sell beautiful coffee of their own.
"We want to make it easy, and our ethos is to keep both coffee and business beautifully simple. We're not only supplying green beans and equipment, but we're also helping the next generation of roasters build a sustainable future."
---