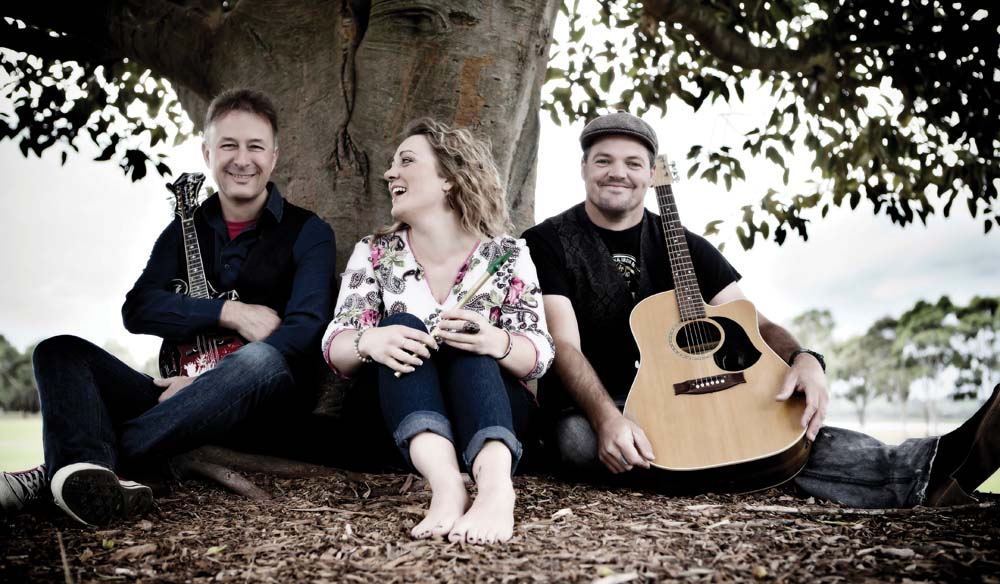 By Melissa Walsh   Photos Daryl Gorden
The moody, modal and timeless quality of Celtic music is brought to life by local trio SugaTree. Peninsula Essence talks to the trio about the formation of the band that is kicking goals in the music scene.
The stars aligned for Celtic folk pop trio SugaTree when Natalie Parker and Ryan Pentland approached musician and producer Yanni Dellaportas to help record some of their songs. It was when the demo tracks were being laid down in his studio that it became apparent something else was needed.
"I just started playing some mandolin over the top of the songs and it all came together," said Yanni, who has performed with other bands but says this feels like a great fit. "That was in 2012. Since then we have been recording our album, practicing and playing lots of shows together and now we have released our first full length CD 'This Time'."
For the trio, the Celtic band has come together seamlessly with the three musicians determined to just enjoy the process. 
"We had gigs where we did some Irish songs and everybody started dancing so we thought it was great for us," said guitarist and songwriter, Ryan. "There's not a huge amount of Celtic music in our area and the response has been fantastic."
As for music teacher Natalie, the transition to Celtic tunes has been easy with a voice that has just the haunting quality ideal for the dulcet tunes of Irish ballads.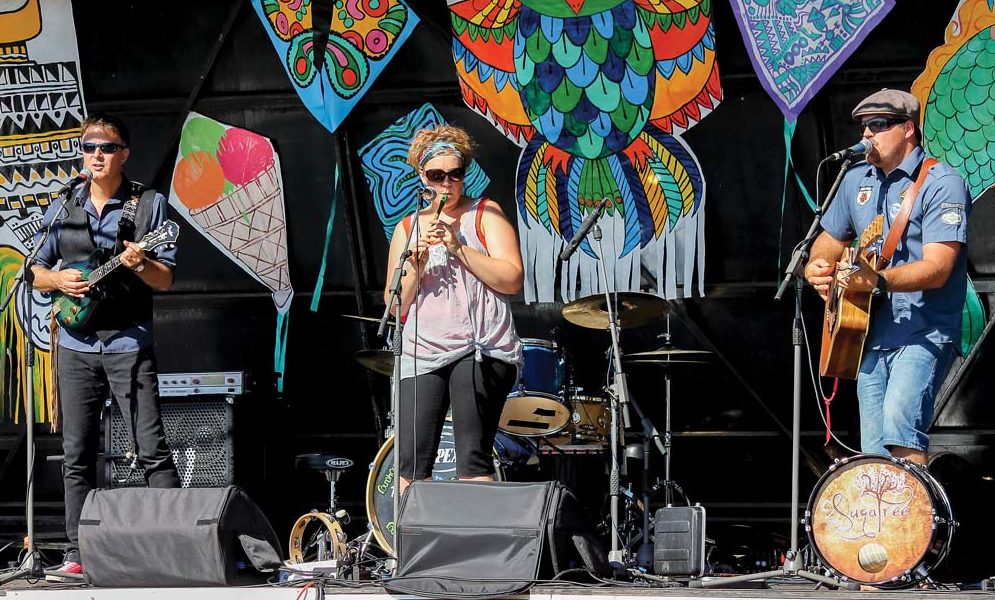 "I love performing and singing with these guys and the response we get from audiences when we play is incredible. I particularly love it when we perform outdoors amongst nature. People of all ages dance and sing along and we all have a wonderful time together," said Natalie who has been performing and teaching for many years. "I even have a favourite tin whistle that I picked up along the line and love playing."
This Celtic-folk trio combine foot-stomping guitar riffs with catchy tunes and heartfelt lyrics. SugaTree blends genres of folk, pop and Celtic in their energetic live shows. Fast moving mandolin and tin whistle melodies complete the original works with a kick drum and harmonica to get the crowd moving. With a unique, organic sound SugaTree plays wineries, festivals, restaurants, pubs and bars entertaining audiences of all ages and musical preferences.
SugaTree are regulars at the Dubliner Mornington, Sound Bar in Capel Sound and will be performing at the Port Fairy Folk Festival in March and the Australian Celtic Festival in May.
Visit their website for a complete list of upcoming shows and to purchase the new album This Time.