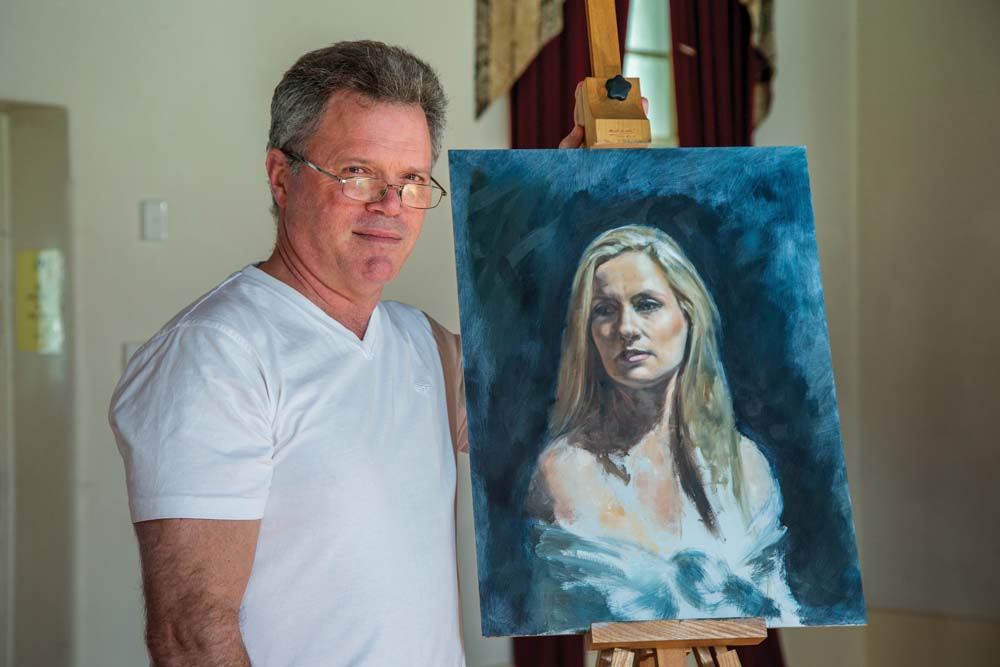 Fred Whitson is an artist on the Mornington Peninsula's radar, having recently taken up the call of the muse and already exhibiting works locally and overseas. The Californian born painter has made his home on the peninsula and is fast becoming a key player in the artistic community with his penchant for the baroque masters and return to a time when art and skill mattered. Peninsula Essence talks to the renaissance artist about the light and shade of his craft, and tries to answer the age-old question of the nature of creativity.
Growing up in a creative household, Whitson spent a lot of time drawing which was something his music-teaching parents encouraged.
"As a little kid back in the States we would have these family nights where we would take turns drawing things. Being an only child, I had a lot of time by myself so that's when I did lots of drawings. I was always looking for something creative to do," he said.  "Dad was also into writing and even started this family newspaper called Star News which was all hand drawn, hand coloured and typed out. Mum was always into her music so the household was overflowing with creativity."
It was a natural progression for the young man to take up music and Whitson worked as a music teacher for the first couple of decades but drawing was never far from his heart.
It took a drawing workshop in 2013 to reignite the artist's passion and he hasn't stopped drawing and painting ever since.
"David Kassan's three day workshop gave me the confidence I needed to look at objects or people in detail and recreate that to the best of my ability," said Whitson who has since completed more than seventy  paintings and drawings, held workshops all over Victoria, and exhibited in galleries in Milan and locally.  "Focusing on the detail was brought to my attention again; it showed me how to observe intricate details and the ability to look at subjects differently."
"Even though I work as a musician, painting is something I am drawn to do," said Whitson who is brimming with passion and natural creativity and became an artist after trying other vocations.
"In the early stages you go from a completely blank canvas to a work of art you can be proud of," said the self-taught artist. "I keep trying to improve my craft by going to galleries, looking at the work of others, and observing everything around me. I am always looking at subjects and contemplating how I would paint them."
Whitson describes himself as a tonal realist in the baroque style, which centres on light and shade, finding his inspiration from the Italian masters like Caravaggio, drawing inspiration from the use of chiaroscuro and elegance of the human form.
"There's something about that style that resonates with me and I love the realism. As one who has also been actively involved with music professionally for quite some time now, I've always been fascinated with the raw emotions that art and music can evoke, and how closely the two forms have evolved together. To listen to a great work, or stroll through a gallery and take in the magnificence that hangs upon the wall, is to revel in the beauty that humankind is capable of," said Whitson. "My first loves in art, are portraiture and figurative subjects; the drama and grace that the human form is capable of intrigues me, and I like to keep my mind open to new techniques and interpretations that allow me to adequately convey what it is that I wish to communicate. One of the things I love so much about art in particular, is the endless diversity of interpretations, styles and perceptions that each artist brings to the paper or canvas; at Life Drawing, it's so exciting to see that in a class of fifteen people, no two works are the same, in fact, they're usually not even close to being similar, except in subject."
The 21st century painter is undoubtedly a modern renaissance man, with his commitment to keeping the work of the masters alive, and pass down a skill set to others through his workshops and classes.
"The realist baroque style is uncommon in Australia but it is something that I love, and I enjoy running classes for people to help fellow artists build their skill sets and develop their own styles," said Whitson who combines his 30 years teaching experience with a natural ability as an artist.
"With respect to teaching art classes, I believe if you can write your name you can draw. I take people through the basics and it is all about teaching them to be observational," said the artist who believes it is all about training, education and the culture of other artists. "When you start off you look at basic shapes, angles and negative spaces. You start off with something broad and refine it as you go along."
The perfect storm of skill and creativity is inherent through Whitson's work which has been described as representing "a wide range of emotions and exquisite handling of the human form that delves into the core of the individual – revealing the passion that resides within all of us", and one who "drags the viewer into a sophisticated universe, showered with delicate references to the western art and traditional iconology".
"With this style it is all about shadow and light," said Whitson. "It is about having an emotional response while looking at the work and to seeking to make subjects more realistic, depicting real emotion and feelings."
As an artist, Whitson has learned the tradition of the baroque masters and moved one step further to challenge it, with a vision to create works of art like Let's Make A Deal and Pensees Macabre that encapsulate the seventeenth century techniques with a modern vision.
"In a world where there can be such chaos and unrest, art is a reminder of the beauty that humanity can create," he said.
Fred Whitson is available for workshops, classes, and commission work. He is holding a workshop called 'A Tonal Approach to Realism in Drawing' on February 18 at Peninsula Arts Society.