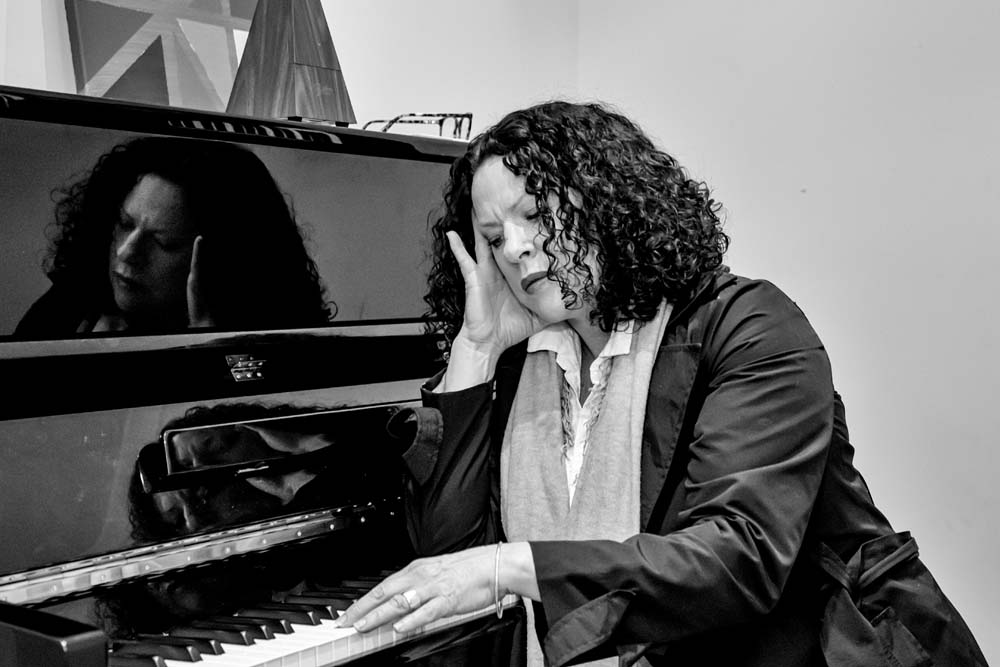 By Andrea Louise Thomas  Photos Yanni 
From the very beginning of her life, singer/songwriter Cheryl Beattie's world was filled with music. Her father was Irish and everyone in his family was musical. Saturday nights were spent around the piano joined together in song. It was a joyful experience. She felt it right down into her soul. She still has that deep connection to music.
Her musical career started very early. At 14, she was gigging with bands in Melbourne. She spent two years training with opera singer, Freida Ash. She later studied music at the Victorian College of the Arts and worked with studio musicians. This gave her a strong and diverse foundation. She learned a lot from these experiences, but she wanted to be more interpretive with her singing and write her own music.
She also wanted to escape the confines of her sheltered upbringing on the Mornington Peninsula. "I needed to expand my horizons. I needed experience to be a great songwriter," she says. So she decided to travel the world. She bought a one-way ticket around the world and took off. She spent the next ten years travelling between London, New York and Los Angeles and the magic of success followed everywhere she went. 
Nine months after landing in London, Terry Ellis of Chrysalis Records discovered her and at 24 she signed her first record contract with BMG Records, as a developing artist. She spent two years in London working with major players in the music industry. She got interesting gigs, such as, singing backing vocals for Leo Sayer, recording with Sting's band, working with Seal's guitarist and backing vocals for British television show, Night Fever.
From London, she travelled to New York City where she really found her groove. She collaborated with some of the best singers, songwriters and musicians in the industry, such as Steinberg and Kelly who wrote for Whitney Houston and Madonna. Being signed to a record label gave her amazing opportunities to network and travel.
She signed her second record contract with Warner Brother Records. They translated her ballad, "Fly" into a dance track and it went to number one in the London dance club circuit. She found herself bouncing between New York, London and Los Angeles. It was a heady lifestyle, but she never considered staying overseas forever.
When she came home to the Mornington Peninsula, it was to reconnect with her family and friends, but she also wanted to share everything she had learned. Once she had raised her children, she had the chance to do the thing she had always dreamt of, opening her own music school – The Music Industry.
TMI is not your typical music school. Of course they teach singing and instrumental music (keyboard, piano, guitar, bass, violin, cello, flute, drums, brass and band), but Beattie also teaches songwriting. Students learn the basics of putting a song together to get the perfect partnership of lyric, melody and chords.
Beattie even offers her students the opportunity to go on a songwriting camp to Los Angeles. They get to meet industry professionals and work with award-winning songwriter/composer/producer, Pam Sheyne. (She wrote "Genie in a Bottle" for Christina Aguilera and many other hit songs as well as music for film and television).
There is a strong focus on performance at TMI. All students have fortnightly opportunities to perform. Students are encouraged to collaborate with each other and work with professional musicians to build their skills and confidence.
The school has its own recording studio where students can hear what they sound like in the outside world. It's natural to feel self-conscious or slightly uncomfortable initially because they can't hear what other people hear. Recording gives them a chance to be objective, hone their skills and free themselves emotionally.
Building confidence is TMI's objective. "Because we offer all platforms from performance and recording to audition and exam readiness, each student can build the confidence they need to become an individual artist. We want everyone to be their authentic self and develop their own unique style," Beattie says.
"Confidence starts with the teacher! The teacher must have no judgment and always focus on the positives because they are dealing with something so sensitive. Once students open up, they can then take small steps towards performing for others," Beattie says. I tell my students, "Never listen to anybody who has something negative to say about you or your voice because you are unique and no one else can sing like you."
Music has greatly enriched Beattie's life. It brought healing in times of sadness, inspiration when working with famous singers and songwriters and pride when she could stand alongside them and feel equal. She's felt the fulfillment of sharing her knowledge and experience. At The Music Industry, students of all ages have the opportunity to find their own confidence, pride and the fulfillment that music offers to the heart, mind and soul.
---
The Music Industry, 1449 Point Nepean Road, Rosebud

www.themusicindustry.com.auhttps://issuu.com/peninsulaessence/docs/essence_july_2019_low_res/48
First published in Peninsula Essence – July 2019