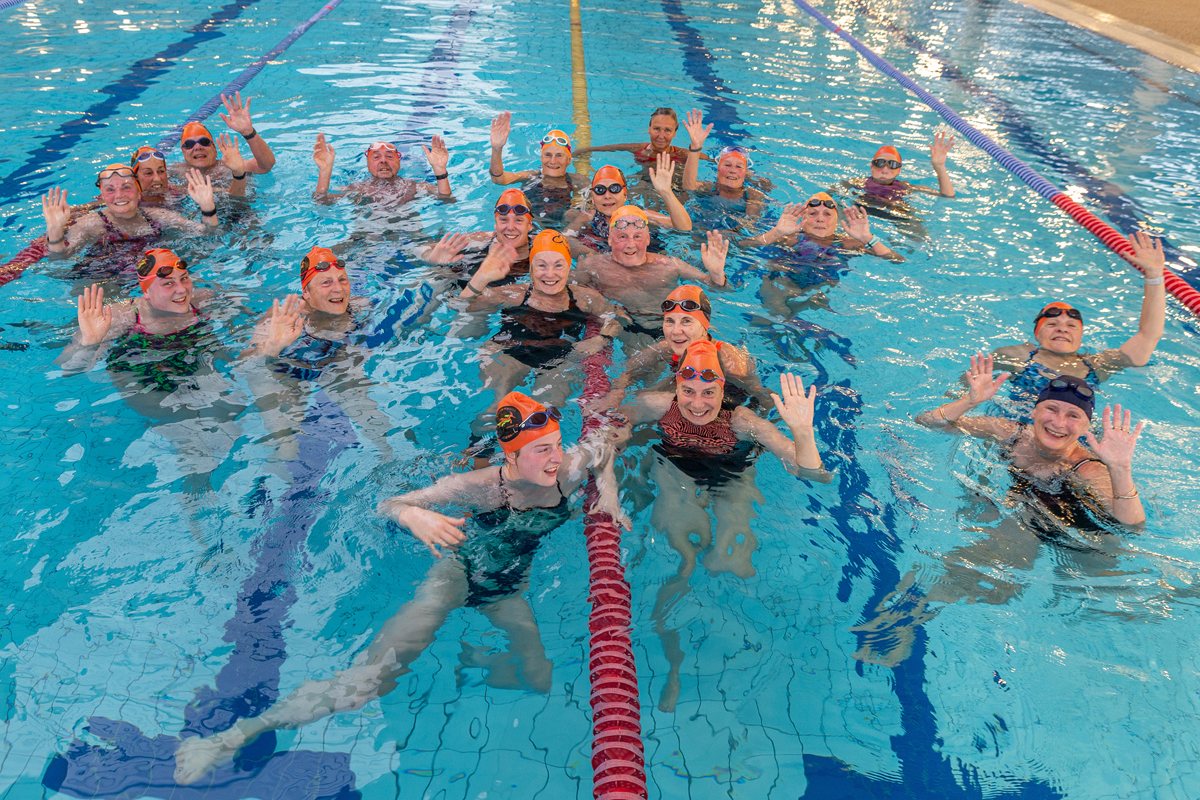 The Mornington Peninsula Masters Swimming Club (MPMSC), aka the Seadragons, like so many great community initiatives, was started by a passionate individual who wanted to provide an opportunity for like-minded people to come together to enjoy the sport they love. In Rob Wilson's case, (President of the MPMSC), that sport was Masters swimming.
Masters' swimmers are swimmers over the age of 18, who may or may not be into swimming fast, but are definitely into getting fit, and enjoying every minute of it. Masters swimming can be a competitive outlet for some, but for the majority there is a strong focus on fun, fitness and friendship, and being the best you can be.
"My wife and I moved to the Mornington Peninsula late in 2018 for a sea/tree change," said Rob. "As a Masters swimmer and coach for over ten years, I went looking for a squad of adult swimmers to join, but there was an absence of a Masters club in the southern Mornington Peninsula area, so I saw a gap that needed to be filled."
Over time, Rob found a group of about four to six Masters swimmers he could regularly train with and together with this group, in 2020, an interim committee was formed with plans on incorporating as an association and affiliating as a Masters swimming club. And then Covid hit. But the group was determined and continued meeting via Zoom and in September of 2020, the Mornington Peninsula Masters Swimming Club was born.
The MPMSC originally used Pelican Park in Hastings and the Crib Point Outdoor Pool as its home base and at the time numbered less than 10 members. In 2021, with the help of Belgravia Leisure and the Mornington Peninsula Shire, the club moved its home base to the newly opened YAWA aquatic centre. The move paid off with the new facilities attracting new members to the club, including another group of Masters swimmers from McCrae that were previously unknown to Rob – the Aquaholics, pushing the membership numbers rapidly to above 40.
Today, the MPMSC is one of the biggest Masters swimming clubs in the state, boasting close to 90 members and continuing to grow. The club has both sides of the Peninsula covered, retaining its original training pools at Pelican Park, Hastings and Crib Point and adding YAWA Aquatic Centre in Rosebud. The new YAWA Aquatic Centre has certainly been a factor in that growth but it's not the only factor. "The social side is a big part of the Seadragons' growth as a club, I believe," said Rob. "For our club we offer adult swimmers a community to join. A community of swimmers (and some non-swimmers) that love life in and around the water, whether that is a pool or the ocean, or having a chat over a cup of coffee.
"To see the club members chatting in the water, on pool deck or chatting over coffee brings a smile to my face. In addition to these we have a Social sub-committee that organises social events. These have included, dinners, movie nights, walks and a day at the Hot Springs, and there are always discussions about the next social event. We also have chat groups, in which swimmers often organise to catch up in small groups."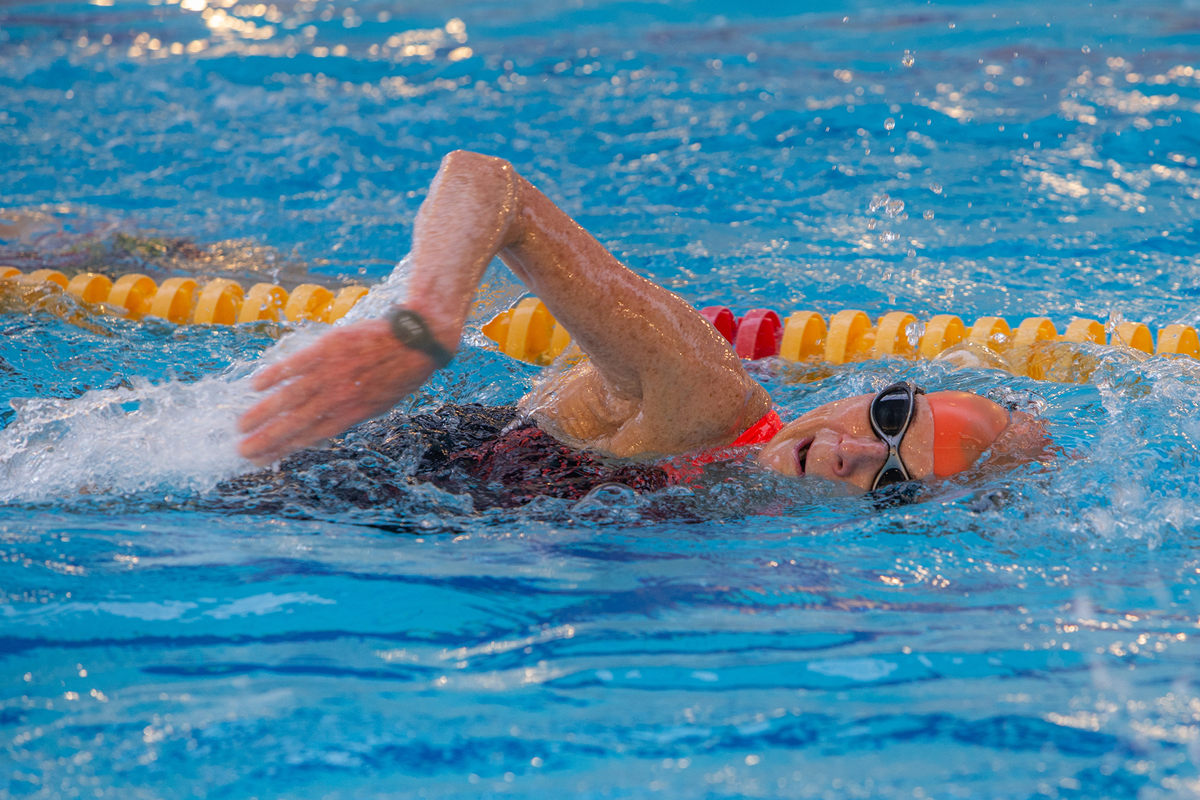 Pictures: Gary Sissons
The MPMSC members range from 18 to 86 years of age and come from all walks of life and backgrounds. "We have swimmers that, when they start can barely make one lap," said Rob, "up to Australian champions, and some that have represented us on the world stage."
Coaching is also a big part of the MPMSC. "We have a pool (pardon the pun) of five volunteer coaches," said Rob, "that run six sessions a week across the three pools. Our coaches run sessions that cater for swimmers of all levels and adapt for the swimmer's individual needs, fitness levels and allowing for any injuries."
Rob describes a typical session as usually 90 minutes in duration where the swimmer turns up at the start of a session, pays a session fee, gets ready and then hops in the water to do the warm-up set. After warm-up, the swimmers stop as a group for notices about club activities and then get onto the main program.
The main program includes some drills that help with the development of a swimming stroke. At the end of the program, there is a cool down and then swimmers hop out and get ready for a coffee or head home.
Swimmers can swim as often or as little as they like – one session a month, or four sessions a week, it is entirely up to the swimmer. Coaches regularly have conversations with each swimmer about their form but also about what they are capable of doing, how much rest they need, how long they should stay in the water. There is no pressure to perform, it is all about slow, steady improvement in a social setting.
For those who do like the thrill of competition, there is plenty on offer at MPMSC. There are interclub comps (where individual clubs host competitions for other clubs), state championships, national championships and world championships.
The club also hosts internal time trials and once a year have an open water intraclub event, just for club members.
MPMSC also has options for those who can't swim but want to learn. Just recently, the club partnered with Masters Swimming Australia, AUSTSWIM, Allianz and the Yawa Aquatic Centre on an 8-week pilot program for adults that have never swum before.
So, if you're looking for a sport to help you regain your fitness and improve your mental health in a supportive environment where fun and friendship is the focus then Masters swimming may be for you. All you need to do is call or email the MPMSC New Members Officer for more details on how to get involved.