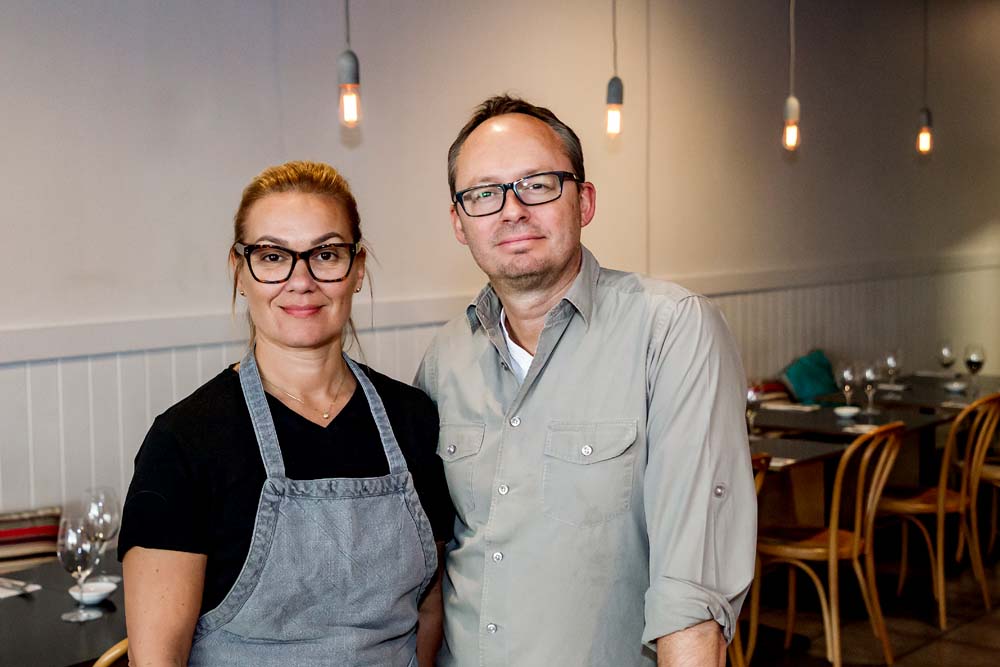 By Melissa Walsh Photos Yanni
Del Posto 2409 is the ultimate expression of what an Italian restaurant should be, and we are fortunate enough to have this Italian kitchen and bar right on our doorstep.
With Del Posto meaning 'of the place' in English, the husband and wife team, Nick and Melinda, has created a slice of Italy for their local community in Rye.
With a reputation for good food and a welcoming environment, Del Posto 2409 does not skip a beat, in true Italian style. The ambience is simple and elegant like the food of chef, Melinda who creates palate enlightening cuisine combining homemade pasta with a modern twist.
"We specialise in pasta but have a couple of other main dishes like spatchcock and fresh fish," said Melinda who has been a chef since she was 21. "I cook what we always loved to eat growing up, with lots of fresh pasta and fresh local ingredients."
Melinda grew up in an Italian household with her parents running restaurants as long as she can remember.
"Mum was a chef and dad was in hospitality running the restaurants so I was always surrounded by food," said Melinda, whose husband has also happened to be in hospitality for the bulk of his career, running their Rye restaurant for the past two years.
"I always associate everything with food and wanted to create a warm and welcoming environment with modern Italian cuisine," said Melinda who specialises in pasta making. "With Del Posto 2409, Nick and I have brought a more up-market type of cuisine to the area and the response has been wonderful."
Since the couple opened their doors two and a half years ago, they have been constantly in demand.
"We have people coming from local areas and around Victoria to have our Italian food which is light and flavoursome," said Melinda, who encourages share plates and smaller servings. "We do handmade gnocchi, lasagne with squid ink, fettucine with pork and veal ragu, agnolotti and orrechiette. With the colder weather upon us, we are adding hearty meals with our ragu."
For the sweet tooth there is also a range of home-made desserts, and a selection of local and international wines.
Recipe
FETTUCINE WTH MARINATED RED CAPSICUM, ANCHOVIES BASIL, BUFFALO MOZZARELLA AND PANGRATTATO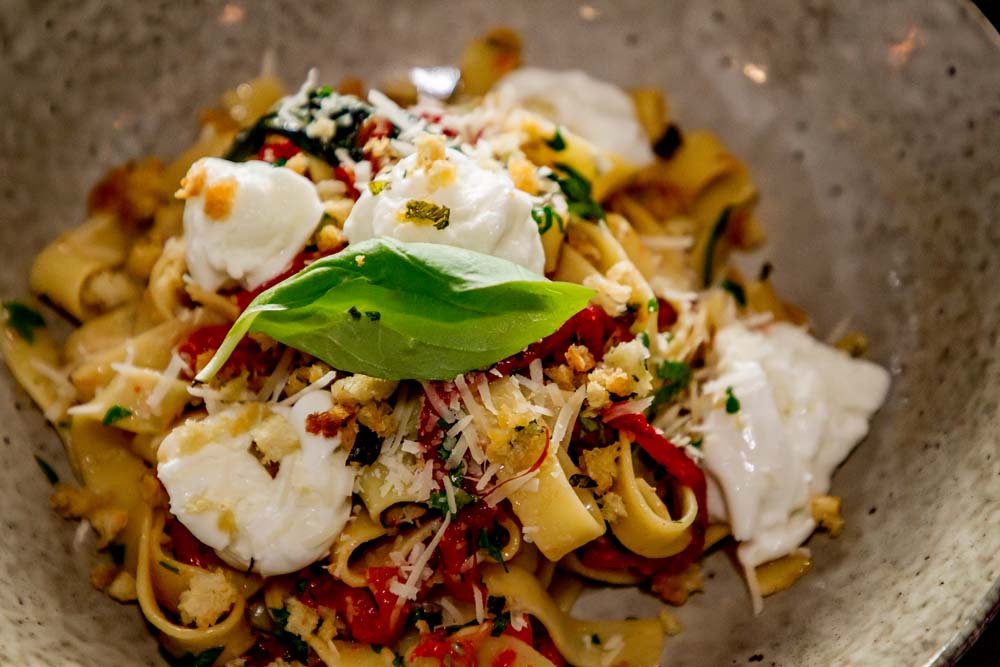 INGREDIENTS
3 tablespoon extra virgin olive oil
1 garlic clove, sliced
6 anchovy fillets in olive oil, finely chopped
10 basil leaves
2 tablespoon finely chopped parsley
1 large ball buffalo mozzarella
grated parmesan
500g fettuccine
sea salt
3 large red capsicums
1 cup breadcrumbs
1 tablespoon spring onion sliced
1 small chilli, finely sliced
METHOD
Preheat oven to 160 degrees
Place capsicum on a paper lined tray and drizzle with oil and sprinkle sea salt. Bake turning every 10 minutes as the skin starts to colour and loosen. Place in a bowl and cover with cling wrap and leave to cool.
Break each pepper in half and rinse in water, washing away seeds and removing skin.
Strain washed peppers to remove excess water.
Cut peppers into thin strips 5mm wide.
Cover with extra virgin olive oil and season with sea salt to taste. Refrigerate if making in advance.
For the pangrattato, place bread in a food processor and blitz until fine crumbs. Then add parsley, garlic, spring onion, chilli oil and salt. Blitz to combine all these ingredients. Spread evenly on a paper-lined tray and bake in oven, turning occasionally, until crispy and golden.
Heat olive oil in a large frying pan on a medium heat, add the garlic and cook gently until softened. Add the strips of marinated pepper, anchovies and cook for 5 minutes to let the flavours combine.
Cook the fettucine in a large pot of salted boiling water, then drain. Add to the sauce, top with basil leaves and parsley, toss well and cook gently for a couple of minutes.
Drizzle with extra olive oil if needed and season with sea salt.
To serve, tear buffalo mozzarella pieces on top, with parmesan and a good sprinkle of pangrattato.
---
Del Posto 2409 is at 2409 Point Nepean Road, Rye.
Phone 5985 6498