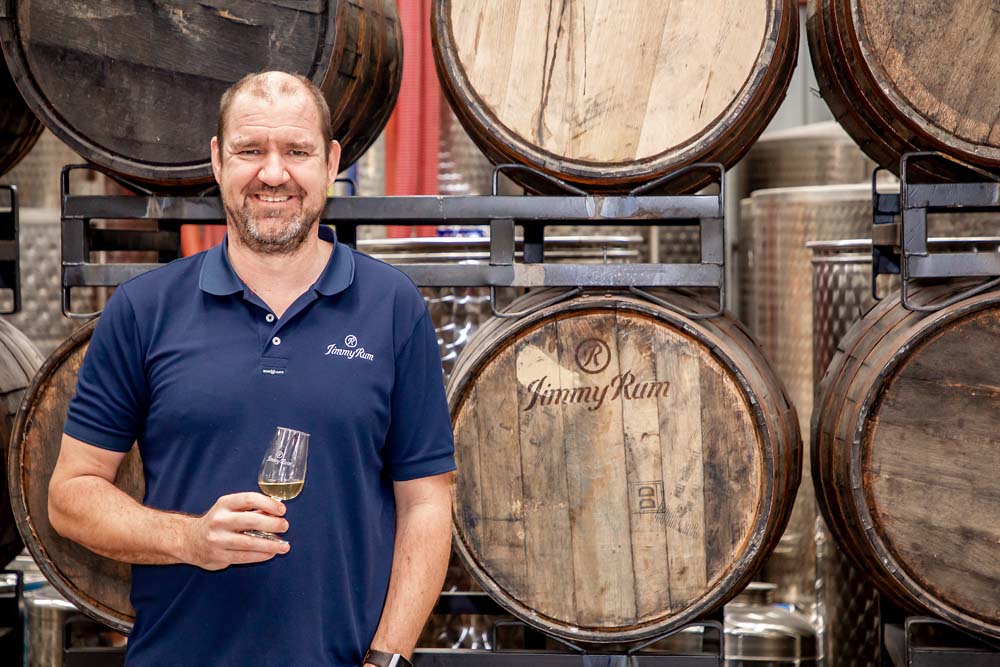 By Andrea Louise Thomas Photos Yanni
Not all rum is created equal. It's not just something to mix with cola. Great rum can stand its own ground and be imbibed neat. Like wine, it has variety and complexity. It activates the senses with its bouquet, flavour profiles, mouthfeel and colour.
James McPherson, proprietor of JimmyRum, is on a mission to educate people about rum. He would know because he makes extraordinary craft rum at his brand new distillery in Dromana. His rum will blow any preconceived notions about this spirit right out of the water.
Why rum? "I love its diversity. It's complex, intriguing and smooth. My background as a yachtie and merchant seafarer meant I spent most of my life at sea. Rum was the only spirit I liked," he says. In his previous profession as a marine engineer, those 20 years at sea travelling around the world gave him endless opportunities to sample his favourite spirit.
Funnily enough, his new career came about as a lark. When he was retiring from engineering, he was persistently asked what he would do next. In the end he said, "Stuff it. I'm gonna go make rum!"
Initially, he wasn't sure he could pull it off because Australia has very stringent alcohol production controls. Many breweries were making craft beer, but no one seemed to be making craft rum. So he looked into Australian craft distilleries and found out he could make craft rum.
Next, of course, came his research expedition; he had to learn about the hundreds of different styles of rum. So, he hopped on a plane and travelled overseas. In two and a half months, he visited 70 distilleries in the United States, Canada, the Caribbean and the UK.
He came home and started to apply what he had learned. He made a business plan, selected a still, found a venue, worked out system design and selected a fantastic and enthusiastic team, each with his own expertise. They started their first production run. Making a great craft product requires care in every step of the process. It's taken three and a half years working non-stop to make this distillery a reality.
The most important player, outside of McPherson, is Matilda. As well as being an iconic Australian name, the name translates from German as 'female warrior'. If he wanted to start a rum war (a war against people's perception of rum, that is) he needed a fierce partner. Matilda is a beauty. Technically, she's a sleek Italian import. Matilda is the still.
Once she was up and running, production could begin. Just the smell in the distillery is mouth watering. That sweet smell of molasses pervades. Rum is a sugar-based spirit; That could be molasses, used by a large percentage of the world's rum producers, or cane juice, as is the way of the French or good old Australian cane sugar.
Regardless of its base, producing any kind of spirit involves a complex kind of chemistry, but to put it simply, it comes down to three critical elements: fermenting, distilling and barreling.
The importance of the barrel cannot be underestimated. The type of barrel, length of time the spirit is inside it, age of the barrel, temperature and what was in it before all play a major part in the colour and flavour of rum. (Most of the barrels are ex-bourbon barrels made of oak imported from the United States.)
At JimmyRum, they produce four products. Their 'Silver' is a clear spirit, which technically, is not quite rum yet as it needs to be barreled two years to qualify as rum. It comes right off the still. It's 40% alcohol content.
Their 'Oaked' comes from new American oak barrels, which gives it a much different flavour profile. It's caramel in colour and higher in its alcohol content at 47%.
Their 'Navy' is 57.8%. It's a clear spirit named after the Royal Navy of the 1770s when rum strength was taken very seriously. They bought 'proof' strength rum for their sailors, as a blast of rum was required before every battle. Sailors were afforded two tots of rum. (That's the equivalent of 2 schooners!)
Proof strength was determined by soaking a line of gunpowder in rum. If the gunpowder could be lit, it was proof of the rum's strength (at 57.1%) In those days, trying to sell underproof rum to the Navy was a hanging crime!
Last but not least in the JimmyRum collection is their 'Barbados', a blend of 3, 5 and 8 year old imported rum. It's 40%. It tastes more like the classic 'dark' rum one might expect, but because it is blended, there is so much in it to savour.
JimmyRum products can be found in 30 different venues and bottle shops, but the best place to try it is at their newly-opened cocktail bar. It can accommodate 120 patrons. So, bottoms up!
---
JimmyRum, 6 Brasser Avenue, Dromana
Ph 5987 3338

@jimmyrumdistillery