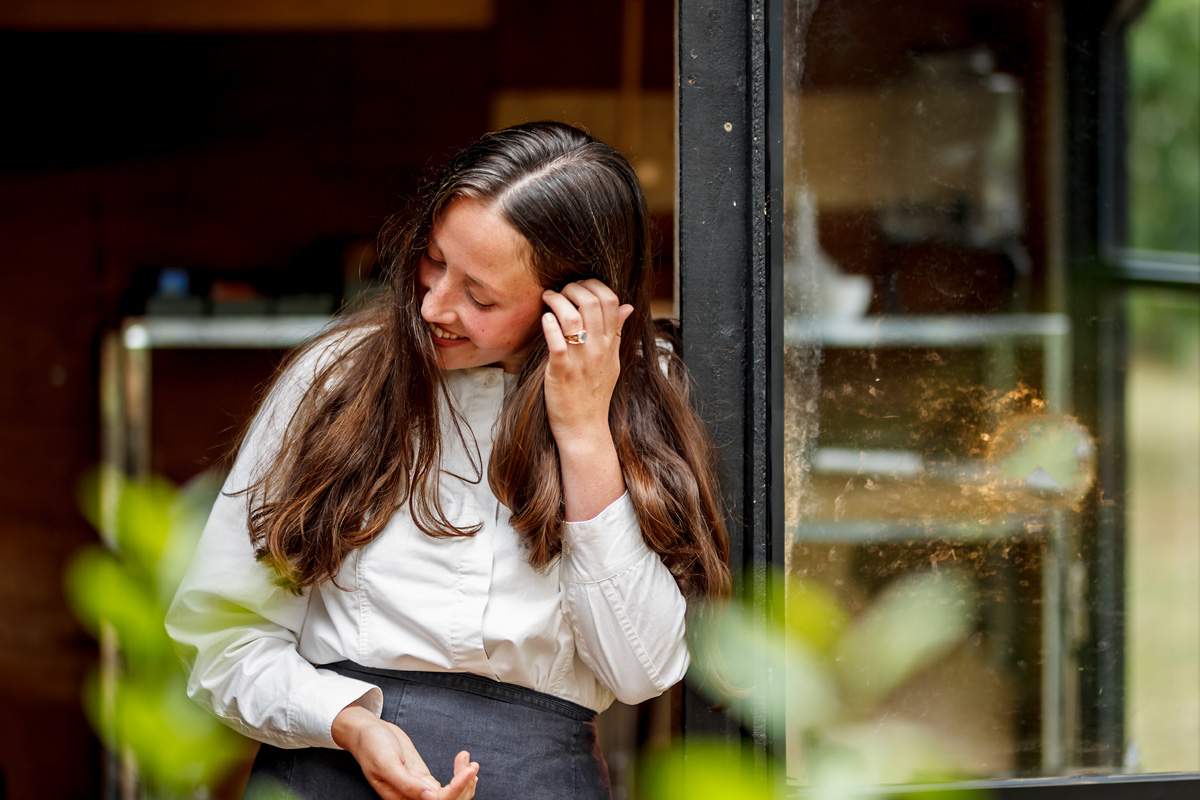 By Andrea Rowe Photos Yanni
Botanical perfumer Sondrine Kehoe is the working nose behind Cygnet Perfumery.
Launched in Cape Schanck in 2020, just as the world was absorbing the pandemic, Sondrine's vision for slow-made, luxury botanical fragrances and regenerative skincare couldn't have come at a better, or more primal time.
While equally immersed in early motherhood, Sondrine soon found herself with time to nurture her life-long love affair with botanical perfumes. She now produces up to 8 products, featuring small batches of 200 bottles a year of extrait de parfum, the purest and most potent form of perfume.
It's been a sensory lesson in traditional techniques, sourcing sustainable ingredients and creating limited release extrait de parfum, the purest form of perfume. Sondrine is on a mission to "bring awareness and curiosity back to our primal senses" and she clearly has a nose for it. Cygnet Perfumery's elegantly sweet petit bottle presentation and exquisite scents, calling for 'just one dab', foster a mindful approach to beautify consumption.
There's something nostalgic and pure about Sondrine's self-taught vision. It's no surprise that as a child she spent hours in the family's Camberwell garden creating her own botanical concoctions.
"I was always fascinated with making potions and perfumes and saving my pocket money to buy ingredients. Family and friends often donated old bottles and books with recipes in them, and
I experimented with flowers and the different senses in our garden. In high school I even wrote a book on working with perfumes and recreating classic scents."
Nicknamed 'Swan' by her loved ones growing up (Cygnet Perfumery pays homage to her pet name), Sondrine's gentle nature further informed her career choice. She went on to study midwifery, supporting women during pregnancy and birth.
"After my placements we moved to the peninsula in 2016. It was a magical start to our life here, as my partner, Patrick, and I moved in together to Shoreham with my sister and her husband. We both fell pregnant within two weeks of each other."
"Things had been hectic before that but suddenly life started to slow down. This enabled me to think about the sort of lifestyle I wanted. Cygnet Perfumery was born around my values and desire to be with my children, while feeling fulfilled and returning to my passion. During mothering I think it's important to have a creative and purposeful outlet while you're also nurturing others."
Sondrine's talent for scent recognition and sustainable production philosophy supported her vision for Cygnet Perfumery. She foresaw that interest from conscious consumers in hand-crafted fragrance without synthetic aromas was slowly growing.
"While producing and retailing extrait de parfum is well-established in Europe, botanical perfume is a small industry in Australia. There's just a handful of businesses producing small batch scents; direct access to ingredients and supplies are hard to source, and natural perfume isn't a part of our culture. But there's a definite movement towards it now," she says.
"We have an established slow food and slow fashion movement in Australia, I'd really love to see us evolve with a slow scent and skincare movement too."
A move from Shoreham to five acres in Cape Schanck saw Sondrine convert their garden shed, under the shade of giant Moreton Bay fig, into a cosy workshop where aromatics are stored in temperature-controlled wine fridges. "There's a lovely intimacy in the space where I create, and where my daughters spend time with me."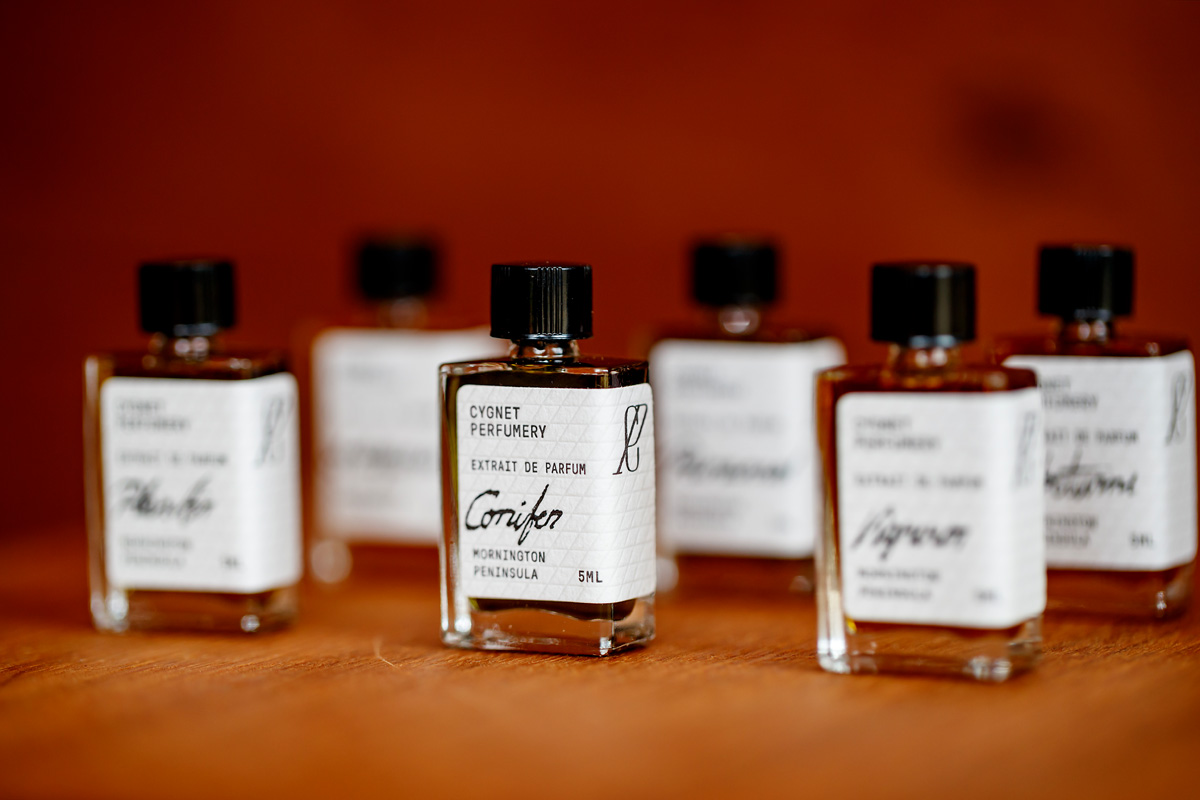 It's in this sensorial makers-space that Sondrine makes tinctures, filters and macerates and bottles perfumes by hand, which can take four to six months for each small batch to age. Some of her tinctures (the processing of raw aromatic materials in alcohol to release their essence and natural scents) take up to a year.
"Australian's are seeking out slow-made products with mindful application in their development. It's a rewarding time to grow this sort of business when the market tells us there's interest. I source ingredients direct from farmers and distillers for our skincare which is no small feat as a small-batch business. For our fragrances, which contain upwards of 30 different botanical aromatics in each one, I work with two reputable suppliers in Italy and America who have a beautiful selection of products and aromatics for my perfumes."
Sondrine has grown her business further, now hand blending soil to skin organic, regenerative skincare. The small batch luxury perfume producer has a big heart when it comes to sustainable practices and ethical earth care.
"I've invested time becoming informed about endangered species and what we are going to lose by sourcing such products as Mysore sandalwood which is close to extinction, and overharvested crops like frankincense. Wildcrafted can be a complex industry with positives and negatives so I'm always careful about who I source from. It's equally important to be knowledgeable on behalf of my consumers and ensure I work with suppliers whose workers are paid a fair wage." Through a carbon neutral initiative, the business plants a tree for every skin care product sold.
The Mornington Peninsula has proven a stimulating muse.
"I love how the landscape of the peninsula has formed some of my directions in introducing ingredients, my connection with sense and also the names of perfumes."
The Pines evokes the scent of conifer and is inspired by Shoreham; "the first place I walked when we moved here". Plein Air evoked images of rolling fields of hay in summer in Flinders and Vigneron, with fruity heart notes salutes the wineries of the Mornington Peninsula.
Numerous studies document how olfactory receptors and the limbic system activate vivid recollection. Scent undeniably ties us to memory, summoning long-forgotten scenes from deep within.
Sondrine is endlessly "inspired by unseen interactions of humans and nature and how scent forms a place inside us and leads us to memories that are so visceral."
She receives regular emails from customers reliving those memories.
"Recently someone said the scent they purchased helped them stay connected with their overseas mother while physically apart during COVID, and another said the scent she chose gave her back the smell of spring that she couldn't inhale under her mask."
Smell has the power to summon personal moments and long-forgotten scenes from the very depth of our memories.
Sondrine's own favourite memory-charged scent is the smell of both her two newborns; "they smelt sweet, musky and warm. I'm sure any parent can relate."
But asking a perfumer to name their favourite scent is like asking them to name a favourite child. "My choice is linked to the season and how I'm feeling – I do reach for Antiquarian daily but each scent I create carries a special emotion and connection with it."
While consumers savour Cygnet Perfumery's craftmanship, Sondrine breathes in the slow-living lifestyle of the peninsula that anoints her growing business and family.