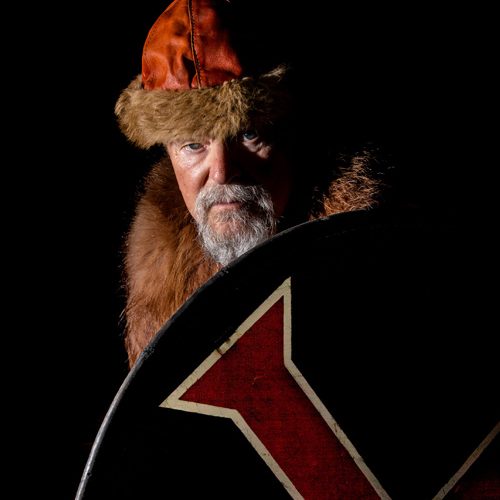 By Keith Platt  Photos Gary Sissons
Asbjorn Pedersen is a big Viking fan, but he is also ready and willing to dispel a few myths. The "invaders" did not sport horns on their helmets and some long boats were designed for trade, not warfare. With Asbjorn in charge, it is quite likely that a Viking ship built in Hastings will make a record voyage from Australia to Denmark. However, the ship will be carried aboard a modern-day freighter rather than setting sail and relying on the stamina of oarsmen.
Time seems to only enhance the sometimes fearsome reputation of Vikings. Folklore and legend have painted them as fearsome invaders and warriors, sweeping all before them after a long and treacherous sea journey aboard their fabled long boats. There is no doubt about the existence of Vikings and their long-distance exploits, but the myths have definitely been coloured to conform to a cinematic, savage reputation. It seems the Vikings had always been ready for discovery by Hollywood.
In fact, the Vikings were raiders, pirates, traders, explorers, and colonizers during the 9th to 11th century. The stereotype of Viking helmets having horns goes back to costuming in 19th-century opera. In reality, horned helmets would have been impractical during combat. They may have been worn only for ceremonial purposes in pre-Viking times. The main style of actual helmets was the spangenhelm, consisting of several pieces of iron riveted together.
Asbjorn attributes his fascination with the square-rigged ships and their crews to the "Viking blood running through my heart." Now living in Mornington, Asbjorn was born on Bornholm, a small Danish island in the Baltic Sea, about 100 kilometres north of the fortress of Jomsborg. The fortress was the headquarters of the legendary Jomsvikings, a group of mercenaries organised by Danish King Harald Bluetooth.
Vikings and dreams of building a replica Viking ship have long been on Asbjorn's mind and in February 2020 he set about making a full-scale copy of a more than 1000-year-old trading ship he first saw at the Viking Ship Museum in Roskilde, Denmark.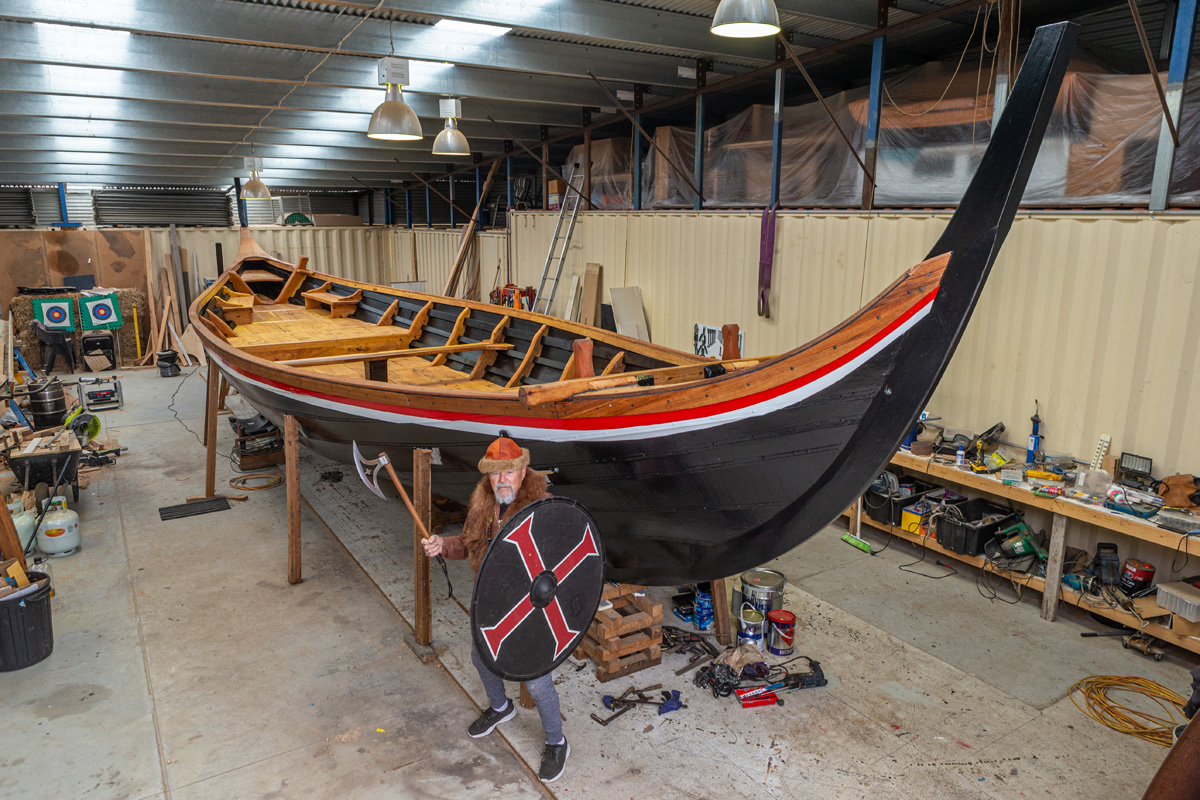 The 14.8 metre long, 3.4 metre wide Mjölner (named after the hammer of the thunder god Thor) is set to be launched soon before being shipped off to a Viking festival in Denmark. After returning to Australia, the Mjölner, its six-person crew and 52.5 square metre black sail will be seen regularly in Port Phillip "and we hope to be part of the festivals around the bay and we will be wearing full Viking kit," said Asbjorn. "We have formed a reenactment group, The Joms Vikings, and the ship is painted in their colours of black, red and white.
Asbjorn's mother's side of the family live in the Faroe Islands, in the middle of the North Atlantic, halfway between Norway and Iceland. "They are still making small fishing boats, and are very similar to the Viking ship, so every time that I get up there, my cousins take me to visit the boat builders," he said.
The original trading ship he saw at the Roskilde museum was in a very good condition, considering it had been in the water for more than 1000 years. The museum made a replica – the Freja Byrding – as an experiment to see how ships like that were built and sailed. "Every time that I am in Denmark I go sailing on that ship," Mr. Pedersen said.
After describing his plans to also copy the trading Viking ship to his friends who had made the Freja Byrding, he was nicknamed The Epoxy Viking, because of his use of an expo glue.
His dreams were also able to be realised after meeting David Duncan and his brother Jim, of the Hastings-based NRP Group, who provided the undercover space to build a boat. "They allowed me to set up shop on their land in Hastings. It was fantastic sponsorship," Asbjorn said.
Aaron Pearson and Taylor Kelly volunteered to help with the building and will also be crew members. "They've been a great help, but it has been very hard during the lockdowns," he said. "But I am very happy with the result. We will have a crew of six to sail but will be able to carry about 20 people."
"This is a little part of history – It has been lots of work, but a labour of love."