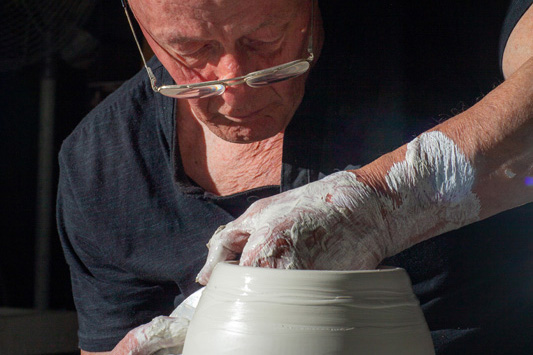 By Andrea Louise Thomas  Photos Gary Sissons
Wouldn't it be interesting to get an insight into the creative mind? How does a painter, sculptor, printmaker, potter, photographer, jeweller, textile or glass artist get from concept to creation? How do they make art? Imagine walking into their world.
Art studios are generally private spaces the public never get to see, but a group of artists on the Mornington Peninsula have changed that. They have taken down the wall between studio and gallery to allow a rare glimpse into their creative process. They are the artists of the Peninsula Studio Trail (PST).
The PST started in 2008 when a small group of individual artists got together with a mission to shine a spotlight on the many and varied talents of artists on the Peninsula. It was hard to get noticed as individual artists, so they joined forces to help each other and bring the public into their domain.
To this end, the group created a studio trail map so that visitors could plan a Peninsula art day out, visiting the artists at work in their studios. Rather than viewing other PST artists as competition, their aim was to support one another.
All the artists had a folio book featuring the work of the other PST artists so visitors could decide what type of artist they would like to visit next. This kind of cross promotion was something new for Peninsula artists and patrons.
There are now 35 artists in PST, working in drawing, painting, sculpture, ceramics, textiles, glass, printmaking, jewellery and mixed media. Every artist's philosophy, technique and approach to practice is unique.
PST President Jennifer Fletcher says, "Our role is to educate the public about art and how it's created. We take visitors behind the gallery facade to see a working studio. We also provide an opportunity for visitors to develop a connection with artists, purchase art directly from the artist, and organise commissions."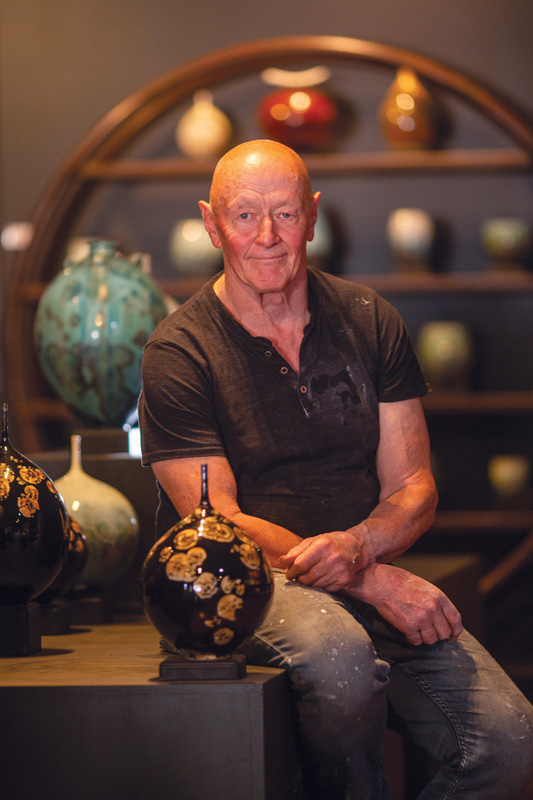 Three weekends a year, (one in May, two in November), the artists host Open Studio Weekends to share with the public. Some artists accept visitors by appointment. The PST also holds an annual exhibition. This year it's on from September 23 to October 2 at The Studio in Wilson's Road, Mornington.
The majority of the PST artists would say that, in addition to helping grow their client base, one of the greatest benefits to membership is the camaraderie and bonhomie amongst the group. They meet four or five times a year for business discussions, but also have informal functions to socialise.
"The social connection is very powerful. Artists work in isolation. That can be lonely. Meeting other artists is good for the soul. Seeing how other artists work, sharing ideas and resources, networking, learning business strategies and connecting to other artists helps all of us," Jennifer says.
Sharing with the public provides further opportunities for social interaction, which the artists love, but it's also very helpful getting that immediate response and recognition of their work from visitors. Feedback from patrons has been overwhelmingly positive.
Artists' work can also be viewed on the PST website. Each artist has a feature page with images of their work, biographical information and contact details. Even better, when used from a mobile phone, the website is interactive. Clicking on an artist's address directly connects the user to Google maps so they can easily find each studio.
PST incorporated in 2018 as a not-for-profit organisation widening their networks and opportunities for members. Members have also been a part of the Mornington Peninsula Shire's Arts and Culture Advisory Panel to help promote all Peninsula art and artists.
The Mornington Peninsula Shire recognises the significance of the PST as an important part of the Peninsula's creative landscape and PST is extremely grateful for the Shire's ongoing acknowledgement and support.
Back in 2008, it was hard for individual artists to get noticed, but by creating a network, the PST artists have connected to each other and the public in meaningful and lasting ways that underscore the Mornington Peninsula as a unique and significant arts and culture region.
"It's very important for artists to have social connection, but we also want to give back to the community. We want arts to be just as important as food and wine to the culture of the Mornington Peninsula," Jennifer says. The PST is on a mission to see that happen.