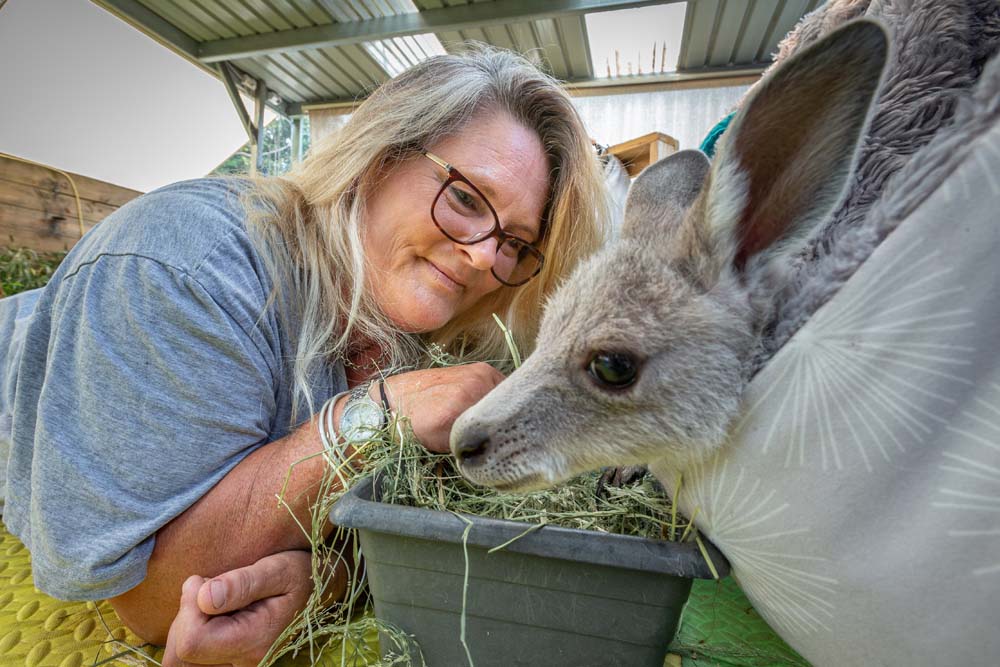 Leah Humphreys is one of the most compassionate and high-spirited carers you will meet. She runs the Access Wildlife – Keeping Charlotte's Promise Wildlife Shelter in Langwarrin. Leah's not-for-profit wildlife shelter assists with the rescue, rehabilitation and release of sick, injured and orphaned native wildlife.
Together with her team of wildlife carers, Leah has given up part of her home, her yard space and a large piece of her heart to care for Victoria's vulnerable creatures. She founded Access Wildlife – Keeping Charlotte's Promise Wildlife Shelter in 2017 on her property and devotes her life to her cause.
"We looked for a suitable place for ages. Somewhere that would enable us to do something like this. We stumbled across our current property and it was something we could afford, so we did it," she says.
Keeping Charlotte's Promise is named after Leah's first kangaroo. Charlotte arrived in Leah's care in 2017. Being a new wildlife carer at the time, she didn't know there was something wrong with Charlotte until the orphaned joey started to grow.
"Charlotte was paralysed. I worked with my vet and organised physio treatment but unfortunately it wasn't meant to be, so I made a promise to Charlotte that I would care for all the roos that I could manage," says Leah.
Becoming a wildlife carer is not easy. It takes years of experience and running a shelter is subject to strict conditions. Permits are required to care for native injured or rescued wildlife and regular inspections are necessary to ensure shelters comply with legal guidelines.
Leah started out as a volunteer at a local wildlife shelter. She then worked under the wing of a vet nurse who worked with Macropods – marsupials, commonly known as kangaroos and wallabies.
Not many carers work with Macropods because, Leah explains, they are delicate and easily stressed. Due to Leah's experience, Access Wildlife – Keeping Charlotte's Promise Wildlife Shelter is a much-needed sanctuary for Macropod animals needing care, particularly the Eastern Grey Kangaroo.
Leah and her team of volunteers, including Biological Science student Kody, who works at the shelter every day during university breaks, also care for possums, echidnas, wombats, wallabies, gliders, birds, reptiles and many other Australian native wildlife species. At the time of writing, Access Wildlife – Keeping Charlotte's Promise Wildlife Shelter was housing 15 rescued kangaroos, a dozen possums, a wombat and a handful of birds.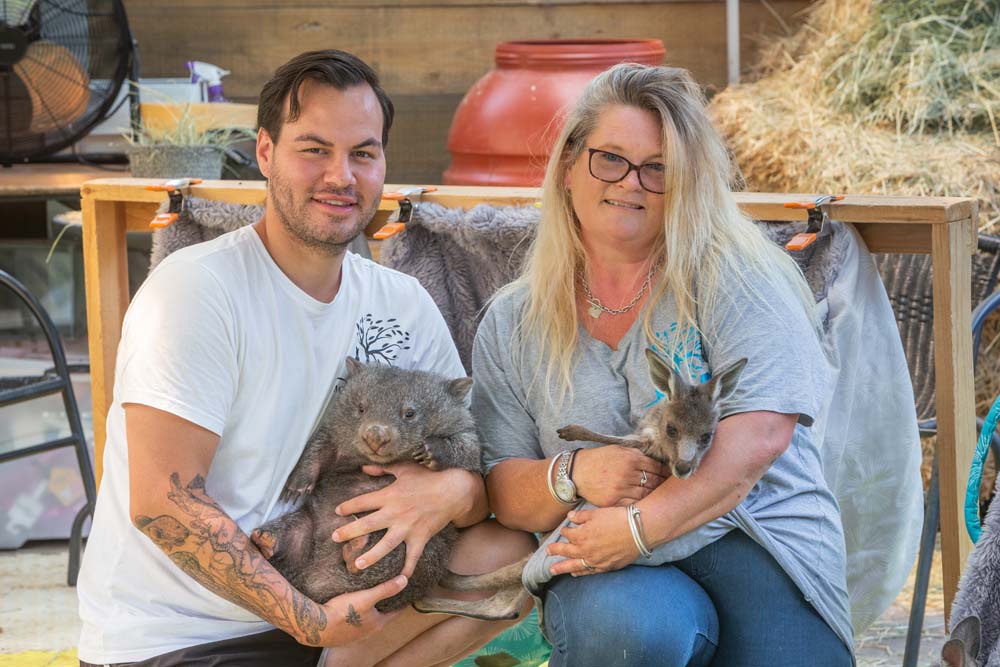 Leah works closely with shelters all over Victoria, although Access Wildlife – Keeping Charlotte's Promise Wildlife Shelter is the only one of its kind in the area. Most of the animals come into her care via an 80-acre wildlife refuge in Bullengarook, near Bacchus Marsh.
"We are given orphaned baby animals and it is our job to care for them and raise them. From here they will go back to Bullengarook and spend about 18 months learning to live with minimal human interaction, before they are ready for release," says Leah.
Releasing kangaroos back into the wild takes time. When they reach a minimum of 20 kilos and are strong enough to leave, the roos are walked down to the forest in their own little mob so they can become familiar with their new territory. When the roos venture back into the wild in Bullengarook, they remain close to the shelter.
"After they have left their shelter, the roos quite often come back for dinner; some bring back some wild ones or they'll come back if they're injured, sick or even just to show off their new babies. It's wonderful to see," she says.
Rehabilitating native Australian wildlife is a challenging and tiresome task. Some 80% of the animals in Leah's care are orphans found in pouches after road vehicles have hit their mothers. It is Leah's job to hand-raise these joeys, many requiring feeds every three to four hours, both night and day. Her shelter is open 24 hours, 365 days a year.
Volunteers and university students help Leah care for the animals at the shelter. She also welcomes a number of people with intellectually disabilities who assist with the care of the animals at the shelter on a weekly or fortnightly basis.
While grateful for any assistance she receives, there is a limit to the number of animals she can accept until the shelter increases in size. Access Wildlife – Keeping Charlotte's Promise Wildlife Shelter is a not-for-profit, registered charity and is therefore reliant on volunteer assistance and donations. Thankfully, due to the overwhelming support given by her local community, Leah's dream to expand her shelter will soon become a reality:
"Construction of our half-an-acre roo enclosure will be built soon. We've had the fencing, the turf and irrigation donated. We just need a water tank now, which we're sourcing. This means we'll be able to take wallabies, kangaroos and anything up to 10 kilos. We are hoping to build a koala enclosure too," commented Leah.
That said, Leah's shelter will still be a work-in-progress. Native wildlife, particularly younglings, require a tremendous amount of care and attention. Her work is tiresome and her hours are long. This means Leah is reliant on others to help build and maintain her beloved and much-needed wildlife sanctuary in Langwarrin.
---
To learn more about the wonderful work Leah and her team are doing at Access Wildlife – Keeping Charlotte's Promise Wildlife Shelter visit www.kcpwildlifeshelter.org.au.
Donations are, of course, greatly appreciated.