By Andrea Rowe Photos Yanni
Emily Watson has a crowded office. She shares it with 230 bird species, countless dolphins, whales and seals, two crew and a boat load of passengers.
But she's perched calmly at her desk, a wheelhouse control panel overlooking a watery work environment as the only female Master of Western Port Ferries.
Emily's office-with-a-view is aboard the MV Naturaliste passenger ferry, operating between Stony Point, French Island and Cowes on Phillip Island in Western Port Bay.
For a Red Hill girl working dive boats as a teen, this is an office she was made for. The mum of two may have taken a different route from her colleagues to captain a catamaran ferry between Phillip and French Islands, but she wouldn't have it any other way.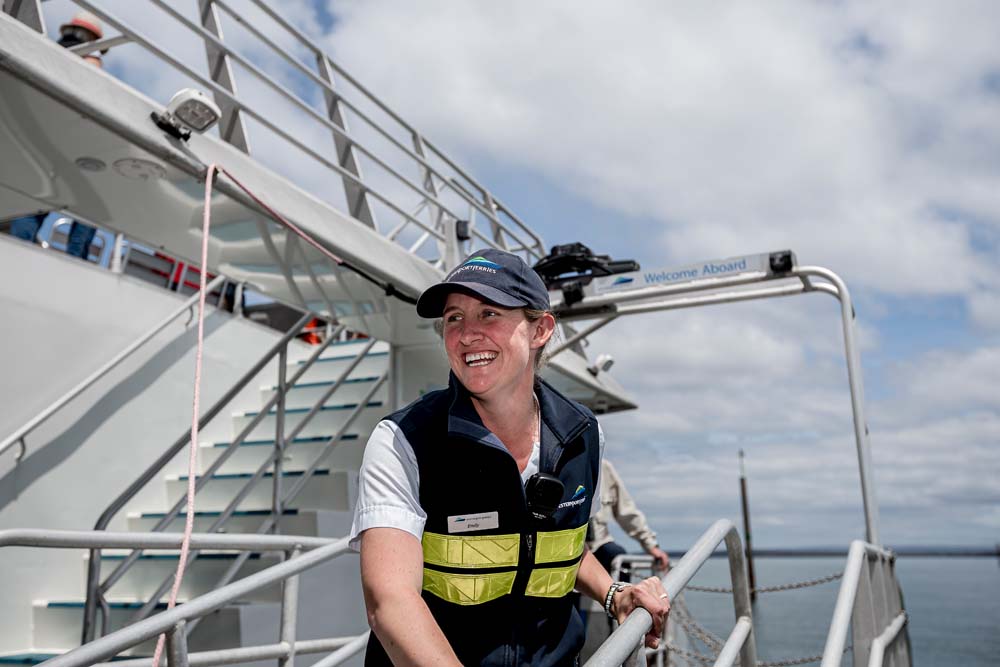 Emily spent her teens in Sorrento's Surf Life Saving Club and surfing with her mates at Pt Leo. When she was 16 years old Emily's dad introduced her to diving and the family's new boat – a semi-rigid zodiac. Emily was soon at the helm, and hooked. She formed an affinity with engines and maintenance as much as with the Peninsula coastline. One of three daughters, Emily's diesel mechanic dad had her on the tools early.
"I was his replacement boy, so he always had me tinkering and messing about with engines."
With a part time job at Melbourne Dive Services in Portsea, she became the quintessential coastal kid.
Graduating from Rosebud Secondary College in 2002, Emily completed a Dive Resort Management Diploma at William Angliss and headed north. For five years she worked in the Queensland dive industry, qualifying and working as a coxswain's deck hand out of Lizard and Brampton Islands.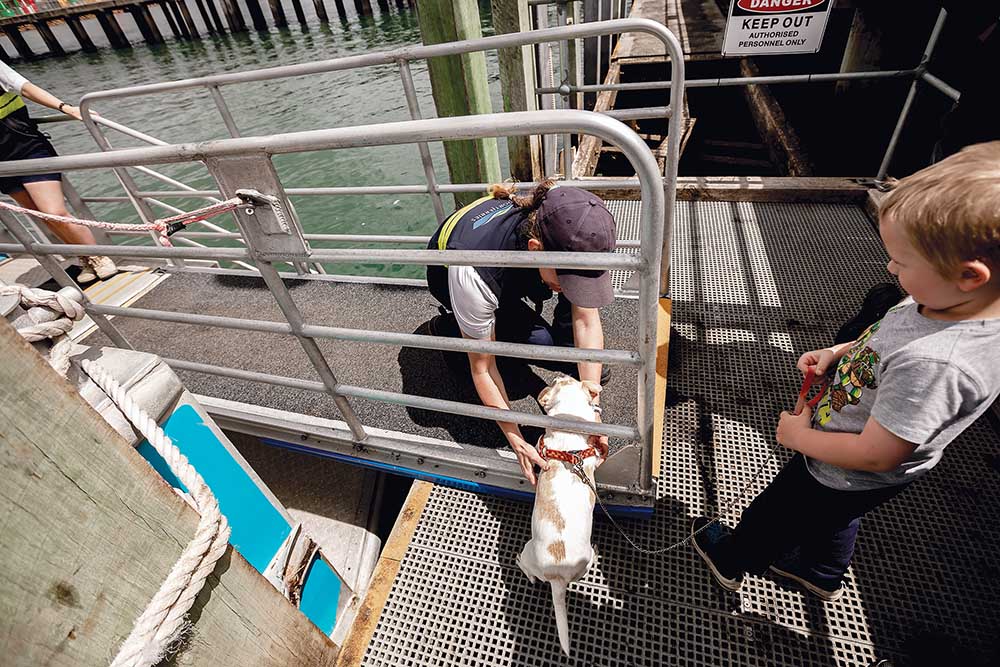 Travels in Europe-"it was too cold for me,"-and a break from the industry to start a family confirmed landlocked jobs were not for her.
"I'm just not suited to offices; I'm more at home in boats."
Back in Victoria, a Western Port Ferries ad caught her eye, "I knew it was the right job for me."
Emily's 'right job' looks a little like an episode from the TV show Sea Change.
Locals cart bags of groceries and swap weather reports, tour operators greet guests and backpackers jostle on the jetty for the ferry.  Emily loves this interaction with her passengers.
"When the school kids board at 4:15pm it's a little noisier – but they're great. Locals from French Island travel to the train to head into town. We've got folks coming and going to Phillip Island and it gets busier at Grand Prix time. There's always something going on."
A pod of dolphins surfaces ahead, and Emily's alerts passengers while the pod is still in mid-dive.
"Seeing whales is the most exciting. They're cautious of the boats and we keep 200 metres distance, but it's great to see them traveling through."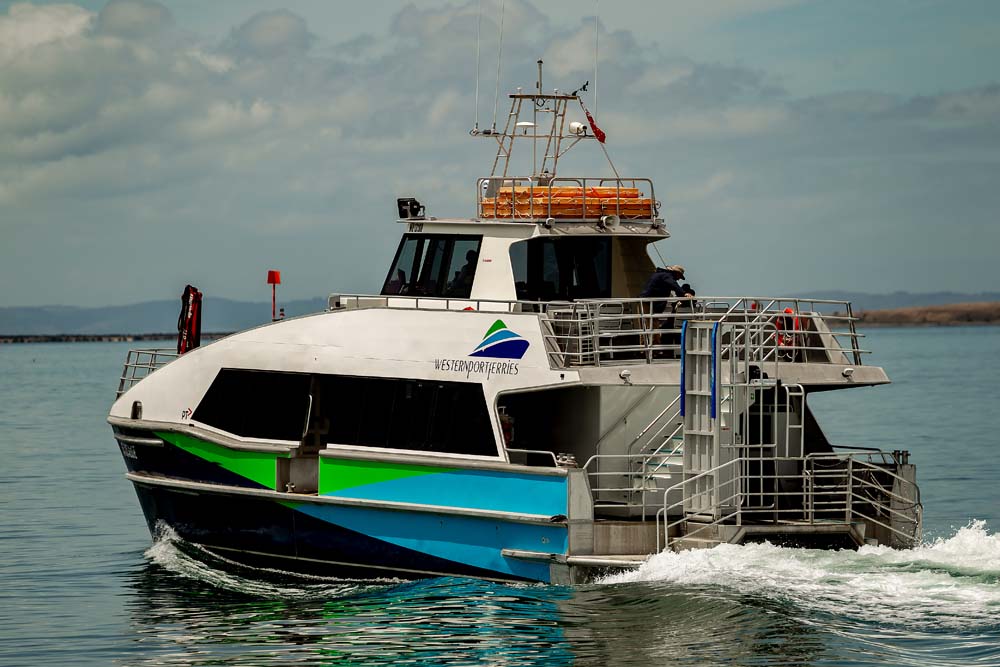 Above water white bellied sea eagles, oyster catchers and orange bellied parrots lure birdwatchers on board, but Emily has a soft spot for some other regulars: Big Ray, the stingray, and Sammy Seal.
"They certainly make the day interesting when we see them."
It's not all fair-weather sailing in the waters of Western Port.
"Some days are rough. The big wind is the most challenging and requires all our attention and focus for the crossing. We've got up to 95 people to look after."
"Strong gales test us, and we cancel if the weather is really bad." On those days Emily and her crew get stuck into maintenance jobs back at the wharf.
"Some people think I have the cruisiest job, but it's not really."
It's a long yet rewarding 14 hour day for a ferry Master. Emily and her crew of two start at 6:30am preparing the ferry for the first run. They'll complete eight return trips to French Island and four return trips to Phillip Island weekdays before the last run of the day after 7pm.
Out on the water she keeps constant watch for fishing boats, kayakers, barges and tugs and tidal variations, and tunes into shipping movement updates.
A master of efficiencies and focus, Emily managed babies while working on the ferry as a deck hand studying for her Master Certificate by correspondence, and notching up 600 days in sea time. She qualified this year as one of a select group of female Masters in Victoria.
Emily's understated ways play down the impressive feat that at 35 years of age she is Master of the helm in what has been traditionally a male dominated profession.
She's currently mentoring 19 year old Kiara who is completing a traineeship with parent organisation Searoad Ferries. Emily has tremendous gratitude for her own mentors, old salts of the sea who shared their wisdom.
"Starting at the bottom as a deckhand and working your way up is invaluable – it's about experience".
---
Western Port Ferries depart Stony point to Tankerton jetty, French Island and Cowes pier, Philip Island, everyday. Tickets may be purchased onboard the ferry, but bookings are recommended over the busy summer period.
Visit website for timetables and all ticket booking information.
Western Port Ferries, 1 Stony Point Rd, Crib Point