By Andrea Louise Thomas  Photos Gary Sissons
Mattia Di Febbo, head chef and owner of Mornington restaurant Assaggini, comes from a spectacular region of Italy called Abruzzo (east of Rome) that runs from the Apennine Mountains to the Adriatic Sea. Luckily for him, this made for a bounty of culinary choices at mealtimes; everything one could hope for was fresh and available in season.
From the earliest age, Mattia was attracted to the kitchen to cook with his mother and grandmother, learning traditional, generational Italian dishes. He grew up tasting, testing, making and cooking. There was never any doubt that he would be a chef. He already had a perfect foundation.
At 14 he started a five-year course in cooking and hospitality, learning all aspects of working in restaurants. From 16, he specialised in becoming a chef. Throughout his schooling Mattia had opportunities to work in many kitchens, not just in Italy, but in other European countries too. He learned a wide variety of cuisines and cooking methods.
When his education was complete, Mattia decided to make a bold change. He wanted to experience something completely different and had always wanted to travel to a land far away. At 19 he decided to leave Italy and travel to the other side of the world to start a new life in Australia.
For the first six months after his arrival he worked at the Versace Hotel on the Gold Coast, but then he moved to the Mornington Peninsula to take up a position as sous chef at The Epicurean in Red Hill. He spent four years there before making the change to become head chef at Assaggini. Except for a brief foray to try something different, he's been there ever since.
The day COVID restrictions shut down restaurants across Victoria; Mattia signed the papers to buy Assaggini. It might have seemed a crazy gamble, but he was confident. Throughout lockdowns, he was cooking up a storm and sending his love of cooking out to people's homes. His wait staff delivered the meals to make sure they got there in good condition and in a timely fashion.
Mattia characterises his cooking as traditional Italian with a modern Australian twist. He capitalises on the richness of the Mornington Peninsula region for ingredients such as eggs, fresh produce and local seafood. He also adds Australian native ingredients to his dishes and desserts to create new flavours. His chocolate tart is infused with wattleseed, for instance.
Mattia's signature dish is his tortelloni with cacio e pepe, parsley, burnt butter and walnut, but he also makes the same potato gnocchi he used to make with his grandmother featuring oxtail ragout, mushroom and comté. The menu is filled with creative combinations reinventing classic dishes and designing new ones. Choices change with the seasons.
Mattia puts a great deal of thought into having an all-inclusive menu. Sixty percent of the menu items are gluten free. Those with fructose allergies are catered for. There is also a full plant-based menu. He consciously pairs regular dishes with vegan options even in the desserts. It took 15 ingredients to create a vegan brownie that tastes like a traditional brownie!
"The focus is on sharing and caring. I really like cooking and creating an experience for diners. The kitchen is open so people can see we are enjoying what we are doing," Mattia says. While the kitchen is a high stakes environment, he wouldn't have it any other way. "I love the adrenaline rush with the pressure of working in the kitchen. It's a kick!" he says.
It takes a lot of lead-time to create new dishes. It might take four to six months but, as he says, "I am loving what we do, getting up and cooking and trying something new." Right from the get-go, he and his team were trying something new because they opened a restaurant without any diners. They had to work out an online ordering system, but they were busy from day one.
It was strange starting with an empty restaurant, but now with restrictions lifted, the place is hopping and consistently booked. Mattia has a very loyal and dedicated team. Together they have created a real dining experience. Assaggini also has a well stocked wine bar that features an extensive range of Italian wine, but they have wines from Australia and around the world too.
Mattia is delighted that he chose the Mornington Peninsula as his new home. When he's not singing the praises of local producers, he's talking up his love of bushwalks and beach breezes, wildlife and fresh air. Clearly he's landed in the right place. Come and taste what he's made of it.
Recipe
TORTELLONI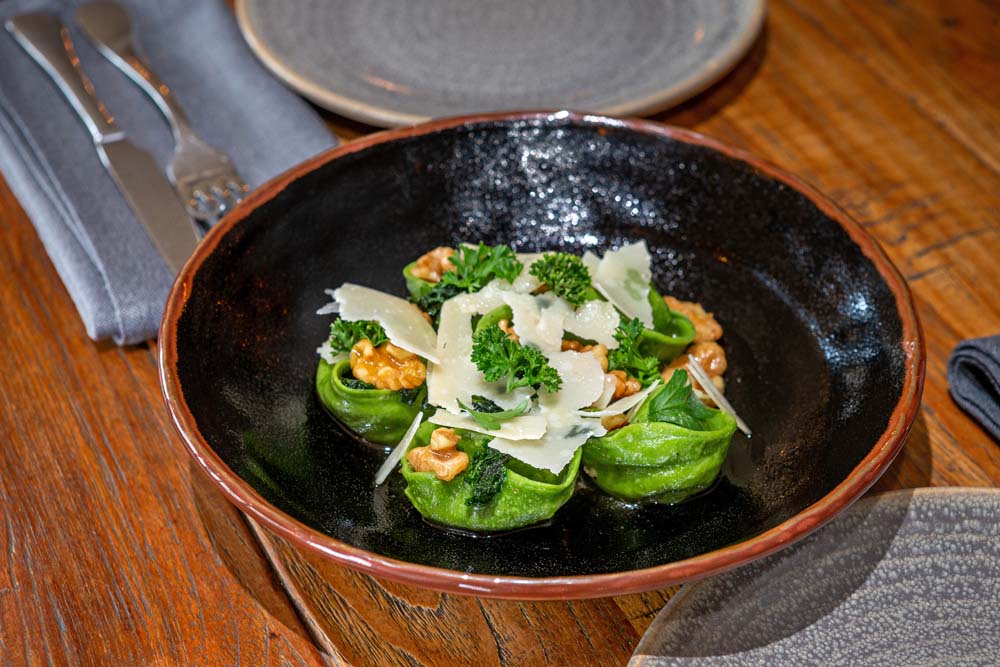 Pasta Dough
1kg Tipo 00 Flour
8 Free range eggs – Room Temperature
100gr Baby Spinach – Puréed
Filling
Ricotta 700g
Parmesan 200g
Pecorino 200g
Black Pepper 10g
Step 1
Beat flour, eggs, spinach purée and a sprinkle of salt together in a bowl.
Step 2
Turn dough out onto a work surface and knead for 10 minutes. Let dough rest for 5 to 10 minutes. Divide dough into 8 balls and use a pasta machine to roll and cut dough into 10cm circles.
Step 3
Mix ricotta, finely grated parmesan and finely grated pecorino in a bowl, season with black pepper.
Step 4
Fill pasta circles and fold into Tortelloni
Step 5
Place into boiling water for 8 minutes or until they float.
Finish in a burnt butter sauce, a healthy dose of black pepper, shaved parmesan and walnuts.
---
1C Albert St, Mornington VIC 3931
P: 5973 5791
assaggini.com.au