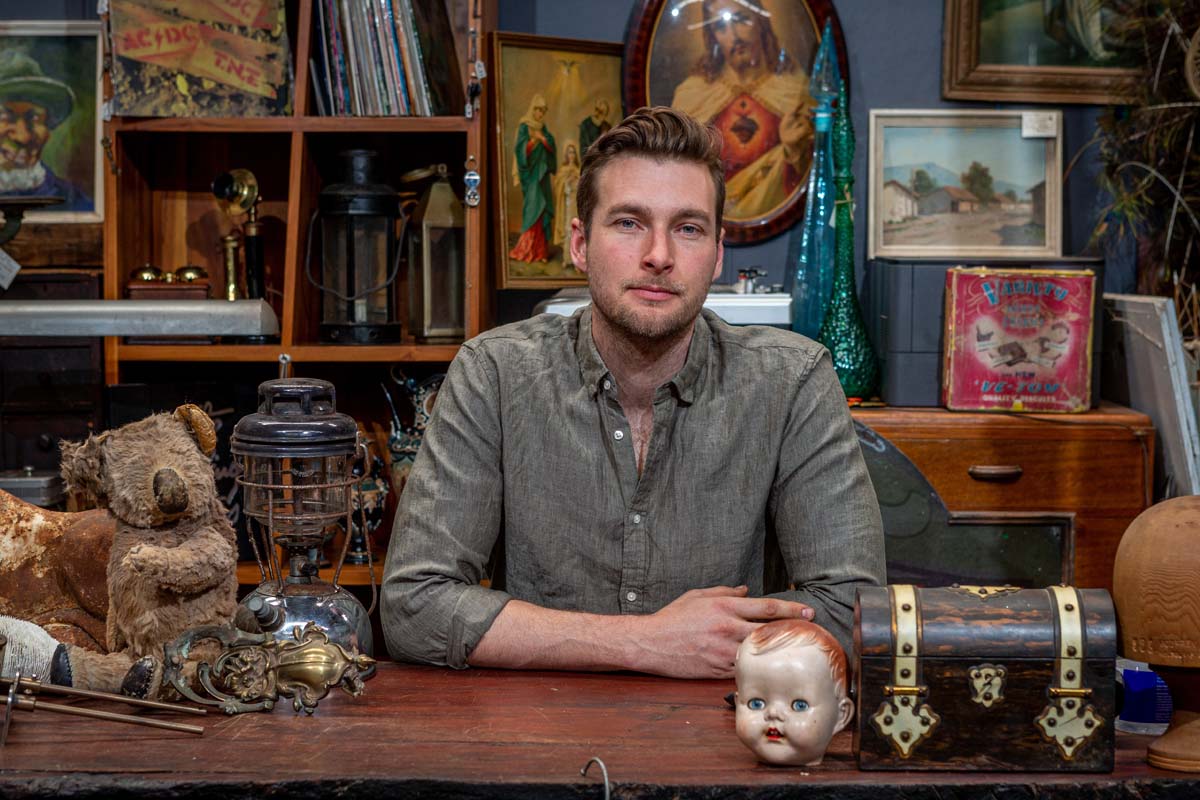 By Andrea Louise Thomas  Photos Gary Sissons
Sorting through the remains of a person's whole life is a delicate matter. Jarryd Lang, proprietor of Old Modern in Tyabb, approaches the task of evaluating a deceased estate with equal measure of curiosity and reverence. 
Yes, it does provide him an opportunity to find treasures to buy and sell, but just as important to him is preservation. "Sometimes when a person dies, everything they own is thrown away and lost forever. My big drive is to maintain history," he says.
Like many dealers in antique, vintage and retro goods, Jarryd is interested in history and the story behind things. Even as a boy, he was always interested in old things.
He grew up in Tyabb, a good place to appreciate antiques and collectables. Both of his grandfathers were collectors. One collected clocks and the other old farm machinery. Jarryd found their collections fascinating.
He started collecting Pokémon cards and Tazos when he was five. Both, are now valuable so his instincts were excellent. At ten, Jarryd was watching the Antiques Roadshow and documentaries about archaeology and treasure hunting. In his early teens he started collecting soul, funk, blues, rock and disco records. His favourite period of music is 1966-1977.
On his way to work at vineyards in Red Hill during his youth, Jarryd would stop by garage sales he found along the way. This is where his record collecting began, but he was also discovering all sort of other things. He found a cheap set of vintage chairs, resold them at a tidy profit and was then hooked on the thrill of the chase.
He was meant to be getting a Bachelor of Commerce degree at Monash University studying accounting and finance, but once he started buying and selling, he didn't care about the degree. He completed the course and graduated, but never even bothered to pick up the certificate. He no longer wanted to be an accountant.
He traded in the big city life for garage sales, opportunity shops, hard rubbish auctions and the pure delight of what he would find in them. What he loves about old things is seeing the history of use and wear in them. Each item has a story to tell. One of the most unusual things he acquired was the figurehead from an 1850s Spanish galleon. Imagine its story.
"The most interesting thing about my work is not knowing what I'm going to find. It's the most exciting part of the work. It can be addictive, like gambling," he says. It's also intriguing to see what people collect over the course of their lives – what pieces of history they value and save.
Dealing with bereaved families can be hard. Jarryd is amazed at how differently people deal with grief. Some want to discard everything, some want to save everything, but he says, "Most people are happy to see their family things reloved."
Jarryd doesn't just go in and take things to sell. He helps the family assess what's there. He advises them on what's valuable and encourages them to save what's historical to the family. It's time-consuming work because there are hundreds, if not thousands, of individual items to sort through.
Assessing and clearing deceased estates is just one aspect of Jarryd's work. He also helps people who need to downsize due to a move. It's not an easy task. Sometimes it's really hard to remove the contents of a household because of location or the size of the items.
The physical task itself is hard work. A lot of time and effort goes into it. An average sized home might take two people as much as three days, but it depends on the condition of the home and how much is in it. A hoarded household might take weeks. One house required six truckloads just to remove the rubbish! 
Once he has looked at everything, he evaluates. It would be easy to take advantage because he has the knowledge to do so, but that's just not him. "I want to relieve people of the burden of managing what's left behind, but it's important to me to offer people a fair price for their things," he says.
At his warehouse shop in Tyabb, there are thousands of antique, vintage and retro items for sale. It's a treasure trove of history and a walk down memory lane. Jarryd's favourite items are the weird and wonderful like the stuffed binturong above his counter. He loves records and old Victorian railways items, but his shop has a bit of everything.
If you need to have an estate evaluated, assistance with downsizing, need junk removed, seek appraisal of goods, want to sell antique, vintage or retro items or are looking to buy a unique collectable, Jarryd Lang is your man.