Local artist Wendy Grace's Transitions artworks explore the changing boundaries of freedom throughout Melbourne's lockdowns of the last two years. Aiming to 'invite association with ideas and connect with the imagination', Wendy's abstract use of pattern and colour displays the ways in which 'disruption can alter the course of continuation' as was experienced throughout ever-changing Covid restrictions.
Heavily influenced by her surroundings on the peninsula, Wendy's artworks possess colours and patterns that maintain a direct visual connection with the paintings. She had found that the local landscape offers a 'calming and meditative connection' to the natural world and a vast contrast to the inner city urban landscape.
Alongside the metaphorical interpretation of lockdown interrupting the repetition of life and 'comfort of the familiar', the contrast used in the artworks also reflects the diversity of nature and the distinction between the local environment and the inner city urban landscape.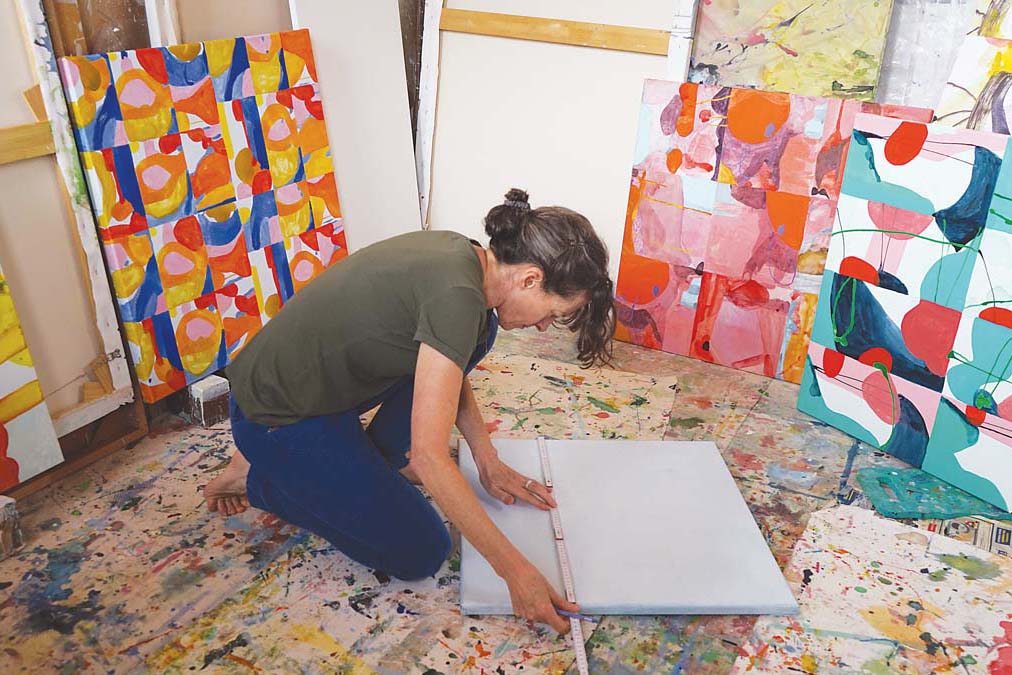 Wendy Grace creating the works in Transitions
Just as Wendy Grace took inspiration from the diversity of natural landscapes, Hans Shiebold took his inspiration for Above from the ornate windows and facades that adorn our inner city shopping strips. With a goal to preserve the beautiful features of the past among our every-changing landscape of our cities, the works took around 14 months from conception to composition, assembly and painting.
The series of relief paintings feature three-dimensional elements that capture and preserve every stunning element of historical buildings, iconic features of our skylines and tiny details that breathe life into the cities we call home.
Hans has explored this idea in previous works, but the use of the 3D paintings allows the facades to create their own shadows depending on the light source, rather than painting them himself as would be done in a typical 2D painting. This dimension gives each of the pieces their own life and enhanced realism that allows the viewer to be immersed in the history of the facade.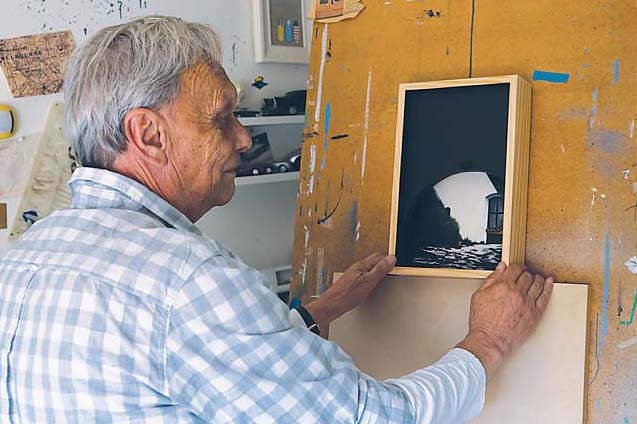 Hans Schiebold creating new artworks
Shadows of trees and power lines, reflections in windows and individual specks in bricks are all visible throughout the pieces, highlighting Hans' incredible attention to detail, placement and perspective, and dedication to realism. The micro scale he has created, with each of the pieces measuring around 30cm², creates a heightened intimacy between the constructed buildings and the viewer, allowing them to ponder the details we take for granted but are so essential to the city skyline.
Ranging from familiar household facades with flower boxes on windowsills to recognisable features of the architectural diversity of Melbourne, such as the St Kilda Baths, Above touches on every fine detail of our inner-city experience.
While exploring vastly contrasting visual ideas, both Wendy Grace and Hans Shiebold portray essential and iconic elements of life in Melbourne in their works Transitions and Above. Explore the works of both artists in the Frankston Arts Centre Mezzanine Gallery until 5 February 2022.