Makes 17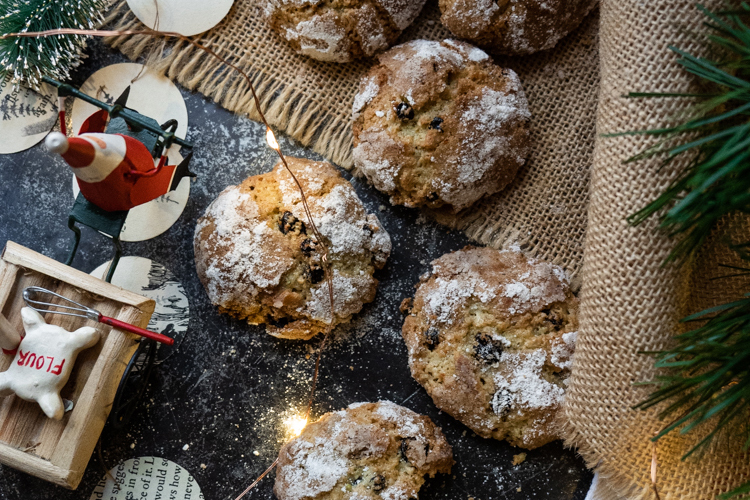 Ingredients
40g unsalted pistachios 110g almond meal 110g caster sugar Pinch of salt
Zest of an orange 1/3 cup currants
1/3 cup white chocolate, finely chopped 2 egg whites
For the Festive spiced sugar coating
¼ cup caster sugar
¼ cup icing sugar, sifted
¼ tsp ground cinnamon
¼ tsp ground ginger
¼ tsp ground cloves
¼ tsp grated nutmeg
Method
Preheat your oven to 160 degrees fan-forced (180 degrees conventional) and line a baking tray with a sheet of baking paper. Set aside.
Place pistachios into a small food processor and blitz to a fine crumb.
Tip the pistachio meal into a medium sized bowl along with the almond meal, sugar, salt, orange zest, currants, and white chocolate. Whisk everything together until combined.
In a small bowl, whisk the egg whites, just enough to break them up slightly. Pour them into the dry ingredients and stir to combine.
Combine all the festive spiced sugar ingredients together in a small bowl.
Roll tablespoon amounts of mixture into the spiced sugar, coating them well before placing each one onto the prepared baking tray. Allow about 5cm between each.
Pop the tray into the preheated oven and bake for 18 to 20 minutes or until lightly golden and the wonderful festive aroma fills your home. Remove from the oven and allow to cool on the tray for 10 minutes before transferring to a cooling rack, if you can wait that long!
Cooks tip
*They keep well for at least 6 days (perhaps even longer) in the pantry in an airtight container.
**Any leftover spiced sugar can be stored in a glass jar and re-used. It also makes a delightful addition sprinkled over the top of porridge or added into fruit crumbles.
aminikitchen.com I Insta: @amy_minichiello_