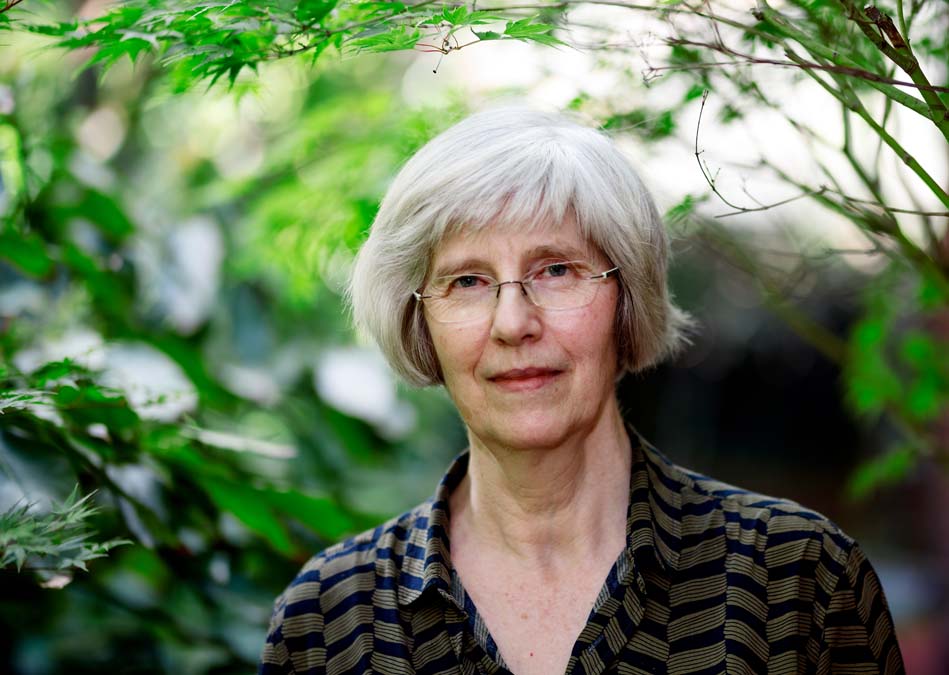 By Andrea Louise Thomas Photos Yanni
When Kenya declared its independence from Britain in 1963, the comfortable colonial lifestyle that Jane Suffield knew as a child came to an end. She was seven years old when her family left Africa. They flew to Aden, Saudi Arabia and then boarded a ship for the long journey to Perth and then another to Sydney. 
As a child, Jane was always drawing and painting. She wanted to be an artist. Her mother, who was very creative, taught Jane sewing, knitting, crocheting and embroidery. These skills proved very helpful later in life when she began her current art practice.
Although she did her HSC (Higher School Certificate) in painting, Jane did not begin her career as an artist. Her high school art teacher suggested she study interior design (though her heart was really in music).
She studied Interior Design at Randwick Technical School for a year before shifting to the Sydney Conservatory of Music to study clarinet. She wasn't happy there so she went to the Sydney College of the Arts to complete a Bachelor of Arts in Interior Design.
Jane subsequently worked for an architectural firm in Sydney as a draftsperson. Then, when her son finished high school, she moved to Wagga Wagga to teach clarinet and saxophone at the Riverina Conservatory of Music.
While there, Jane met her current partner, a musician and composer from Melbourne.
They decided to leave Wagga Wagga to build a house on a hill in McCrae set amongst the gum trees. It's an innovative house they co-designed. Jane's art studio is set above it in a beautiful garden she created.
Jane still teaches music and works as a draftsperson for an architect, but she is gravitating more and more to her art practice, shibori – an ancient Japanese manual resist dyeing technique using indigo dye to produce intricate patterns on fabric.
There are countless ways to bind, stitch, fold, twist, or compress cloth for shibori and each way results in very different patterns. Jane begins with a design drawing, but sometimes the fabric and dye have a mind of their own.
"There is a natural randomness and improvisation that you can't control between the dye, the pleats and the resistance. It's the surprise I really love. That's the joy of it," she says.
Jane loves working with her hands as she did when she learned hand crafting techniques from her mother. She loves the manual aspect of wrapping, binding and stitching. Before she begins, she has to think in reverse, imagining what she wants to resist and what she wants to dye.
Shibori is a time and labour-intensive craft. It may take 8-10 hours or more to bind and stitch a single piece before it is ready for dyeing. Then, it's dipped into indigo dye and left to oxidize before dipping again. It might require a dozen dips before the right shade of blue is achieved.
Japanese aesthetic has always appealed to Jane. It's what drew her to shibori in the first place. She attended a two-day workshop with Yoshiko Wada, a Japanese-American textile artist/scholar largely responsible for the resurgence of interest in shibori. This workshop was revelatory. It set Jane on a path to connect and study with innovators in shibori and other global dyeing techniques from Africa to Australia.
Jane has exhibited her work in numerous group shows through the World Shibori Network. When she decided she wanted to get more serious about exhibiting and selling her work locally, she joined an artists' group, the Peninsula Studio Trail, where she found the camaraderie and support she needed to move to the next level.
Recently Jane has widened her scope of study to dyes beyond blue – investigating colours derived from nature. She keeps encyclopaedic sample books of fabrics and dyes. There is a lot of chemistry involved in fabric dyeing: "Every colour has a recipe and a particular method of application," she says. "It's an amalgamation of art and science."
Living on the Peninsula with its easy access to beach, bush and farmland provides a wealth of inspiration. Everything can be found in the beauty and patterns in nature. She also looks at aerial and macrophotography for those same patterns and repetitions.
Jane is now experimenting with fabric art sculpture. She'd love to make textile jewellery or incorporate origami in some way. The arts and crafts of Japan are a constant source of interest and inspiration. She hopes to go to the Arimatsu Indigo Festival in Japan when the world opens up, but for now, she is happy making art in McCrae.
---
maradaditextiles.wordpress.com
Insta: @maradadij