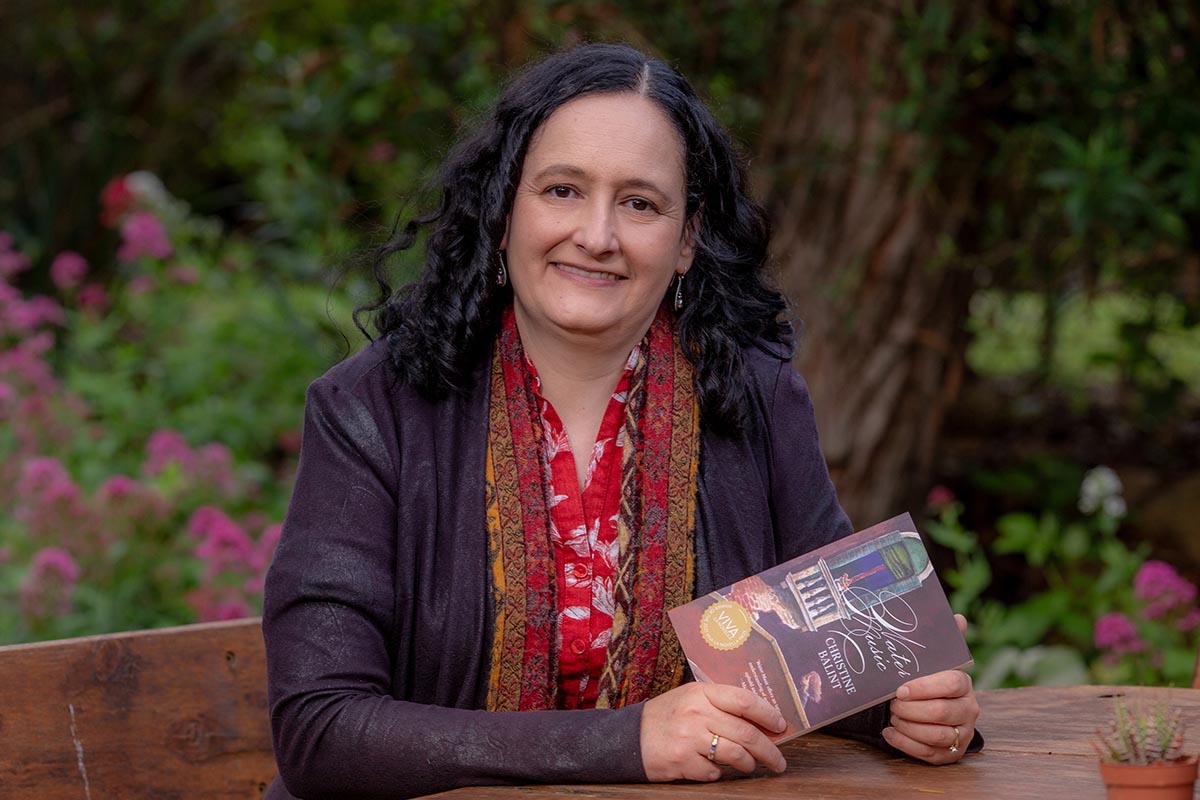 By Damon Rowston Photo Gary Sissons
Dr Christine Balint is an award-winning author, creative writing teacher at the University of Melbourne and an Arthurs Seat resident. Recently, Christine was awarded the prestigious Viva La Novella Prize for her latest book, Water Music.
Water Music is historical fiction based on the patronage system, which existed in Venice from 1400 to 1797. The system allowed often impoverished girls the opportunity to participate in full-time musical education. Through the eyes of orphan Lucietta, Christine's readers are transported to eighteenth-century Venice, where they follow Lucietta as she navigates her way through life and the expectations of her secret benefactor.
"The story's about finding your own path and not feeling like you have to follow other people's expectations about your future, but finding what it is that makes you happy in your own life," Christine said.
Christine has always been fond of writing. As a teenager, she would write short stories and enter them into small country town competitions, occasionally winning. In her early 20's Christine had her big break with the release of The Salt Letters – a project that began as a creative writing thesis.
Specialising in English and Modern European Studies at university, Christine integrates her interest in European history and music into her writing, especially visible in the content of Water Music.
"It began for me with Vivaldi*. One day, I was listening to the radio, and the presenter started talking about his music," Christine said. "Nearly all his music was composed for orphan girls, and that's what grabbed my attention in the first instance."
Inspired by Vivaldi's music, Christine began researching. She received funding from the Australia Council to research the orphanages in the Venetian archives. She joined the Melbourne Women's Choir, where she sang to music by Vivaldi and other Venetian composers, experiencing it firsthand. Christine eventually travelled to Venice with the choir, and had the opportunity to perform some of this music at the Pietà church, designed by Vivaldi himself.
Despite Water Music being fiction, Christine meticulously researches to paint an accurate picture of Venetian society. Experiencing Venice, reading historical documents and embracing Venetian culture gives Christine the capacity to create historical fiction.
"People sometimes have issues with historical fiction. They like to ask writers why they're not representing society as it is now, in this moment," Christine said.
However, working on historical fiction allows Christine to escape reality. She can explore and learn new things about different places through research, motivating her to continue writing.
"Looking for something new and researching it is something that interests and motivates me. I think that if I find it interesting and new, then others might not know about it either, and it might also be of interest to readers."
Water Music was originally part of a larger project that Christine worked on for a few years. The larger story was created using the voices of multiple characters – Lucietta being one of them. Whilst editing, Christine pulled out Lucietta's character because "it didn't belong" and "took over too much from the story and the other characters." "I was still very attached to it [Lucietta's character] though, and I felt that it was a strong piece in its own right," Christine said.
During COVID-19, Christine came across the Viva La Novella Prize for short novels. Having extra time on her hands, she was able to look over Lucietta's story—which later became Water Music—and found that it was the perfect size for the competition.
Christine mentioned that publishing a book can be very "unpredictable" making writing a "difficult" career to pursue.
"Whether you like or don't like a piece of writing is very subjective. Sometimes, a piece of work will be loved by a publisher, and at other times a publisher will be completely disinterested. So often, it's a matter of finding the right person who is going to love it," Christine said. "Almost all writers that I know have unpublished manuscripts; it's just a part of the work. You have to really love it to be able to keep going," "There have been times where I have seriously questioned whether I should keep going, which just makes the times where you win a prize like the Viva La Novella so much more exciting and life-changing."
Winning this award has reinforced Christine's passion for writing and allows her to continue doing what she loves: "You realise that, it is okay, you can keep going, and someone actually wants to read what you've written".
---
*Antonio Lucio Vivaldi was a famous Italian composer who worked as a priest in the Pietà Orphanage during the Venetian Republic.
Water Music by Christine Balint is available in most independent bookshops on the Mornington Peninsula and online:
booktopia.com.au/water-music-christine-balint/book/9781922267610.html