Makes a 23cm cake
Ingredients:
2 large oranges (about 350g)
300g caster sugar
3 eggs, at room temperature
300ml light olive oil
150g self-raising flour
50g shredded coconut
150g almond meal
1 tbsp ground ginger
20g fresh ginger, finely grated
Creme fraiche frosting
70g creme fraiche
150g icing sugar, sifted
juice of 1/2 – 1 lemon
sliced crystalised ginger (optional)
Method:
Bring a pot of water that is big enough to fit two oranges to the boil. Slip the oranges in and allow them to bob around for at least an hour to an hour and a half. You want them to be soft enough that you can insert a knife into them easily. Drain and allow to cool. Trim the knobbly ends off and cut them into quarters, discarding any pips. Place the whole lot into a food processor or blender and blitz until they turn into a smooth pulp. You can always do this the day before and leave it in the fridge overnight.
Preheat your oven to 170°C fan-forced and grease and line a 23cm springform tin then set aside.
In the bowl of a stand mixer beat the eggs and sugar together until thick and pale. This should take at least 5 minutes. Turn the mixer down and slowly pour in the olive oil in a thin and steady stream, followed by the orange pulp. Beat together until combined.
In a separate bowl, whisk together the flour, coconut, almond meal, ground ginger and fresh ginger until combined. Then fold this through the batter.
Spoon into your prepared cake tin and smooth the top evenly. Pop into the oven for about 65 – 70 minutes, or until a cake tester or skewer inserted into the middle of the cake comes out clean.
If you find that your cake is browning just a little bit too much at the 60 minute mark, simply pop a sheet of foil over the top and return to the oven to continue to bake.
When your cake is ready, allow to sit in the tin for 10 minutes before removing and allowing to cool completely on a wire rack before icing.
To make the icing. Simply whisk the icing sugar, creme fraiche and lemon juice in a bowl until the desired consistency is reached. I would start off with the juice of ½ a lemon first and then see how you go from there.
Using a spoon, dollop the icing on top and then spread out towards the edge. Sprinkle over some thinly sliced crystalised ginger if you so desire. This cake will keep well in an airtight container in the fridge (once iced) for 5-6 days.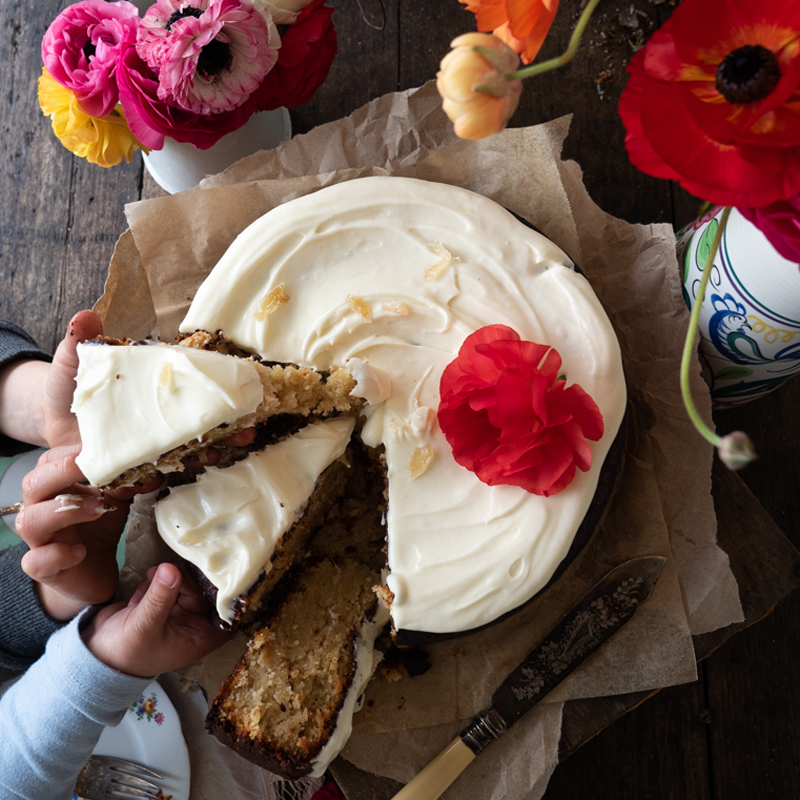 ---