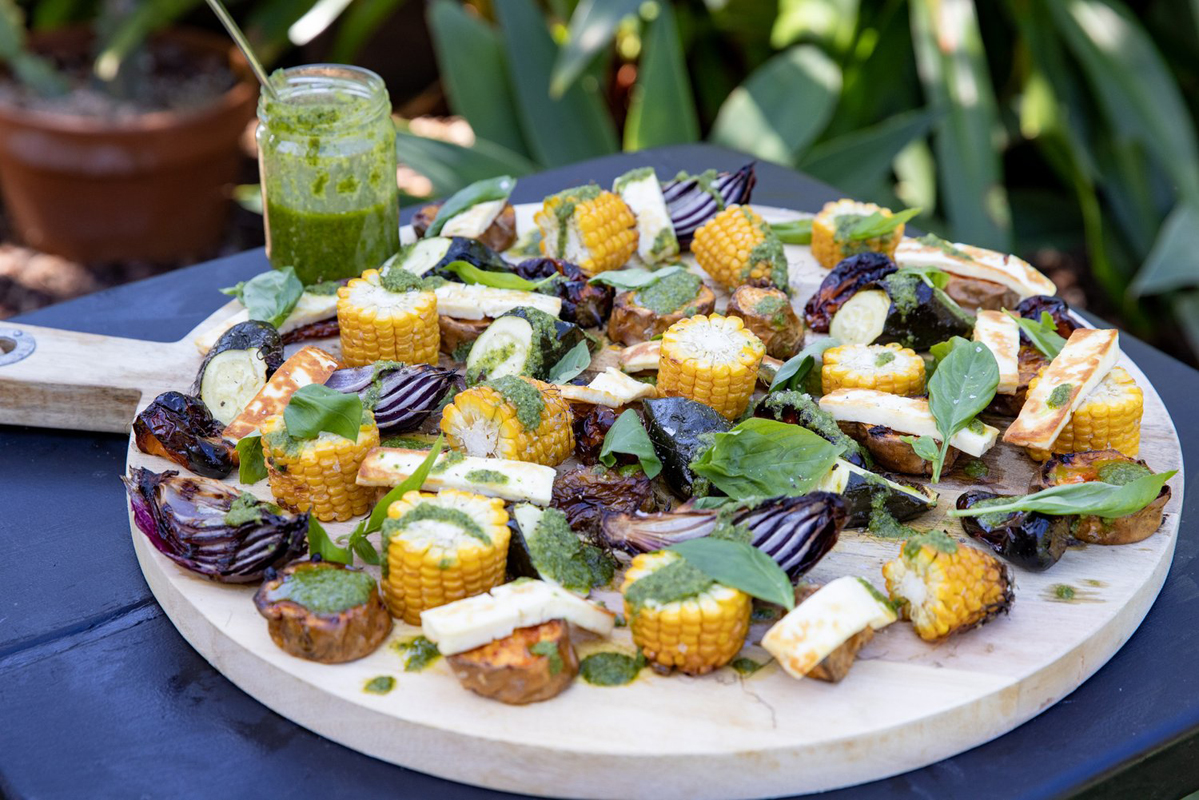 Prep time: 15 mins  Cooking time: 30 mins   Serves: 4
Ingredients
2 x sweet potatoes
3 x corn
1 x capsicum
1 x zucchini
Olive oil
1 cup halloumi sliced (alternative: tofu)
Salsa verde
1½ – 2 cloves garlic
2 big handfuls of fresh flat-leaf parsley
1 bunch of fresh basil
1 handful of fresh mint
1 small handful of capers
1 small handful of gherkins, in sweet vinegar
1 tablespoon mustard
3 tablespoons red wine vinegar
8 tablespoons really good extra virgin olive oil
Method
Peel the sweet potato and cut into thick round slices. Prepare and slice the rest of the vegetables to your liking.
To make the salsa verde, peel the garlic and pick the herb leaves, then finely chop on a large board with the capers and gherkins. Place in a bowl, add the mustard and vinegar, then slowly stir in the oil until you achieve a nice consistency. Balance the flavours with black pepper, a bit of sea salt and maybe a little more vinegar. Set aside.
Heat your Traeger Grill, or grill of your choice, to 180°C. Toss all of the vegetables in extra virgin olive oil and BBQ the vegetables for 30 minutes or until golden soft and ready to eat.
When the veg are almost done, pop your haloumi or tofu onto the grill and cook until golden brown.
Layer the ingredients onto a share plate and drizzle with the salsa verde.
---
Recipe from Sarah Glover, Traeger Grills Australia Ambassador and Author of WILD: Adventure Cookbook