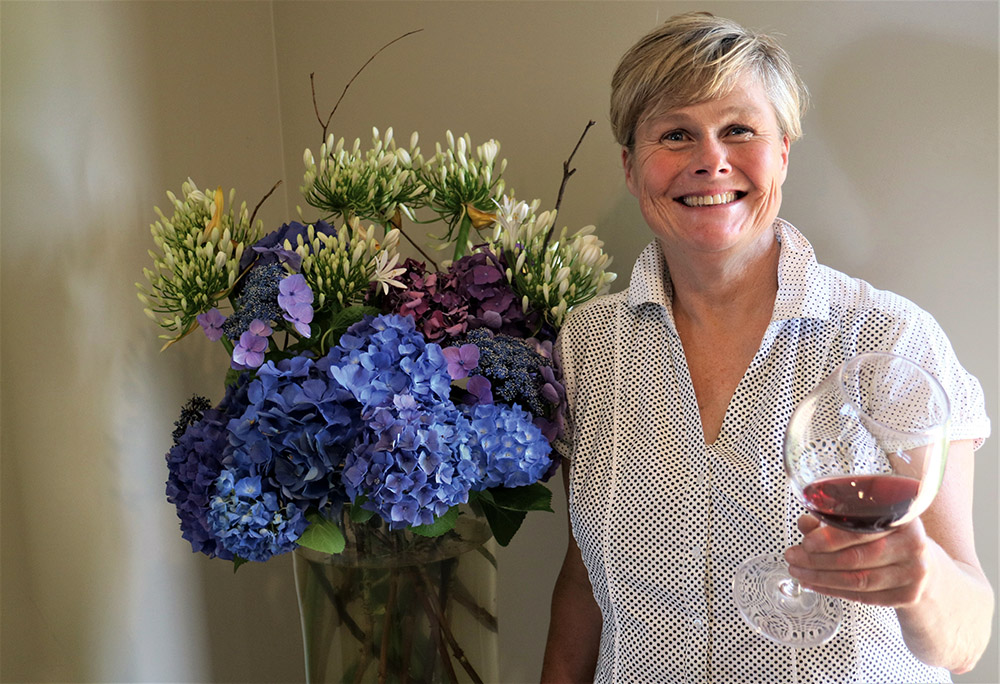 She is the first woman to be named Legend of the Vine by Wine Communicators of Australia; she is one of the first winemakers on the Mornington Peninsula, and has been named "Queen of Pinot Grigio." She is Kathleen Quealy, a woman who has never conformed to social expectations, always marching to the beat of her own drum, and it has paid off enormously. Peninsula Essence Magazine talks to the legendary winemaker who has shaped the winemaking industry on the peninsula.
"Kevin McCarthy and I moved to the peninsula in the late 80's. We both had winemaking degrees and we were looking for a region that would grow pinot grigio and the peninsula was perfect," said Kathleen. "It was a lot quieter; less people lived here and less people holidayed here and it had the perfect cool climate we needed."
It was 1988 when Kathleen and Kevin began their peninsula winery, with the first vintage starting two years later.
"Our first business was T'Gallant which we ran until 2003," said Kathleen, who loved every moment of their adventure in those early years. "It was a lot of fun. Everything was shiny and new, we had a new vineyard, winemaking was new and we had new customers, and plenty of new ideas. What we learned at university and what we were doing was different, so it was great."
Becoming a winemaker was far from the norm in the 80s when it came to women choosing career but Kathleen has always followed her heart, being introduced to wine making as a kid.
"Where I lived there were a lot of Italian people and they all made wine, which was fantastic.  My husband worked at the Wantirna estate and loved it and decided to study winemaking as well so we were both on a similar path," she said.
Making smart decisions has been a significant contribution to the success of the winemaker's business and Kathleen says it is important to follow a scientific formula.
"It is very important to make good decisions based on science and not based on a romantic notion of what it's going to be like to own a vineyard," said Kathleen. "It is simple. If you put a good vineyard with the right varieties in the right place it is not a problem. If you find you haven't got time to look after it, then someone will lease it from you."
Kathleen also says it has helped that they have such a large variety of wines.
"Sometimes there are diabolical events like the weather which can destroy a crop but we have never had major issues as we have such a wide variety of wines. If you have a bad year for red, it might be a good year for white for instance."
After selling T'Gallant to Treasury Wines Estate in 2003, Kathleen and Kevin launched their first wines at Quealy Winemakers in 2006.
"Our first two wines were Pobblebonk, a white, Australian field blend, and Rageous a red blend," said Kathleen, of the wines that are named after the frog and the mule. "Pobblebonk is named after the frog that lives here, while Rageous is the name of the mule that was here when we arrived."
Over a decade later, and Quealy Winemakers is planted with Pinot Grigio, Friulano, Moscato Giallo, Riesling and Chardonnay with the whole lot fermented together to create an intriguing field blend.
After all these years, the winemaking stalwart still has the same passion she started with when first moving down to the peninsula.
"I still love it; it is a lovely industry to be in. There are so many different parts to it. We grow it, we make it and we sell it. We also get to tell people about our wines when they visit the cellar door," she said.
That is the wonderful part about Quealy Winemakers. When you visit the cellar door, you can be assured the people you are talking to are the actual people who make the wine.
---
Quealy Winemakers is at 62 Bittern-Dromana Road, Balnarring
Phone 5983 2483