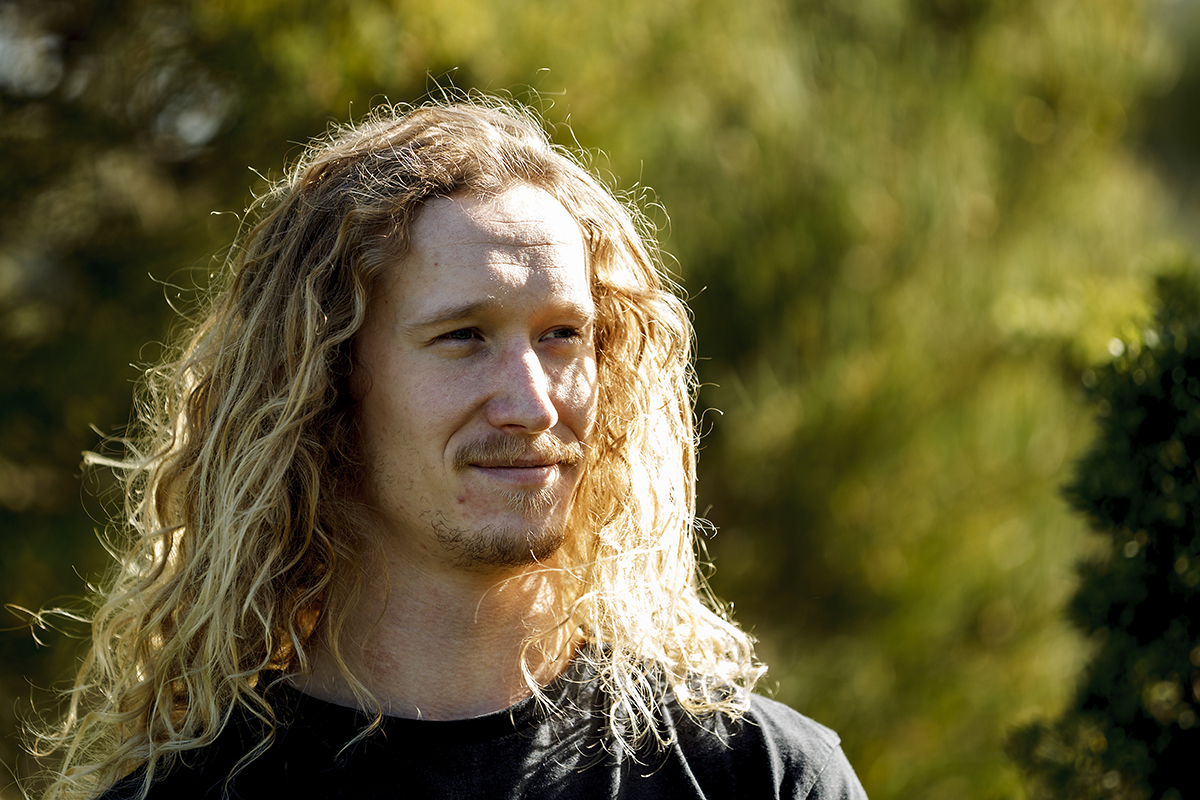 By Andrea Louise Thomas Photos Yanni
Zak Stolz is the 2021 Australian Ninja Warrior champion. The 22-year-old gymnastics coach from Rye was furthest and fastest on a course that, this year, seemed impossibly difficult. In fact, it was so hard, no one made it to the very end to climb the ultimate obstacle, Mt. Midoriyama. With an ever-increasingly competitive field and ridiculously difficult obstacles, winning is remarkable. 
"Trying to bring all your training into one moment when the circumstances are overwhelming is hard. The mental composure to be able to use your physical prowess is the key to success," Zak says. There are a lot of distractions with noise and lights and crowds. He learned coping methods as he became more experienced competing.
Zak pointed out that the cameras don't really capture the true scope of the course. The size and height of the obstacles and the distance between points are much greater than they appear on television. Combine this with the fact that the ninjas are not allowed to try the course before they compete and it's a pretty daunting set of circumstances. "You've gotta be fearless," Zak says.
Tens of thousands of people applied to be on season five of the popular Channel Nine show, but only 144 made it to compete. Through the heats, that number was rapidly narrowed. Just to make it on screen was a major accomplishment. From his first appearance in season three, Zak powered to the front of the pack and has done so every season.
It was actually his grandmother who piqued Zak's interest in ninja sport. She showed him American Ninja Warrior when he was about seven years old and right away he said, "I want to do that!" Zak was always athletic as a child. He started kinder gym at two and participated in a wide range of sports through his childhood and youth.
Zak went to Rosebud Secondary College with Charlie Robbins, who won Australian Ninja Warrior in 2019. It was through Charlie that Zak got interested in gymnastics. At sixteen he started to train at Peninsula Gymnastics with coach Troy Cullen, who also competed on the show. Through the gym, Zak then met Ashlin Herbert (who competed in all five seasons). He convinced Zak to try out for the show.
Now Zac is part of an elite group of Mornington Peninsula ninja athletes dubbed 'Peninjas' that includes: Charlie, Troy, Ashlin and Sarah Blackmore. All of them competed exceptionally well on the show and share a strong bond and friendship.
In order to prepare for competition, Zak trains most days of the week. He does gymnastics and rock climbing as well as ninja specific training. He has a set up at home that he trains on, but he also has fun training with the other Peninjas.
Contestants have to undergo rigorous psychological and physical testing to prove they are up to the pressures of being on the show. This year's physical test was so gruelling the only two Victorians to pass it were Zak and Charlie.
The series took about a month to film. Filming began at 9pm and generally ran until 3am. Zak had to adjust his internal clock and that added an extra challenge.
Free accommodation, food and travel expenses are provided to all the contestants. One of the highlights of the experience for Zak was the opportunity to share time and camaraderie with other ninjas.
Working to such a high-pressure schedule was hard, but Zak is used to a bit of pressure. In addition to working as a gymnastics coach at Peninsula Gymnastics, training and competing, he's also completing a Bachelor of Science degree at Monash University in physiology with a minor in molecular biology. This year he had to complete the first four weeks of term online while working on the show in Sydney.
Considering what Zak has been through, it makes his accomplishments all the more remarkable. His father died unexpectedly on a business trip in 2019 just as the competition began. Zak was driven to make his father proud and bring hope and focus to his grieving mother. He did just that. You could call him the resilience ninja.
Humble, patient and easy-going, Zak was popular with the show's producers, audience and fellow competitors. He says he finds it quite humbling to be recognized in public and is always happy to oblige a photo request.
"I do ninja because I love what I do. We can push a positive message and have fun doing it. Prize money was an incentive to compete, but it was actually the thrill of doing it. It's a friendly competition with great camaraderie and support from other ninjas," he says.
He plans to put his prize winnings to practical use investing the money for the future. If he has the chance to compete next year, he will, but meanwhile, he's just enjoying riding the wave of his success.