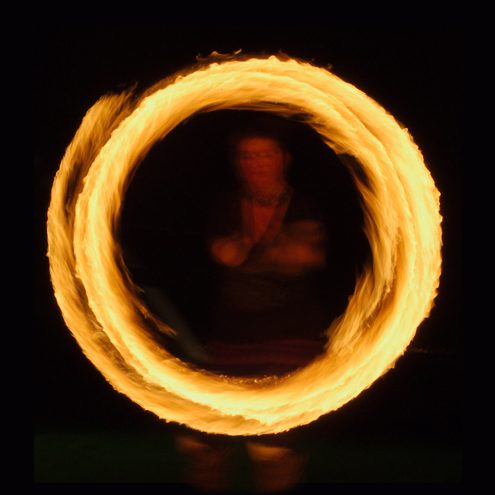 Photo: Kyle Butterworth
By Muriel Cooper Photos Supplied
It's thought that fire is one of the reasons why humans evolved to be as smart as we are. We have been using fire for hundreds of thousands of years; as light to keep away predators, to cook and to stay up later, giving us time to think and plan.
Fire is also recreational, symbolic, spiritual, and a form of entertainment. These elements drive the Frankston Fire Spinners and Drummers Group as they swirl and twirl trails of fire on the Frankston foreshore in a spectacular and mesmerising display.
The group is a creative arts movement that aims to connect and support members, share skills, and learn new moves. Their numbers vary from a few to a hundred. Sometimes it's all fire spinners and drummers; at other times a mixture of fire spinners, belly dancers, clowns, photographers, and other performance arts.
Fire spinning, also known as fire dancing or fire performance, is believed to have originated among the Māori people of New Zealand and then spread across Polynesia. It seems like a natural extension to set fire to the poi or tethered weights used in Māori dancing. The spinning balls make wheels of fire in the darkness.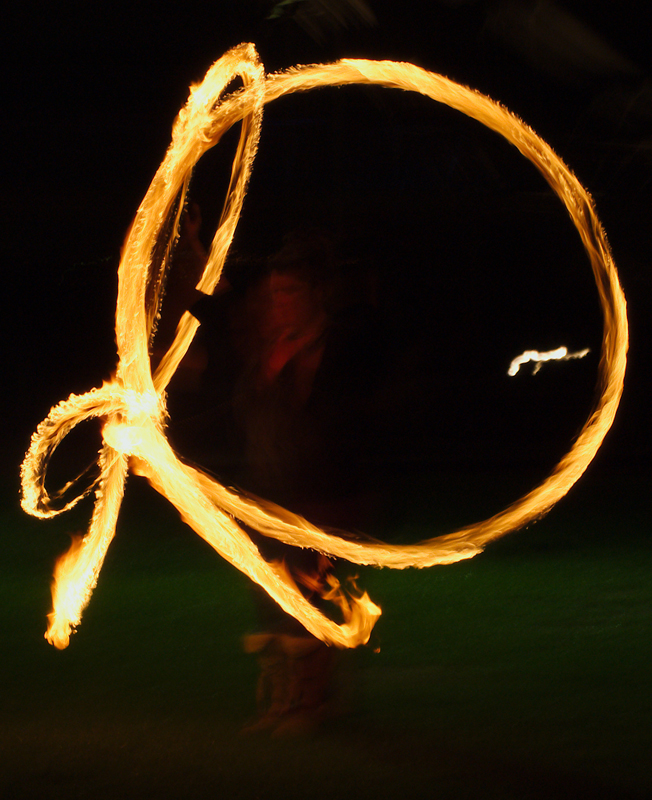 Photo: Kyle Butterworth
Fire spinner Aimee Ingram-Healey, the founder of the Esoteric Arts School, has been involved in the Frankston group for around eleven years and is an administrator for their Facebook group, the main way they connect.
"Fire is a very primal thing," says Aimee.
"We tried to master it long ago, but it still masters us."
Fire provided us with light and peace to ask the big questions. Where did we come from? Why are we here? Storytelling began sitting around the fire, and images in fires have inspired humans over the eons. Seeing demons and angels, castles, and other worlds.
Aimee says, "You're making friends with the demons as well as loving the angels in the fire. Fire spinning can be more than entertaining and fun. It helps to control your own inner fire, so there's a spiritual content, and it's definitely meditative."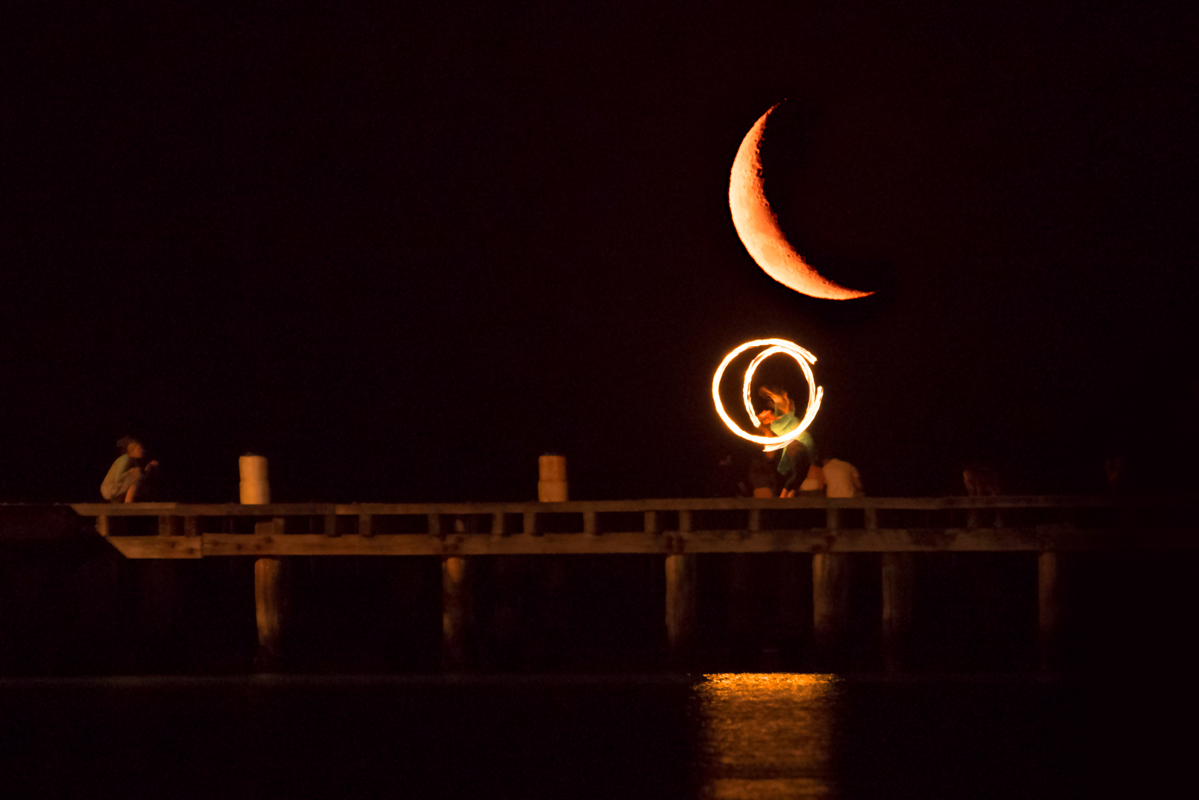 Photo: Steven Kuiter
Fire has been an aid to meditation across every culture, whether it's focusing on the single flame of a candle or breathing in incense. Our major festivals, including Diwali, Hanukkah and even Christmas, which originated as the Pagan festival Samhain, revolve around fire, the bringer of light.
Aimee says fire plays into body awareness too. "Your body is moving, and you ask it where it wants to go. You feel connected to yourself – letting the fire dance with you and knowing where your body is in space."
If you're keen to try fire spinning and performance, it's best to start without the fire component. A good quality hula hoop and staff make for a safe and inexpensive start. You can then progress to more sophisticated equipment like poi, fans and snakes. Equipment with LED lights is a safe alternative before moving on to playing with real fire. Aimee urges enthusiasts to join them on the foreshore for proper information and instruction before using fire.
The Frankston group encourages kids to join in. "We're big on safety, and our motto is Be safe, be fair, be kind," says Aimee.
Photo: Steven Kuiter
"Often the kids who reach out to the group have been bullied, and learning fire spinning helps their confidence and self-esteem," says Aimee.
"We've had lots of parents come up and thank us for the work we've done with their kids."
The group promotes self-care within their community and offers members support and an opportunity to be who they are. Fire spinners see themselves as unofficial fire wardens, educating on the dangers as well as the wonders of fire. Safety is paramount, and the group encourages anyone who is tired not to take part, as this is when accidents can happen.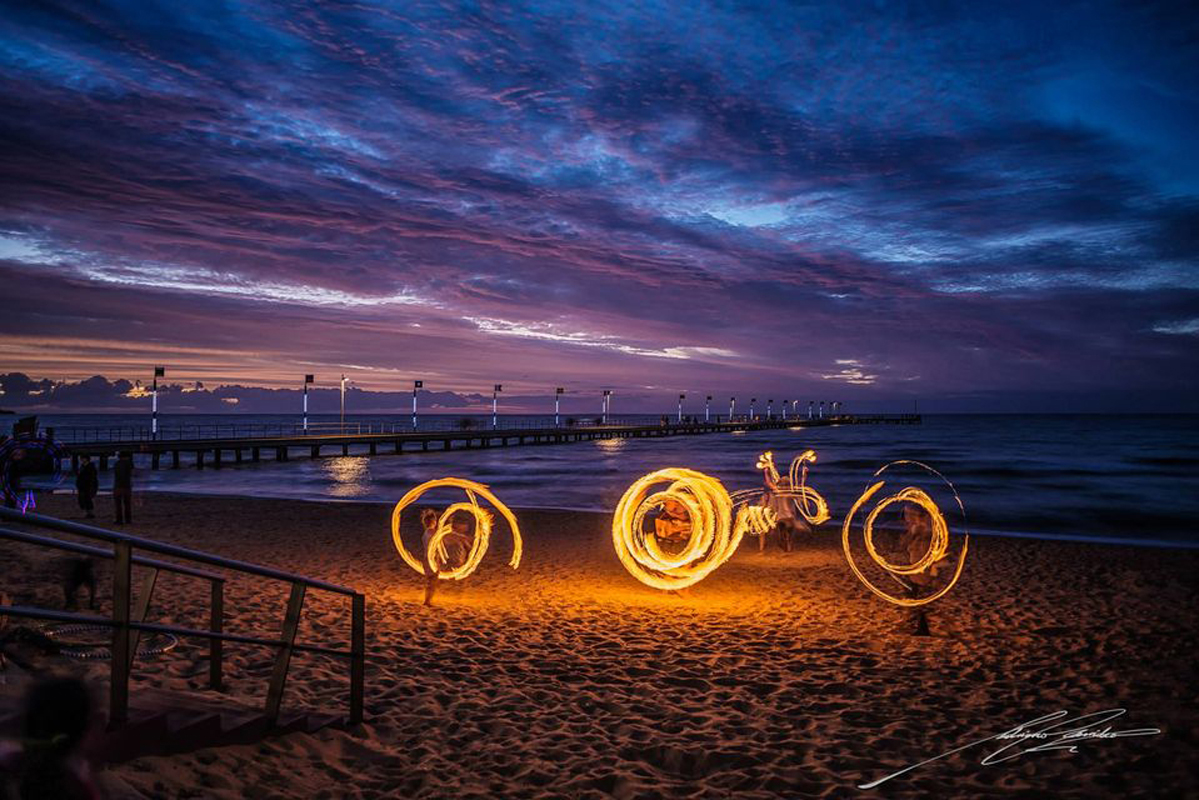 Photo: Adriano Carrido
Frankston fire spinners and drummers meet spontaneously on the Frankston foreshore on any Friday when the weather is good, mostly from New Year's Eve through to March or April, but on any fine Friday night you'll likely find them there.
They are happy to talk and even to educate you in a few moves if you're interested.
Also, if you connect with them on the foreshore, you'll be allowed to join their closed Facebook group. This is where you'll discover events and find news from other groups. There is one in Mornington, which meets monthly, and others are dotted right along the Eastern seaboard. Aimee hopes to do a road trip one day, visiting fire spinning groups as she goes.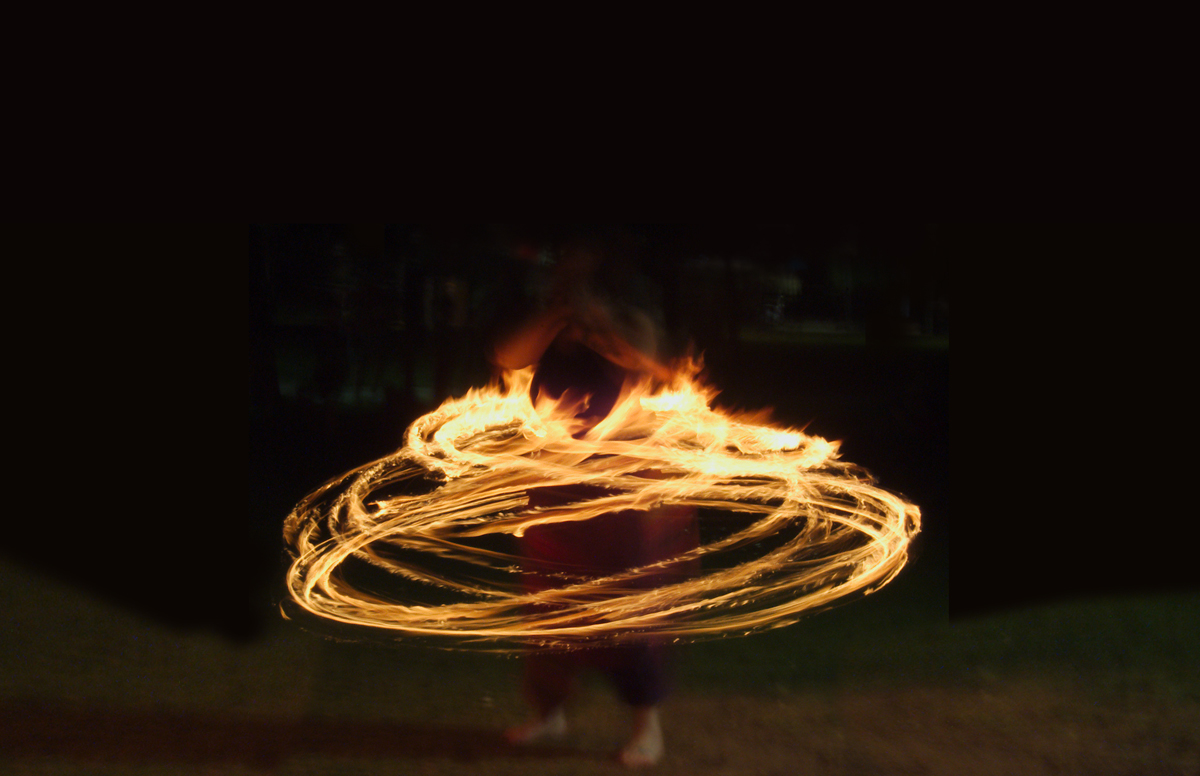 Photo: Kyle Butterworth
Fire spinning can add a dramatic aspect to an event or festival. Call Aimee for bookings.
FB: @Frankston-Fire-Spinners-and-Drummers