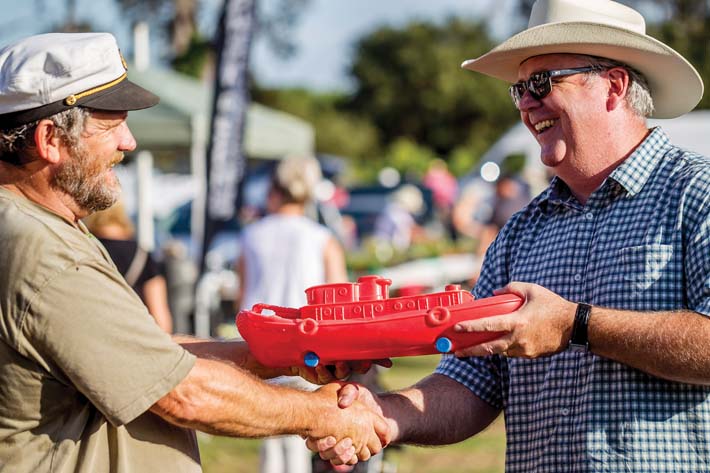 If you've ever been to a local market you're sure to have seen the "man in the hat", six foot two and full of life selling his second hand collectables and loving every moment.
While most people relax on weekends and sleep in, peninsula picker Jason Richardson is out and about scanning garage sales and op shops to find his latest acquisition. Melissa Walsh talks to Jason about the life of a part-time peninsula picker.
WHEN DID YOU START PICKING?
I started buying in 2012, and bought for six months and then did my first market Easter Sunday 2013. As soon as I sold my first item I was hooked, and have been picking ever since.
WHERE DID YOU GET THE HAT?
Dad bought me the hat at the Warragul Agricultural Field Day. I decided that it would be my branding, and often people do remark that they remember me from the hat.
HOW LONG DID IT TAKE TO GET INTO MARKETS REGULARLY?
As soon as I started I was completely hooked and there has never been a time that I've stopped. You slow down a little over winter, but weather permitting I do at least two markets every month. But even if I'm not doing markets that weekend, I'm always out looking.
WHAT SORT OF PEOPLE DO THIS?
Anybody really, second hand dealers certainly, and other collectors looking for themselves, or just other people like me that do it for some fun and hope to save a treasure or two and see it move on to a new home. You do see the same people every week. There are lots of pickers who go to the same garage sales and op shops around the area, I met a young guy here a month ago, and he goes to about three auctions or clearing sales every week, as there's very few here on the peninsula, so he travels quite extensively to the city and country areas.
CAN YOU MAKE A LIVING OUT OF THIS?
Yes, like any job it takes a lot of work though, and with picking for a living you would also be up for a lot of travel which you would have to factor in.
HOW DO YOU CHOOSE YOUR PRICES?
Once I started doing markets regularly I found an average price between what I had spent on the item and what I had sold it for, and that's pretty much how I price things now. At the end of the day if you can double your money on something you're doing pretty well.
HAS THERE EVER BEEN ITEMS YOU CANT GET RID OF?
There are always items when you go "what I was thinking". You just do your best to get your money back on them. Even now I buy stuff that just sits there. I have a faux snakeskin handbag and a leather piano stool that I can't seem to move on, and always end up bringing them home.
WHAT GOT YOU INTERESTED IN PICKING?
After being a viewer of shows like American Pickers I realised that this was something I could do. American Pickers was one of those shows that I always came across when I was channel hopping just before going to bed. I would watch it for a few minutes then after a while I made a point of watching the show regularly. One Sunday at the Bittern Market I met a lady selling a Beatles biscuit plate that I thought was really interesting as the Beatles had only toured once here, over 50 years ago. We agreed on a price and I went back home to research the plate to find it was a 1964 Washington Pottery plate worth up to 50 to 70gdp ($85 to $120AU) on a Beatles collector site. That was my first pick and I was hooked.
HAS PICKING CHANGED MUCH OVER THE PAST FIVE YEARS?
It has changed a lot, even in my very short time, as the amount of information that's out there now is incredible. You just have to grab your phone and check the price via eBay for instance. I've had people look at something on my stall, walk off, check their phone and come back to buy as hopefully they've seen my price is pretty fair. I have done the same thing walking around op-shops.
WHERE DO YOU GET THE BEST PICKING?
I find the best buys are from garage sales and I try to be always fair with the person selling the item. I find it disappointing that there are pickers out there that do intimidate the home owner and prey on the fact that they may not be as knowledgeable as they are in order to really get the prices down.
ARE THERE BETTER AREAS FOR GARAGE SALES?
Generally established residential areas, particularly in Mornington, Mt Eliza and Frankston South, you are sure to find some interesting items. I tend not to check out the newer estates in say Skye or Carrum Downs, but around my area Bittern and Balnarring are great, but one of the best I ever came across was at a deceased estate in Baxter. They had not advertised it, but just made up a sign that morning and stuck it on the power pole so it was very quiet. I was driving past and saw it and found some beautiful glassware, an old typewriter and heaps of vintage stuff which is very hot right now.
WHAT TIME DO YOU GET UP ON THE WEEKENDS?
For garage sales I'm usually out the door by 7.30am. If I'm going to a market it's usually between 4.30 and 5am. It can be a full eight hour day, I pack the car the night before, but hate coming home and having to unpack, so that usually gets left until the next morning.
WHATS POPULAR FOR COLLECTORS NOW?
Automotive stuff, garageanalia like signs, bottles and tins are fetching huge money at the moment. I met one bloke at an auction drop over $4000 on two pieces, and there's a chap I met a year ago who started collecting petrol tins, signs and bottles when he retired. He buys things all over the country but importantly as his collection improves he sells as well. I bought some tins off him that were part of his earlier collection and it was very impressive then after just six months of buying. With the advent of TV shows like the Great Australian Bake Off and other cooking shows kitchenalia is back again. It's always been popular but I've found it's a very cyclical trend and now it's on vogue again as people are going back to doing traditional things. Lately older wooden rolling pins and colourful ceramic mixing bowls are proving really popular. Kitchen canisters were huge but now the market is flooded with them.
WHERE DO YOU SELL YOUR ITEMS AND WHICH IS THE MOST POPULAR FOR COLLECTORS?
I sell the odd thing on-line, but mainly it's markets at Rosebud, Wantirna and occasionally Camberwell, and 18 months ago I rented a small space at 1546 Vintage in Tyabb. If they're patient and regularly check the sites, collectors can score great buys on-line, and with Facebook there are a number of collector groups that have sprung up.
DO YOU HAVE ANY ADVICE FOR POTENTIAL PICKERS OR A PHILOSOPHY YOU FOLLOW?
Never buy anything you are not happy to be stuck with.