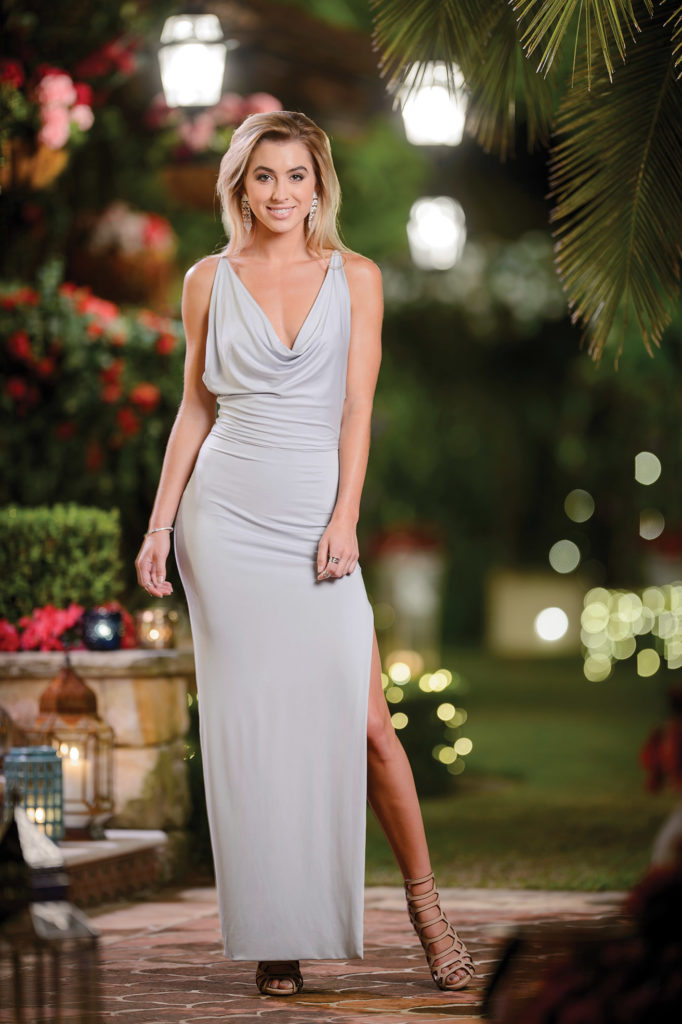 Gorgeous blonde Mornington Peninsula girl, Alexandra Nation is among the frontrunners for the heart of this year's bachelor, Richie Strahan.
Alex speaks candidly to Melissa Walsh about her experience on the show and what it's like to vie for a man's heart amongst a group of 22 women.
When did you decide to appear on the show?
It was a very spontaneous decision. I was on the channel 10 website looking for news coverage and saw the application for The Bachelor, had a little read through it and then finally applied at around 2am that morning. I had never watched the show before or even seen the Bachelor or the Bachelorette so had no idea who Richie was or how it even worked.
What was the process that you had to go through to apply?
You have to fill out an extensive online application and then go and do the Melbourne audition, where they ask a series of questions. You meet the panel of producers and executives which is exciting. Then get the call saying you have been chosen and the next thing you know you are on a plane off to Sydney.
What was it like the first time you met Richie? Was there chemistry? What is he like?
As I had never seen him on The Bachelorette so I didn't know who he was, my first impression was he was lovely and very engaging. He maintained eye contact with you and is interested in what you have to say. He really does have time for all the girls and tries his best to get to know them, which is actually a lot of pressure on him.
From the moment I met him I felt something, and every encounter we had together after that felt natural and you could have a laugh. I definitely felt chemistry from that first cocktail party, which was great. In a situation like that he made me feel very comfortable.
What are the other contestants like? Have you made any friends/enemies?
I have definitely made lifelong friends and have so much respect for each and every girl who has gone on the show. It takes so much strength to be in that situation and they are all tough and smart women.  Everything that went on and happened in that house was running off emotions so there are no hard feelings at all.
How have you coped being away from your little boy? Were you able to speak to him?
My little boy Elijah is 5 and so I first had a chat with mum as my biggest concern was leaving him. She was gorgeous and said 'if you don't get on that plane I will put you on the plane. You should always take opportunities when they are put forward to you'.  So I had a chat with him and said I am going to Sydney and could be gone for a little while but I might have the chance to meet someone very special. While I was away the crew and people there were wonderful when it came to my needs with Elijah and I was able to speak to him often.
How did you feel getting the white rose?
I wasn't expecting the white rose and I thought Nicky would get it because she was the first one out of the limo. I was chuffed. I remember not having the words and when he gave it to me I totally jumbled my words. I was very happy.
Did you decided from the outset to tell him you have a child?
Initially I thought if I have a single date with him I will tell him but then I decided to be completely transparent and open and honest because he needs to make a decision for himself. I felt that he really deserved to know that straight away.
Has it been difficult for you having a relationship being a single mum?
When you have a child he becomes your number one priority when considering a partner and someone who is going to be in that child's life. I am a young mum but there's pressure on any single parent trying to find a partner and you need to make the right choice for yourself and for your child as well.
Do you think you can develop feelings for a person in that situation? Is there a tendency to feel jealous at all?
I do feel like it's possible to develop real feelings. When I used my white rose and spoke to him I could definitely see myself liking him and develop feelings then and there.
I have never felt elements of jealousy or insecurity before. However you go on an amazing date with him and then he comes back from a date with someone else, and the girl comes back so smitten, you do feel uncomfortable. However I never acted out on my jealousy.  I tried to understand it. It was something that I learnt about myself.
What was the best and worst part of being on the show?
I absolutely loved my whole experience on that show, even the challenges. The things I got to do made it wonderful – getting to know Rich, getting to know the girls, the whole experience was amazing. 
The worst part was being away from my little boy. That was tough. There were times that were very challenging times and I just wanted to give him a big squeeze.