By Meredith Langmaid  Photos: Gallery Vespa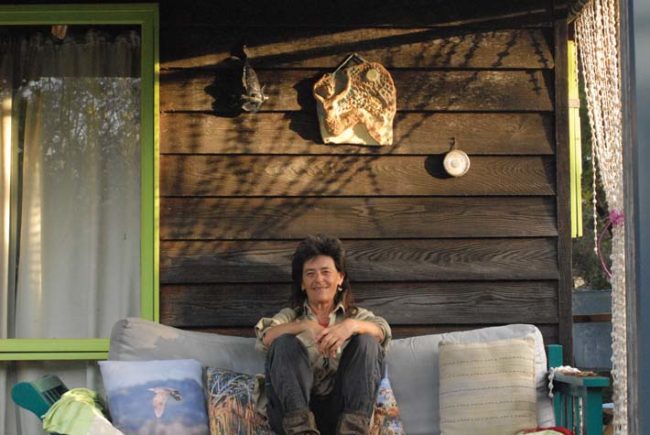 An artist, scientist and educator, Gidja Walker's life is all about protecting the natural environment.
Her paintings tell stories of how the land has altered due to environmental change and how this has affected the natural habitat.
"I see myself as a couch artist. I haven't had a studio where oil paints can dry, so my mediums tend to be quick-drying and able to be shoved under the couch!"
"Wild natural places inspire me to create, especially those last magic remnants struggling to survive in a world gone crazy. Painting them empowers me and builds my drive to protect them. It allows me to share their beauty and intricacies with others in the hope that they will also be inspired to protect them."
Gidja has exhibited widely, participated in numerous community art projects including the Boneo Primary School Mural in 2002, and won the 2011 Continental Hotel Annual Art Prize. She assisted at the 2012 Maluk Arts Jewelry Workshops, participated in the West Rosebud Community Renewal project at Toogarook Wetlands, and has been Artist in Residence at Police Point. Gidja brings to all her projects a commitment to and extensive experience in working with the local Aboriginal people.
"I look at things from all directions in a three-dimensional way and I like to accentuate perspectives and the curve of horizons. I work in a diversity of mediums often incorporating the sand from a site or pieces of bark or old crockery."
Walking into Gidja's relaxing home, I feel the tension of busy life lifting. Inside the beautiful A-frame cedar home, I have entered a creative world where statues, mosaics and other art pieces surround me. Up a spiral staircase to more rooms, I am captivated by this beautifully executed fine art, rich in both technique and meaning. From a balcony, we overlook her wonderful garden full of green vegetables: "Gardening is like creating a living landscape painting," she explains.
Gidja is also an ecologist with a Bachelor of Science from Latrobe University and a Diploma of Education from Melbourne. For over 30 years, she has been teaching, training and campaigning for the protection of land and country on the Peninsula, where she has lived for most of her life.
"As a restoration ecologist I spend a lot of time on my knees in the bush seeing the interactions taking place between soils, creatures, plants and fungi over the different seasons. Science and art are similar in that they are based in observation of pattern, tone, space and time."
Gidja has trained parks rangers, shire staff and contractors, members of Green Core and students of TAFE and primary schools, and has participated at the Mornington Peninsula School's Environment Week.
Whether she is on her knees digging or creating art, Gidja's intelligence, passion and care are clearly evident, as is her gentle sense of humour: "I see myself as a couch artist. I haven't had a studio where oil paints can dry, so my mediums tend to be quick-drying and able to be shoved under the couch!"
Gidja Walker's work and life seek to protect and repair our local environment, helping to make the Mornington Peninsula a better place for all to enjoy.