Crib Point artist, Alexandra Shay, believes in the power of the personal touch. In fact, she's made an art of it. Her stationery business, This On Paper, centres on the love expressed by thoughtful gift-giving, artfully presented. Alexandra makes beautifully-designed, hand-drawn, handcrafted stationery products. She even offers a love note service.
The expression 'it's the thought that counts' is front and centre in her thinking. In a time of hasty electronic communication and last-minute gift giving, making the effort to handwrite a card and wrap something in a slow, thoughtful way really impacts both the sender and the receiver. She feels it builds a closer connection.
Everything Alexandra makes is created consciously. She uses 100% post-consumer recycled paper printed in Australia. With the environment in mind, her products are plastic free. Instead, she hand-ties each card or bundle with eco-friendly string.
Alexandra has been drawing, painting and making since childhood. She's always loved working with paper in particular. She studied Visual Arts in VCE but didn't initially choose to become an artist. She went to TAFE in Frankston to study a different kind of art, floristry. She worked in that field for many years and has only recently started working as a full-time artist.
Art is in her blood. Born in Argentina, Alexandra came to Australia with her parents and three older brothers when she was just a toddler. Both her parents are professional artists. Her mother is a painter/ceramicist and her father, a woodworker. They had a regular stall at the iconic Sunday Market in Southbank, Melbourne. Alexandra and her brothers would explore the city while their parents worked. The kids loved that until it was time to pack up.
When Alexandra had her own daughter, she returned to art. "I just wanted to get back to me. Being an artist is my identity. After I had my daughter, I started This On Paper. I'd always had a dream of making stationery. A friend once asked me what I would want if I could do anything in the world. I said I would design my own wrapping paper and stationery," she says. And here she is.
Knowing that she wanted to create while consciously using recycled paper without plastic packaging was her starting point.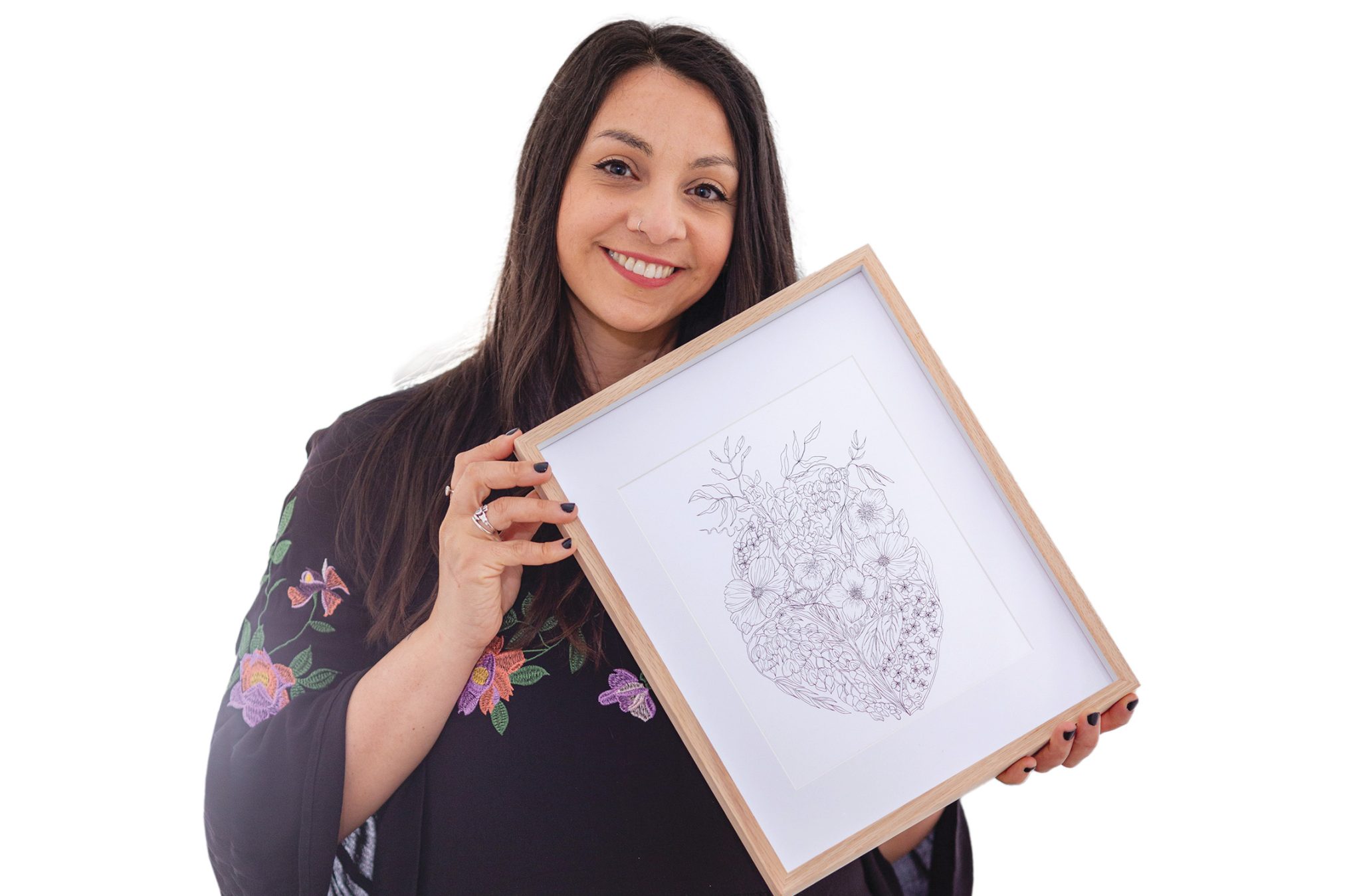 Photos: Gary Sissons
She went online to learn how to digitize her art and how to make repeating patterns. Adobe Photoshop and Illustrator help bring her designs to life. Her father, who retired from woodworking, is now a die maker. He custom makes the die cuts for the gift tags and scalloped shapes in Alexandra's cards.
It took three years to master everything while wrangling a baby and holding down her floristry job. Alexandra launched This On Paper early this year, selling her work first online and then at local markets.
Her cards are also carried at Flower Girls and Co. on Main Street in Mornington.
It's clear from her work where her inspiration comes from: flowers, nature and colour. Having grown up locally, the Mornington Peninsula landscape and the quiet moments spent in it influence her craft. She starts her designs by drawing in grey lead pencil, following with fineliner pen. Then she digitizes the drawings, edits and colours them and turns her designs into repeating patterns.
While stationery is a very niche market, it was a natural choice for Alexandra. "I just love paper: always have. I love that it's something you use in your everyday life, but it can be beautiful too. I love wrapping because I love gift giving. Putting that time into hand-wrapping a gift and writing a card with all the beautiful things you feel about a person is really personal and special," she says.
"I have kept every card that's ever been given to me. A handwritten card is a lovely snapshot in time – something I want to remember.
I also love notebooks. I've always had journals.
Every time there is a significant moment in my life, I make a drawing of it," she says. The beautiful handmade journals in her stationery line are perfect for capturing timely moments.
If coming up with catchy messages doesn't come easily, Alexandra has some wonderful heartfelt wording on a selection of her cards. However, she always leaves the inside blank to inspire individual thinking. In her love note service, Alexandra handwrites the love letter provided by a customer onto one of her cards. Then she mails it in the good old-fashioned post for that perfect personal touch.