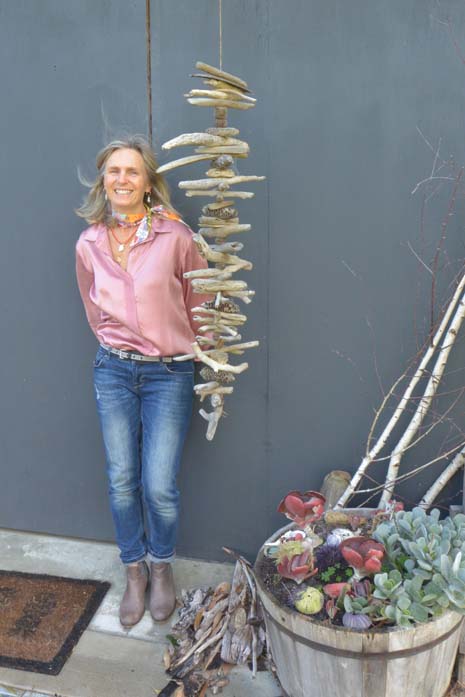 Racing toward perfection dominated much of Mt. Eliza jeweller Jeni Danks early life, but now she takes pleasure in the beauty of imperfection. In her jewellery making practice, she deliberately selects stones that a traditional jeweller might reject. She loves them because their inclusions and tiny imperfections tell a much more interesting story.
Her own life story is quite extraordinary. While she grew up in Melbourne, her parents had a holiday house in Mt. Eliza. Every Friday after school they would pick the children up and head to the Mornington Peninsula for a contrast to city life. Seaside adventures and sailing out from Davey's Bay Yacht Club were part of family weekends.
By ten, Jeni was skippering her own boat. Sailing gave her a great skillset for life. She learned courage, vigilance and persistence. Reading the weather and looking out for other sailors became second nature. She started to sail competitively in the days before classes were divided into mens and women's divisions. Prior to that men and women sailed as equals.
When classes were divided in 1988, she teamed up with former rival Addy Bucek and the pair of them started racing at World Championships. They went on to compete in the Olympics in Barcelona (1992) and Atlanta (1996). Jeni Lidgett (her maiden name) and Addy Bucek routinely ranked in the top ten virtually everywhere they sailed.
It wasn't just the peaks and troughs of the ocean that Jeni was riding, but the waves of the stock market too. She began her career as an investment advisor. This was in the heady days of the 1980s before, during and after the crash of 1987. It was an interesting time to work in finance. After eighteen years in the market, she decided to leave it behind to focus on her own family. It was then that she and her family moved to Mount Eliza and Jeni started her foray into jewellery making.
"It all started with the Mount Eliza acorn," she says. She had an epiphany standing under the great oak that overlooks their seaside property. She decided then and there that she wanted to make jewellery. The acorn became her first casting and a symbol of a new beginning, but before that she was knotting pearls which, as a yachtie, was a perfect start.
Objects from nature inspire her work. She loves the patterns in leaves, shells, seeds and other ephemera of the natural world. She often casts impressions from flora in her earrings, rings and pendants. It's no surprise with all those years at sea that she is drawn to stones of blue and green. "Aquamarine is my stone – it's what I have an affinity with because it reminds me of the sea," she says.
Most of her pieces start with a story and grow from there. She returned to the acorn as inspiration for a series called The Gallipoli Acorn exhibited at the Frankston Arts Centre (2018) as part a centenary remembrance of Australia's ANZAC years. During a visit to Anzac Cove in Turkey, Jeni picked up a Gallipoli acorn. The tiny acorn and prickly leaf were made into jewellery to commemorate the fallen, including her great-uncle who died there. "That's the sort of project that gives me great satisfaction – doing something so meaningful," she says.
Jeni has created many poignant pieces. A dear friend gave her some gold and stones to make jewellery for her three daughters for their eighteenth birthdays. She held a workshop with seven women who shared a deep bond. They made rings for each other out of wax. Moulding the wax left their fingerprints in it. Jeni then cast their rings into silver, creating something very personal.
In the same vein, Jeni can make wedding bands with the couples' fingerprints forever embedded in them. "Creating stories in my work is important to me. It's a privilege to be part of the story," she says.
The Daisy Project is her latest jewellery collection. The daisy was cast from the pocket emblem on her mother's school uniform.
Story is central to her work. Lately, she's finding a lot of people are coming to her with generational jewellery that has been put away for 'special occasions' because it's not something they would want to wear all the time. Jeni says, "Every day is a special occasion. Jewellery shouldn't be hidden away. It should be worn often because every day is special." She's been remaking that older jewellery into something new.
Whether she's panning for sapphires in Tasmanian rivers or collecting treasures from worldly travels, whatever Jeni brings to her workbench is sure to turn into something wonderful.
---
Find her work on Instagram, Facebook and at the upcoming Mount Eliza Art and Design Show from October 25 to 27, 2019