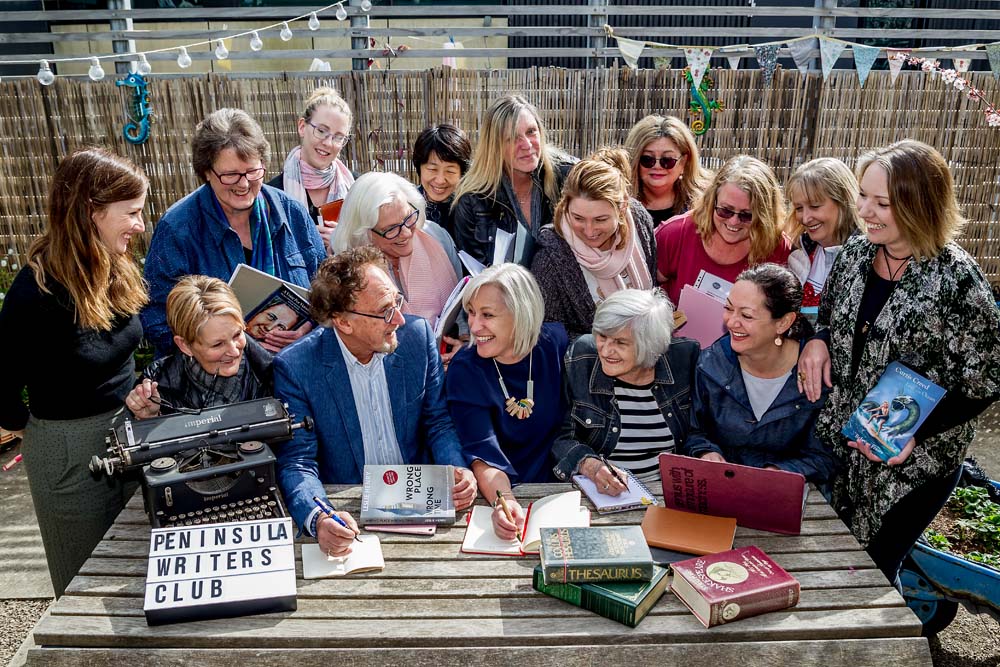 Photo: Yanni
By Andrea Rowe
For a solitary pursuit like writing, writers' of the Mornington Peninsula are a rather social bunch. The much-adored Peninsula Writers' Club has been a supportive and inspiring gathering space since 2015.
Founded by local copywriter and author Andrea Rowe, the club has hosted over 70 writing meet-ups, workshops, guest author talks, spoken word events and literary road trips.
The secret of their success? The club's celebratory and accepting environment recognises that anyone with a passion for writing is welcome at the writing table. Aspiring writers rub shoulders with published authors, professional writers sit in the company of others just starting out.
"We all come together from different stages of our writing journey," says Founder and President Andrea Rowe, "we've collectively contributed to a unique atmosphere of support, connection, guidance, fellowship and focus"
Andrea recognised the Mornington Peninsula was in need of a united community after many years of commuting to Melbourne for workshops and meet-ups.
What started out as a dinner party style affair at Bistro Elba in Sorrento for 10 aspiring and emerging local writing pals grew into a calendar of annual events attracting writers from across the Peninsula.
The club boasts monthly writing days at Rosebud's Seawinds Community Centre, collaborations with creative associations and community leaders, guest author talks at Blue Mini Café and ongoing advocacy for the voice of local writers.
Andrea says that spending time with others really does makes the writing road easier, and less lonely.
"Writers understand what other writers are going through. We create these characters – we love them, hate them and doubt them. We create their voices, dialogue, landscapes and their life. That's a big responsibility. Then there's the creating, editing, submitting and all that nail biting – it's a certainly a journey less overwhelming if it's in company."
"We're all here because we love writing, but we also want to build on our writing skills, develop connections and feel some sense of accountability."
The Peninsula Writers' Club is a diverse group folks. Some have been writing for years while others have only recently found the time or inclination to write through health, family and professional milestones. Members can choose to attend events where self-managed writing is the sole focus of the day, or evening author and industry talks.
"I get a wonderful buzz out of seeing newcomers arrive at the meet-ups not sure what to expect, hesitantly pulling out old notebooks that haven't seen the light of day for years. Weeks later they're overheard talking about word counts and entering competitions, or sharing a coffee with other members and working on a manuscript they've got a renewed vision for," said Andrea.
While she's keen to point out that the club is not a manuscript assessment and how to write forum "inspiration and support can be absorbed during meaningful and encouraging conversations."
"It's a genuinely supportive environment giving people permission to step into the writer's realm, and embrace the craft of storytelling and writing. Several members say they are motivated by association to pursue that writing dream for themselves."
Andrea say she loves looking around the room at a gathering, listening to the tap of keyboard and eavesdropping on conversations about what a character is doing.
"We're just a bunch of writing folks encouraging each other to remain focussed, troubleshooting plot and character conundrums, and sharing tools and resources to make ourselves better writers. It's incredibly motivating."
The group has welcomed published and aspiring writers, freelancers, journalists, editors, bloggers, copywriters, memoir and family history writers, poets, script writers and diary scribblers. "It makes for a pretty engaging lunch break chat – naturally you can hardly get a word in" jokes Andrea.
New member Muriel Cooper loves the energy "Peninsula Writers Club has been an inspiration to me – it's a great space for writing, networking an socialising– I love it."
"Every gathering is also a brilliant bulletin board of news worth celebrating" said club Vice President and author Rebecca Fraser. "We share when someone has submitted a manuscript, signed a contract, been interviewed or contributed to an anthology. It inspires us all to keep writing."
Rebecca added that other members are happy just to absorb the atmosphere and write for private pleasure.
While there's been a few road trips to other literary events together, members are equally passionate about writing the narrative of the Mornington Peninsula history and future though a Legends of the Peninsula writing day, Digital Writers in Residency program and Words from the Writers live reading events. The club also advocates for inclusive opportunities on behalf of local writers and a Facebook page, newsletter, website and Eventbrite page shares literary events and news.
A new chapter has been written this year as the Peninsula Writers' Club became incorporated as a not for profit and partnered with Writers Victoria to present workshops.
A vibrant local community of connected writers is what inspired Andrea to create the Peninsula Writers' Club, and she's only half-way though the story.
"We have so much writing talent here on the Mornington Peninsula, it's just incredibly inspiring to see the words flow."
---
Website peninsulawritersclub.com.au
Facebook www.facebook.com/PeninsulaWritersClub
Instagram www.instagram.com/peninsulawriters