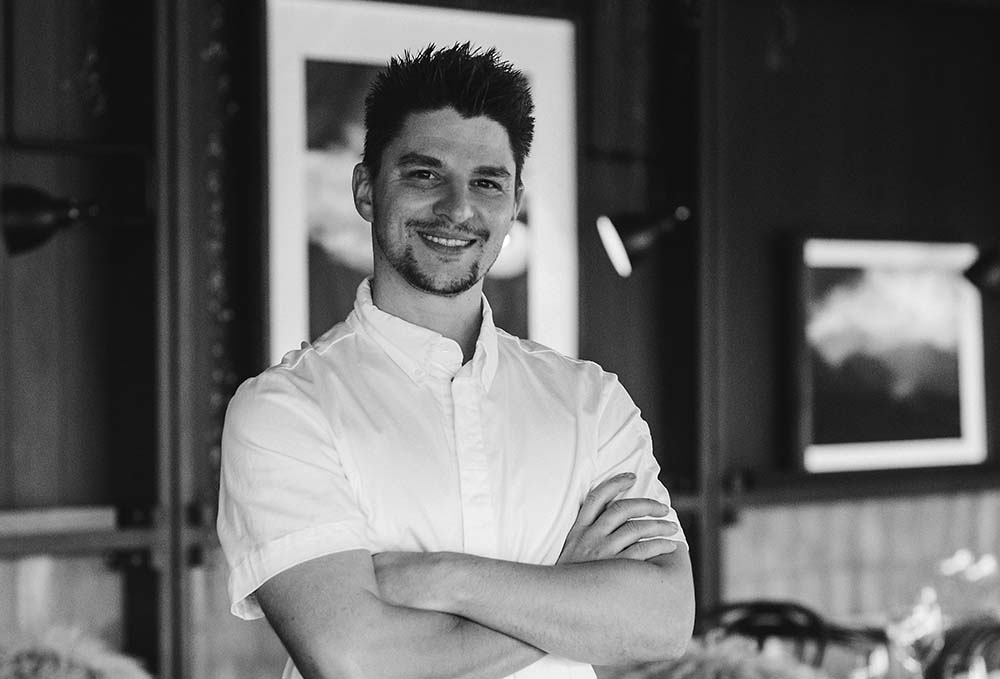 Polperro's own executive chef, Michael Demagistris, is off to Paris after being announced a winner in the 2019 Shared Tables Thierry Marx Career Development Award. This unique award provides the opportunity for one apprentice/cookery or patisserie student and one fully qualified chef to work in the great culinary city of Paris, under the guidance of world renowned chef, Thierry Marx.
Demagistris won the highly coveted award from 27 finalists. Since the start, after the competition, 23 commercial cookery/patisserie students and one chef, in 2018, have travelled to Paris for this life changing-experience.
Chef Thierry Marx is renowned for his food innovation and kitchen leadership that is highly respected from chefs all around the world.
"As a qualified chef, I believe that continued learning is vital," said Demagistris who has always had a passion for the peninsula. "I am thrilled to win this award to further solidify my skills as a chef and make me better equipped for modern cuisine and give me currency to put back into programs that help people throughout foodservice. I believe it's not what you can achieve alone that makes you truly remarkable but how many people you can lift up with you".
The judges were impressed, not only with Demagistris' cooking and technical abilities, but his knowledge of Thierry Marx which they said was exceptional.
The prize includes airfares, accommodation and three weeks in Paris with 14 days training under the guidance of Thierry Marx and his team at the Mandarin Oriental Hotel.
Demagistris joined Polperro two years ago bringing with him a wealth of experience, unwavering enthusiasm and a wholehearted love for the local region.
A passion for food was ingrained in Michael Demagistris from childhood. However, his culinary journey began while working as an aspiring chef under Jacques Reymond in the kitchen of the internationally acclaimed restaurant, Jacques. Highly ambitious, Michael moved on from his senior role at Jacques and took it upon himself to learn from the most revered chefs, working in restaurants around the world including Alinea and The Publican in Chicago, and Noma in Copenhagen.
Out of genuine love for the Mornington Peninsula and a thirst for the opportunity to grow, Michael made the move to the region, accepting a role as the youngest ever Executive Chef at the prestigious Sorrento Golf Club. During this time, Michael made his mark by gaining a placing in the top four of TV series MasterChef the Professionals, before going on to transform the seaside restaurant Buckley's Chance as Executive Chef.
Michael's enthusiasm for delivering incredibly flavoursome food that emphasises the region's local produce led him to open his own restaurant East Bar and Dining in Mount Martha. Here, Michael developed a menu that highlighted his culinary skills and thirst for innovation, as well as his love for foraging and sourcing the best produce the Mornington Peninsula has to offer. The award winning chef continues to create incredible dishes at Polperro using stunning regional produce and foraged ingredients.
Recipe
Beetroot cigar, Main Ridge Dairy cashmere, beurre noisette snow

Components
Beetroot case
Brick pastry
Smoked beetroot jam
Main Ridge Dairy cashmere curd
King Salmon fat snow
Beetroot cigar case
Ingredients
300g Beetroot cooked
40g Icing sugar
50g Isomalt
10g Glucose
Method
Blitz all of the ingredients to 80 degrees in Thermomix.
Spread on dehydrator mats using a rectangle mould 9cm long x 6cm wide, let dehydrate for 5 to 6 hours.
Mould with sugar lamp using plastic plumber pipe 1 ½ cm in diameter.
Brick pastry cigar
Ingredients
1 sheet of brick pastry cut into 9cm long x 8cm wide
20ml King Salmon fat
Method
Using a copper pipe 9cm in length 1cm in diameter brush the brick pastry with the King Salmon fat and roll it around the copper pipe. Place into a pre-heated oven at 160 degrees for around 8 to 10 minutes or until golden brown.
Once cooked, remove from the copper pipe and set aside.
Main Ridge Dairy cashmere goat curd
Ingredients
200g Main Ridge Dairy, cashmere goat curd
50g Sugar syrup
10g Pink salt
100g Apple cider jam
Method
Mix all of the above ingredients together, in a large mixing bowl until fully combined.
Smoked beetroot jam
Ingredients
1200g Large beetroots
400g Apple cider pickle (see recipe)
23g Agar agar
Pinch of xanthan gum
Method
Juice the beetroots then pass the juice through fine filter paper. Weigh the filtered beetroot liquid to 1000g then add the 400g apple cider pickle. Put the liquid into a pot then add the agar agar and whisk. Bring the mix to a boil making sure every 2 to 3 minutes you give the mix a really good whisk. Bring to the boil, remove from heat and pour into a plastic gastro tray, refrigerate until hard set.
Break up the gel and put into the Thermomix, blend until smooth, then add the xanthan and blend for a further 2 minutes.
Pour the mix into a gastro tray, and using the smoking gun, smoke the mixture with apple wood chips, cover with glad wrap.
Smoke 2 or 3 times until desired smokiness is achieved.
King salmon snow
Ingredients
100g Maltodextrin
30g King Salmon fat
Method
In a stainless-steel bowl, mix the maltodextrin and King Salmon fat until it forms a light fluffy snow.
Assembling
Fill a piping bag with half of the goat curd and half with the smoked beetroot jam. Pipe this mixture into the brick pastry then carefully place the pastry into the beetroot cigar. Dip the cigar into the King Salmon snow and serve.