Story Andrea Louise Thomas Photos Yanni
Quality is the cornerstone of everything made at Johnny Ripe. Given that its proprietors Michelle Ball and Adam Dargan are fully qualified world-class chefs, it's not surprising that their baked goods are distinctive and delicious. If anything, they are overqualified, but as they are also raising three young children, quality of life is just as important to them as the quality of their products.
Their little factory in Mornington is humming away six days a week with a team of ten, including Michelle and Adam, hand making every single meat pie, fruit pie, brownie, savoury tart, doughnut, cronut, sausage roll and slice.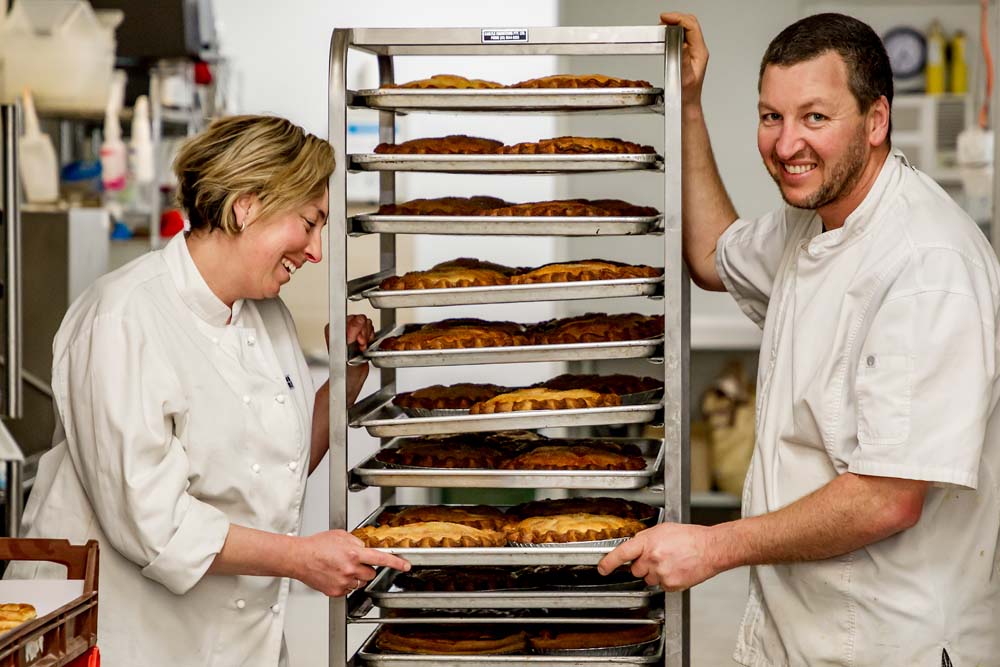 Every part of the process from preparing the ingredients to baking to packaging is done onsite and handcrafted with care using real top quality ingredients. (Yes, that means real butter and lots of it. They go through a tonne of butter a week!) None of their products contain fillers or preservatives.
While quality does not come cheap, their products are worth it, not just for their great taste, but also for what customers get. Their family pies are 1.2kg of real goodness. Their baked goods are made to come to a customer's table just as they were when they left the factory.  That takes hard work – something this dynamic duo knows all about.
Adam and Michelle have been a successful team for a long time. They met in 1995 when they were apprentice chefs in Sydney. It was fortunate that they both became chefs because, as Michelle explained, it's difficult to understand how all-consuming the work of a chef is unless you are in the trade. She has seen many couples break up when only one of the pair was a chef. Fortunately Adam and Michelle have always been on the same page and in the same kitchen.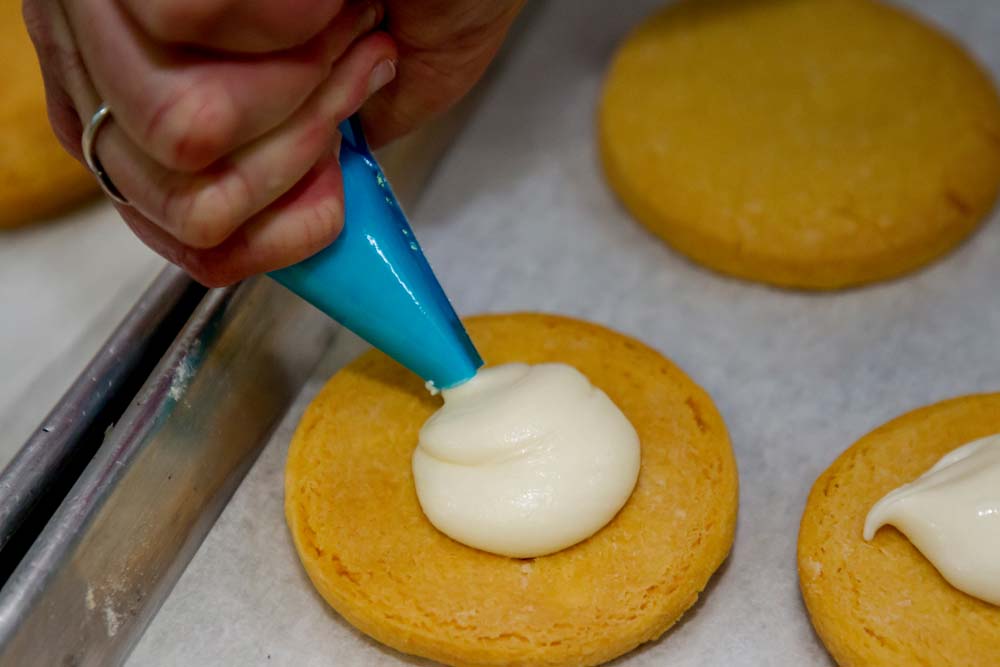 Working as chefs has led the pair to many interesting places. After gaining their qualifications, they spent the next seven years travelling to over 25 countries on four continents. They wanted to gain as much experience as they could in as many environments as possible from five star hotels to private residences and everywhere in between.  In Scotland, they worked for an ex-army captain who lived on a country estate. In that job, they had to forage and hunt for all the ingredients before cooking them. Dinner parties at the Captain's often sat 30 people.
When they returned to Sydney, they ran their own successful restaurant. They did that for a year, but Michelle had a dream (literally) of having a cupcake shop. So they opened one.
When food critic Matthew Evans from The Sydney Morning Herald gave them a great review, their shop really took off so they opened a couple more. Despite its roaring success, after a few years they decided to sell the business.
They took to travelling again, but this time it was in Australia. They travelled up and down the East Coast looking for a new place to call home. They fell in love with the Mornington Peninsula for its many virtues, but ultimately decided upon it because of its reputation as a 'foodie' destination.
The Johnny Ripe seed was sown in 2010 when the couple purchased a small property on Barkers Road, Main Ridge that just happened to come with a mature apple orchard. With 150 trees, they had to do something with all those apples. They opened a weekend shop operating out of their shed; Friday to Sunday they'd see 250 cars up and down their drive! It was a bit too successful! When strangers started showing up at all hours and on weekdays, they knew they needed a new venue.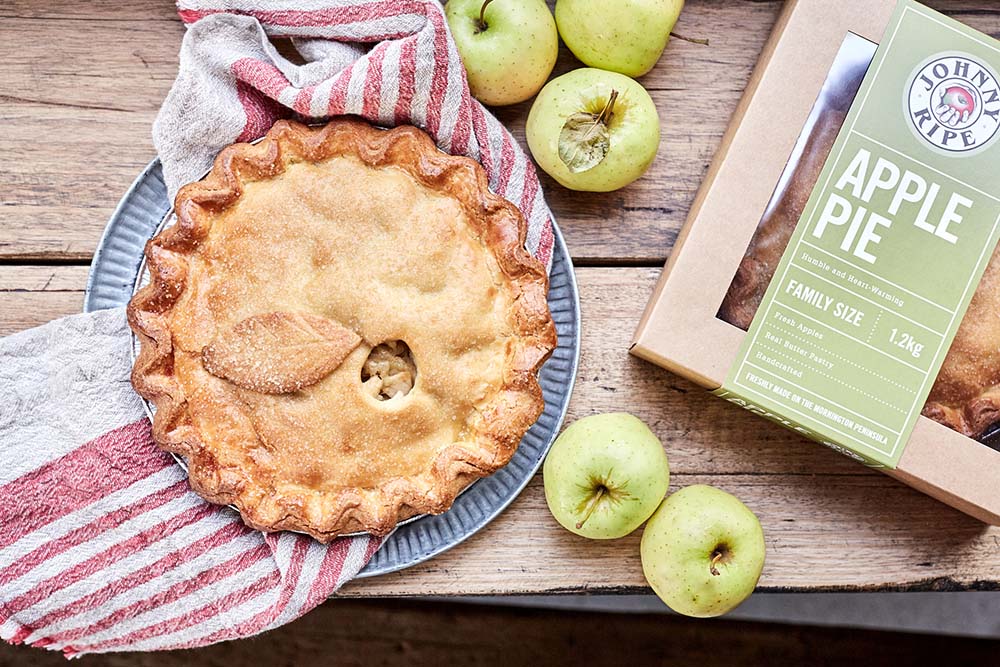 So they leased a building on Main Creek Road and set up their new brand, Johnny Ripe. Why Johnny Ripe? Well, they were growing Jonathan apples and picking them when ripe. (Though there is also a cheeky nod to the Sex Pistol's Johnny Rotten in there.
No reflection on the apples.) "Johnny Ripe is about the brand, standing for good quality, good value and handmade. Everything we do, we do honestly, humbly and earnestly," Michelle says.
They started at the Main Creek Road venue as a supper club with a fixed price menu. It was a rollicking success. They then operated as a café/restaurant, but that got too busy for them too. Now Johnny Ripe restaurant runs as its own entity separate from Michelle and Adam. It's the same with their Johnny Ripe retail shop in Red Hill. The Epicurean Group runs that, but both venues are places you can buy Johnny Ripe products. They can also be found in fine food shops all around the Peninsula.
What Michelle and Adam strive for now is a sustainable life that allows them plenty of family time. Selling their pies and pastries wholesale from their factory in Mornington is enough. So, for the past five years, that's exactly what they've been doing. And like everything else, they're doing it well.