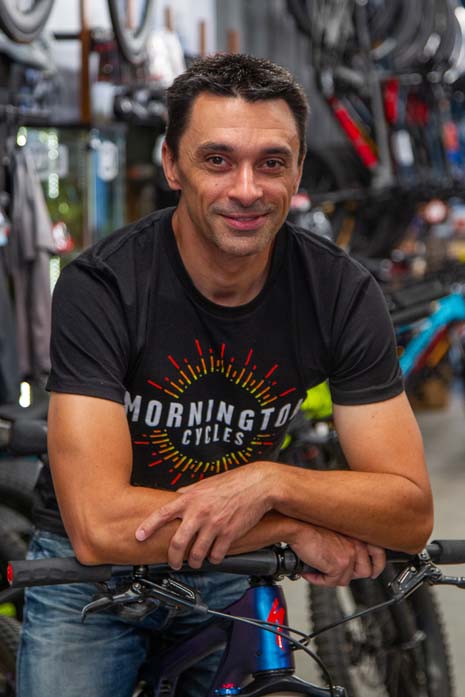 He races on a mountain bike through rocky tracks, deep crevices and steep descents on some of the highest peaks in the world. His legs and arms ache. He is thousands of miles away from home. He is hungry, exhausted and sometimes starved of oxygen and he loves every minute. He is Brad Clarke, mountain bike cyclist and national champion, who has competed in national and international events, including the UCI mountain bike world championships. Having worked as a professional mechanical engineer for V8 racing, Clarke found his way to the Mornington Peninsula and opened Mornington Cycles, a lifelong dream, where he combines his love of cycling with an adventurous spirit that just won't quit.
"It is awesome to be on the peninsula at Mornington Cycles and I work with a team of experienced riders who have a knowledge across all the cycling disciplines," said the 43 year old cycling champion, who came in third in South Africa's Absa Cape Epic race last year, and recently finished the 'bc' bike race in Canada. The latter is a seven-day mountain bike stage race held in British Columbia, traditionally held in early July.
"There are about 600 racers in the 'bc' and we ride an average of 50 kilometres a day on race routes that are 75 per cent single track," said Clarke. "It is very intense. Some tracks are just rugged and brutally hard and not knowing the track ahead of time makes it more challenging. I came 14th overall and won the over 40's category."
Even though Clarke says some races can be physically and mentally demanding, it is a challenge that he loves and he is always looking for the next one.
"All of these are amazing adventures and a way to constantly challenge myself," said the father of two. "My wife and family are incredible and very supportive. They come along to as many of the events as possible."
Although he hasn't lived on the peninsula, Clarke says members of his family have lived there and it was the ideal place to open the bike shop.
"Some of my family have been on the peninsula for decades. I still remember, as a toddler, walking up Main Street Mornington with my grandmother. I spent a lot of my school holidays down here with both my sets of grandparents living here. It is like a second home for me, so opening Mornington Cycles in October 2016 felt like coming home," said Clarke, who has always been a cyclist but got serious about it six years ago.
"I love riding but it turned from a hobby to something competitive six years ago. I decided to start taking it more seriously and had a relatively quick progression in the early days when I started getting results," said the champion cyclist, "It was then that my competitive side took over, and I engaged a coach who has helped me enormously."
As a ten year old, Clarke's parents bought him a BMX bike and he had his first taste of riding competitively. Yet it was after he had his family that the bug really hit.
"I was 36 before I really got back into the riding. I didn't want the 'dad bod' and decided to start getting fit. The first competition I did was in Lysterfield and I did really well.
Not long after, I saw a magazine article about a 16 week training program and I decided to do it. I followed it religiously and got excellent results," he said.
These days, Clarke's cycling has become a lot more structured.
"That's one of the great things. You become more time and energy efficient when you follow a stricter program for training. With the equipment on the bike you can measure all the output and power, unlike in the early days when I used to wear a heart rate monitor to measure my progress."
Always pushing himself to improve, Clarke is taking on the big guns with the Mountain Bike World Championships in Quebec.
"It is a single race and I am proud to represent Australia. There will be representatives from most of the nations there," he said of the arduous race which is short but a very difficult terrain to manoeuvre.  "I love the challenges of a high intensity race.  This one is roughly an hour and a half long and I sit around 98 per cent of my maximum heart rate for all that time. It is very high intensity and can be quite painful at times, in terms of the lactic acid and the amount of effort you have to put in. Everything hurts; particularly the lungs because of the amount of oxygen you have to take on in a course like that."
As challenges go, this world championship is like no other with a course that has three climbs that each go for about four minutes, before a technical descent where the riders negotiate gardens and rocky terrain.
"You are literally at maximum effort at the top of the climb so you are a bit dizzy and get blurred vision. You have to navigate a technical section and then you go back up and do it again," said Clarke, who qualified by competing in the Australiana and Oceanic titles which made him the current Australian title holder after winning all three titles this year.
---
Follow Brad on Instagram for his daily cycling updates or go in and chat to him at
Mornington Cycles, 1/54 Main Street, Mornington.
Phone 5975 8055