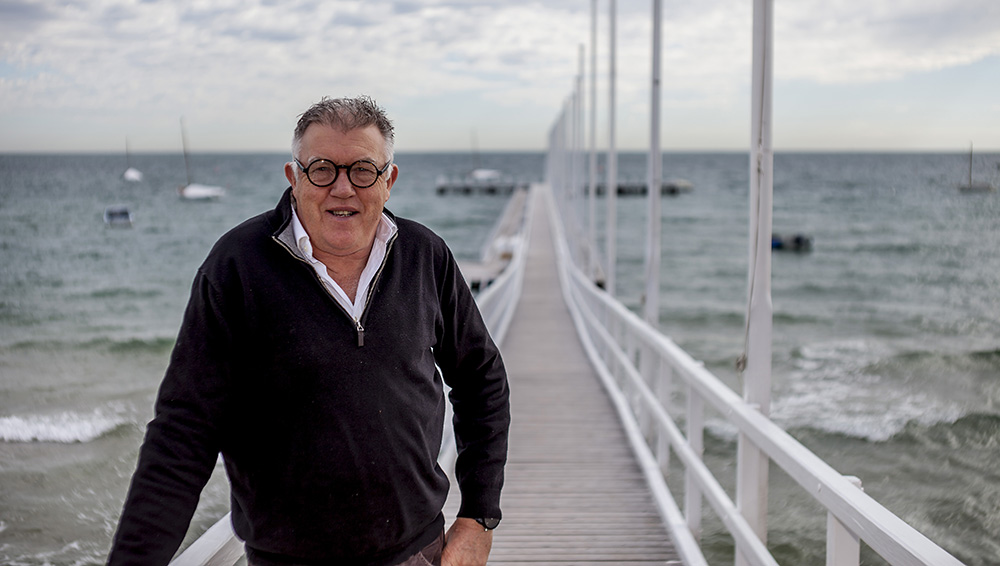 By Melissa Walsh   Photos: Yanni
You would never guess that Barry Iddles grew up on a dairy farm where daily life consisted of feeding the calves and chooks, and attending the Lockington Farming School. The celebrity chef, entrepreneur and world traveler with the flamboyant and friendly nature continues to push the culinary boundaries even after 40 odd years in the business. No matter where he travels in the world, he still calls the peninsula home.
Melissa Walsh speaks to Barry at the Sorrento Sailing Couta Boat Club, the home base of his business Sorrento Catering which runs the salubrious sailing club, 333 in Melbourne, the Tarnuk Room at Australian Gardens in Cranbourne and Elk Restaurant in the Falls Creek alpine village.
"My mum was an amazing cook and I used to watch her in the kitchen a lot. In fact I just bought back one of her old dishes, passionfruit powder puffs (individual sponges that you fill with whipped cream and icing sugar and leave for six hours). I've dragged a lot of her recipes out over the years, like her chutney which we call Nana Bev's Kick Ass chutney, even though her name was Phyllis," said Iddles, laughing. "Mind you she always cooked steaks well done. At 18 I went to the Golden Fleece Roadhouse in Goulburn and tasted my first rare steak. I said to myself 'oh my God, steak isn't that bad'."
While Barry was drawn to cooking, his twin brother Ron was totally into police shows, watching Division Four regularly.
"My twin brother went on to become the top of homicide, and has only recently retired permanently from the force. For two country kids our lives went in different directions but have taken off in massive ways," said Barry.
With a history of successful restaurants, multiple awards and flourishing catering business, Iddles should be proud of his achievements.
"I love being a free spirit, and tend to make things happen quickly," he said, referring to his recent acquisition, 360Q in Queenscliff.
"It all came about on Australia Day, which is when I tend to make most of my decisions. With January being the month of madness, I decided to take a day and a half off and headed over to Queenscliff on the ferry, went down the Great Ocean Road, and got a helicopter over the Twelve Apostles. When I saw the harbour I thought I might take it on. It had lying dormant for a few years," said Barry. "We opened in October this year."
Even though he is constantly busy, Barry still likes to get hands on and cook when he can.
"Just the other day we had a table for 30 booked but 45 turned up, so I jumped in and gave the boys a hand on the fryer," he says with a laugh, explaining it's a careful balance between being a free spirit and being incredibly organised.
For Barry, travelling has been an important part of understanding cuisine and he tends to take off to exotic locations numerous times throughout the year.
"One day I took a group over to Vietnam and we ate seven times, from sampling street food to discover how you can give it a modern twist, to the most high end hatted restaurants. It is all about understanding food style, presentation, flavours, good and bad service. One of our apprentices Byron had never been out of Rosebud and now is a fully qualified chef who travels overseas four times a year looking at food."
Barry says his favourite food is anything innovative and exciting, whether it is food from a street cart of a Michelin restaurant.
"I went to a degustation dinner in Denmark at $300 per head but two of the dishes didn't work. They did stupid things like putting an olive tapenade with squid and it's just too strong.  They did this incredible reinvention of steak tartare, adding semi dried tomatoes and croutons into the mix. It was just an incredible take on that old 70s dish I learnt doing my apprenticeship," said Barry, who dines everywhere from Vancouver to London, Asia and Europe. "I teach cooking at restaurants in Singapore twice a year."
This dynamic go-getter is very different from the kid who grew up in a small country town, and admits it was years later that he began to flourish.
"I was a shy child and my dad was a bombastic creature who ruled with an iron fist. But I was always innovative and, at 14, invented the 'calfateria'" says Barry with a laugh. "I had to feed the calves all the time and so, being at a farming school, got the welder out and made a device that would feed 20 at a time. Then I decided to make an automatic chook feeder."
While Barry says life as a kid had its challenges, he insists you must not let the past rule your life.
"At 18, I was close to a nervous breakdown but found you cannot dwell on the past. Two amazing books helped me – "Who moved My Cheese" and "The Present" by Spencer Johnson. Moving to Melbourne and focusing on my apprenticeship and putting my energy into food was amazing. In 1975 I won Apprentice of the Year, and Chef of the Year in 1985, knocking off Mietta's and top Melbourne restaurants."
Barry says part of his success is due to questioning everything.
"I couldn't understand why you have potatoes with everything, so I changed it. You have to push the boundaries and always be ready with a backup plan," he explains. "Like when you don't have a dessert to plate, you go out and buy a seedless watermelon, dice it up, put raspberry vodka, pimms and syrup over it, add basil, and make a raspberry sorbet. Or take 400 grams of frozen raspberries, two egg whites, a tablespoon of sugar and put it in the thermomix, and then in the freezer till you serve it. It's stunning."
Always searching for the next opportunity, it was after selling Artistic that Barry decided to start Sorrento Catering.
"I wasn't allowed to open within 25 kilometres of where my original business had been and had come back from a world trip to buy a house down here. The house settled in 10 days and was fully furnished in 20. When I came back down here there was a little set of shops empty so I decided to start my business again. I was doing private catering out of my restaurant as I have always found its about being productive with the area you have. Failure to me is a lack of trying. People can be negative but you can't listen to the doubting Thomas's," he said. It's about having vision and about believing in yourself."
Barry says he discovered his passion when he left the country, and has always thought outside the square.
"I wanted to prove that you didn't need to have money to be presentable and put your best foot forward. So I decided to buy an interview outfit from the local op shops. I bought white happy shoes for a dollar, a white shirt and green corduroy suit. Dressed for under $10, I went to four job interviews in Melbourne and got four job offers. You cannot say I can't afford to go to an interview and there is no excuse for not looking presentable," he said.
Apart from his entrepreneurial and gastronomic success, the vibrant chef is also the ambassador for Fare Share, a Melbourne based charity aimed at rescuing surplus food from supermarkets, farmers and other businesses to be redistributed as cooked meals.
Barry opened Skinny Duck which raised $130,986.95 supporting FareShare on its first night earlier this year, creating 260,000 meals for Melbourne's underprivileged.
"It raised $84,000 then next night and we will do it again in February or March next year. If I got every restaurant to get a dollar off every customer that's enough to feed one and a half people so that's my next thing. No one's ever done it, and that's the quickest and easiest way to knock it out," said the practical Barry. "When I travel overseas and see beggars, I don't give money, but always carry a bag of fruit for them."
First published in Peninsula Essence – December 2016