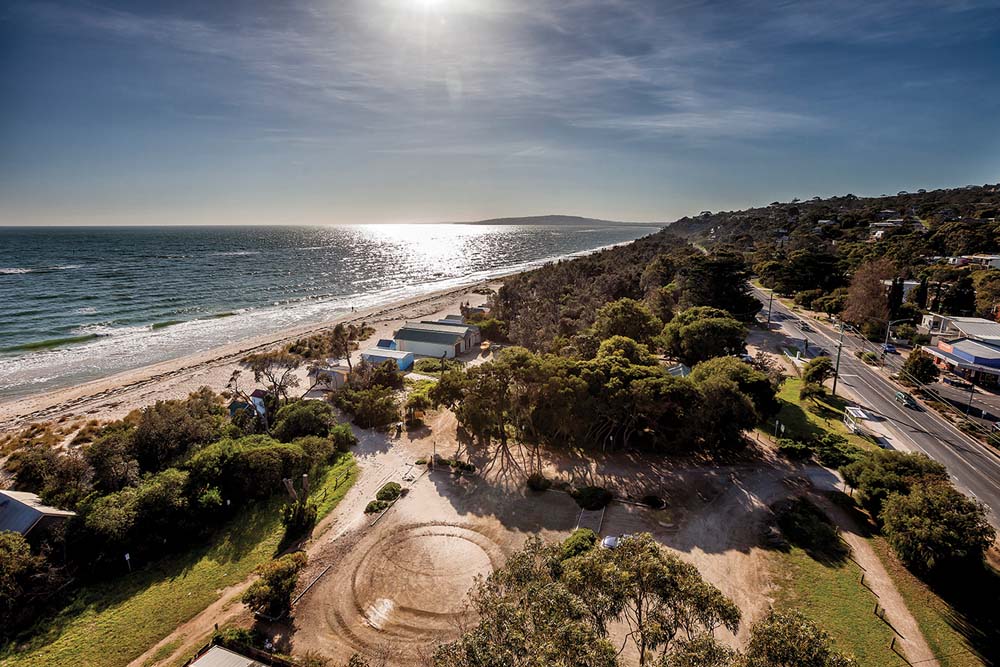 MCCRAE FACTS
McCrae is a suburb 73 km south of Melbourne, nestled between Rosebud and Dromana, boasting its own ocean frontage. It has a population of 2,543, and an area of 3.7km2. The beach is secluded and quiet and offers a relaxing atmosphere from the hustle and bustle of the Melbourne CBD.
---
The area was named after the McCrae family who were the first Europeans to settle the area. The homestead that they built, McCrae Homestead is a National Trust property that is open to the public.
---
McCrae is known for the McCrae Lighthouse. No longer an operating lighthouse, it marked the turning point for shipping in the main navigational channels between Port Phillip Heads and Melbourne.
---
In March 2011, McCrae Yacht Club hosted the Victorian Championship regattas for the A-Class Catamarans. They sailed seven races from the 12–14 March. McCrae Yacht Club is located at the south end of Port Phillip Bay on a beautiful sandy beach. The club has a commitment to sailing and sail training. Family participation is encouraged as is excellence in sailing with success at state, national & international levels. The club was formed in Dec 1961.
---
McCrae Homestead is one of Victoria's oldest homesteads and is a physical reminder of the early pioneering life. Built in 1844 by lawyer Andrew McCrae and his artist wife Georgiana, the Homestead is a rare example of drop slab construction. Made using local materials such as messmate, stringybark and wattle it was sold the homestead to the National Trust in 1970 by Georgiana's great-great-great grandson. The Homestead is one of Victoria's oldest, original existing houses, and was built on a large lease in the Port Phillip colony, Arthur's Seat Run, comprising 33 square miles or 20,500 acres (8,296ha). The building was designed by Georgiana McCrae who was the illegitimate daughter of the 5th Duke of Gordon, a talented artist and dedicated diarist.
---
The McCrae family was one of the first six pioneer families to establish properties on the Mornington Peninsula.
---
McCrae Beach is regarded as one of the most stunning on Port Phillip Bay's shore, with many uncrowded spots to take an afternoon dip or sunbathe. Because of the position of the bay along the peninsula, the waters are smooth and tranquil, so this may not be the best spot for surfing, but it sure does draw in plenty of couples and families who simply want to relax.
---
Median house price for McCrae is $605,000 and unit price is $490,000.
---
The median/average age of the people in McCrae is 52 years of age.
COFFEE SAFARI
Fresh brewed coffee is a must have for weekends away and McCrae coffee is second to none with great coffee haunts around the town. Here are a few to check out when head down to this beautiful end of the world.
BLUE BAY CAFE
665/667 Point Nepean Rd
Blue Bay, Red Raspberry Cake
Nestled in between the larger and busier suburbs of Dromana and Rosebud. Blue Bay Café gets top marks for its setting as it's located just opposite McCrae beach and light house. Great coffee, amazing cakes and friendly staff are the perfect combination.
MCCRAE PROVEDORE
9/739 Point Nepean Rd
Positioned opposite beautiful McCrae beach with its coastal walks around the historic McCrae Homestead and Lighthouse, McCrae Provedore is the premier place for great coffee and fresh food.
MERCHANT & MAKER
675 Point Nepean Rd
Specialists in modern café cuisine with a focus on seasonal and local produce. Renowned for their fresh menu and excellent coffee.
WHAT TO DO?
Nestled between Rosebud and Dromana on Port Phillip Bay, McCrae boasts its own water frontage with secluded beaches that are safe and quiet, and a welcome respite from the hustle and bustle of city life.  McCrae is a perfect weekend getaway for anyone who loves history, charming eateries and a beautiful beach atmosphere.
With fabulous fishing and viticultural options, you will always find fine dining in McCrae, whether you want a five star meal or just the most delicious fish and chips on the beach.
Enjoy sailing, walks along the beach, and lounging around in one of the many accommodation options from beachfront camping to million dollar rental properties, and then check out the stunning McCrae Homestead.
Of an evening, the McCrae Lighthouse glows with a wonderful light show for all to see, capping off the perfect day in paradise.
Photos: Yanni