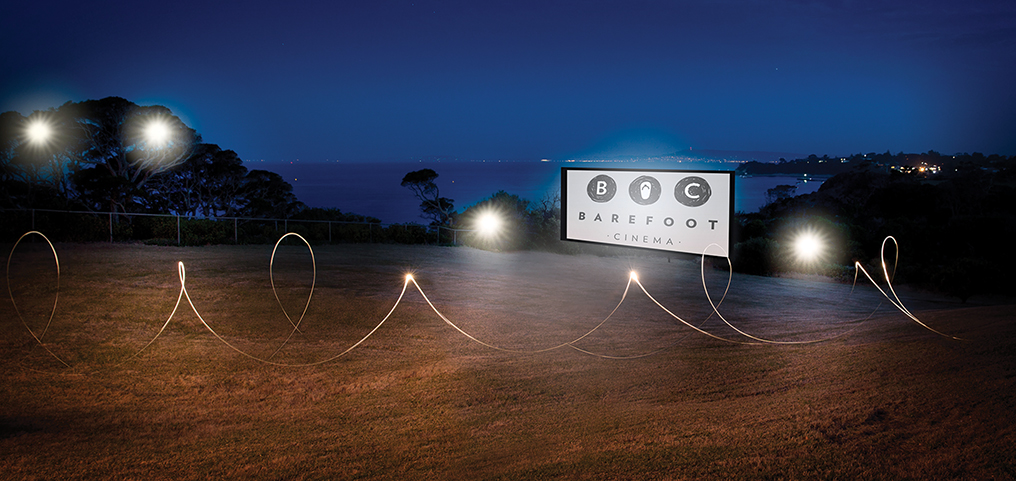 By Melissa Walsh
When Sorrento lad, Julian Grant and his girlfriend Yuliana first saw a barefoot cinema in London it planted a seed. The young lawyer, Julian, who had grown up on the peninsula with his brother Daniel,  knew the perfect place for such an event. That was seven years ago and his dream is finally being realised this year with the opening of Barefoot Cinema at Point Nepean.
Now a construction lawyer in Melbourne, Julian along with event manager, Daniel, eventually made the idea come to fruition.
"We have always discussed the concept and thought about ways in which it might work. However, it wasn't until this year that things started falling into place. Yuliana and Daniel had some time freed up so they could concentrate on the business. It was at that time the location also became available," said Julian.   
With Julian's background as a lawyer, he was able to secure the venue and sort out the permits and licenses. Yuliana looked after the marketing, and Daniel was ideally suited to take care of the day to day operation of the business.
"We chose Point Nepean as the location because it is absolutely stunning. Having been to a few music festivals there, we always thought it would be a great spot for the event, but were completely blown away when we were first taken to the Commanding Officer's House, which is where the event is going to take place. The venue almost looks as though it was specifically designed for Barefoot
Cinema, given the natural amphitheatre, the charming historic building and the incredible views across Port Phillip Bay," said Julian, who grew up in Sorrento with his brother, both attending peninsula schools. "The idea behind Barefoot Cinema is that it represents the laid back and friendly atmosphere that beach towns are famous for. That's the vibe that we're aiming for because we want to make sure that everybody feels relaxed and comfortable and ready to have great time. Fun times, beaches, sunsets, music, good food, cold drinks, great movies and friends and family – that's what we're all about."
The Barefoot Cinema events will have a VIP area with super comfortable reclining chairs, general admission area with some seating, and a great area for those bringing their own gear like picnic rugs, low back chairs and bean bags.
The cinema will run for 12 nights starting December 27-30, Jan 2-6, and Jan 26-28, at Point Nepean National Park, Point Nepean Road, Portsea. www.barefootcinema.com.au
As published in Peninsula Essence – December 2016