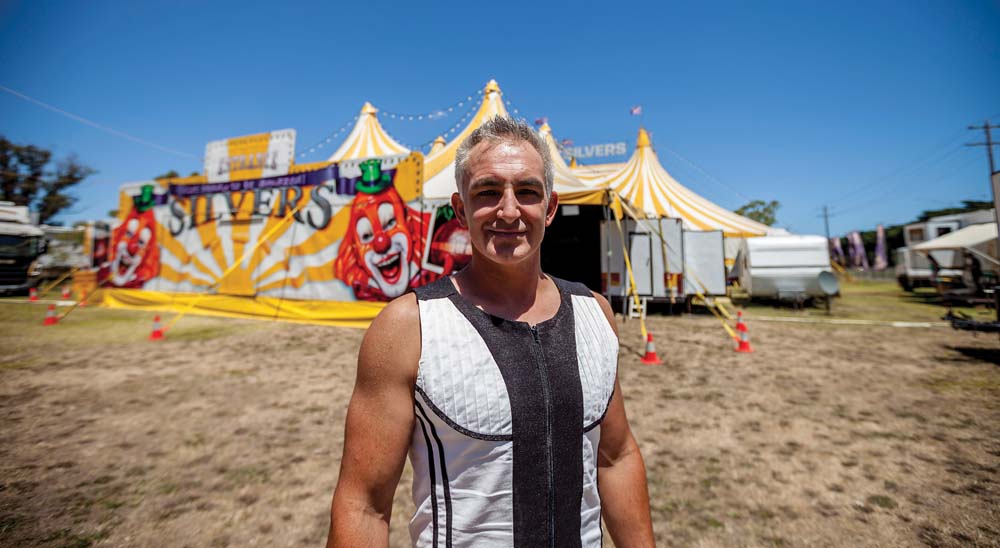 By Melissa Walsh   Photos Yanni
Dominik Gasser and Merwyn Garcia seem like regular guys when we meet them down at Silvers Circus in Mornington. Their lives, however, are far from average. These two men with nerves of steel perform in the Wheel of Steel, running, jumping, skipping and flipping through a routine of sheer physical audacity. The apparatus they challenge defies description; it's wheels oscillate and revolve from group level to dizzying heights in a display that leaves the audience chewing their nails and holding their breath. Peninsula Essence talks to Dominik about the highs and lows of life in the circus.
Dominik is in fact a sixth-generation circus family member. His mother and father came over from Switzerland in 1970 and fell in love with Australia, setting up Silvers Circus in 1976. "My older brother Tony was performing in acts like the flying trapeze. When I was a little kid I watched him perform and then I started learning the flying trapeze. Since then I've learned the motorbike, clowning and stuff like that," said 36 year old Dominik. "I work as a motorcyclist, clown, aerialist, and director."
For Dominik and the rest of the circus crew, this is the life they have always known, travelling from town to town for ten months of the year.
The Mornington Peninsula does, however, hold a special place in the family's heart.
"We absolutely love coming to Mornington. It is not just because the people are so lovely, it is one of the few places we actually call home as we have a family home we bought on the Esplanade years ago and often come down here. I love the restaurants and the atmosphere in the town and the relaxed lifestyle," said Dominik.
When they are on the road, Dominik and his family have custom-built American fifth wheelers that provide comfortable living.
"It is great for me, with a wife and family, to have somewhere we are comfortable in. Our vans are like 48 foot semi-trailers."
With the Wheel of Steel having no safety harness, Dominik says it is definitely the most dangerous act in the show.
"We don't like to use safety harnesses if we don't have to, but it definitely makes it a dangerous act. But it makes it more exciting for the audience that way and we know that the Australian audience likes to see nothing but the best," he said of the show that has become more modern over the years but still retains the nostalgia of the unique circus experience.
Silvers Circus is a household name in Australia and after almost forty years on the road it has evolved into one of the top ten circuses of the world. Silvers maintains all the sparkle, glamour and death defying acts expected of Australia's premier circus, dedicated to constant innovation and modernisation with extraordinary artists continually arriving from all parts of the world. Silvers circus presents a line-up of stunning international artists, Las Vegas style illusions and captivating production techniques.
---
Opening in Mornington at the Bata Shoe Grounds on 3rd January 2018