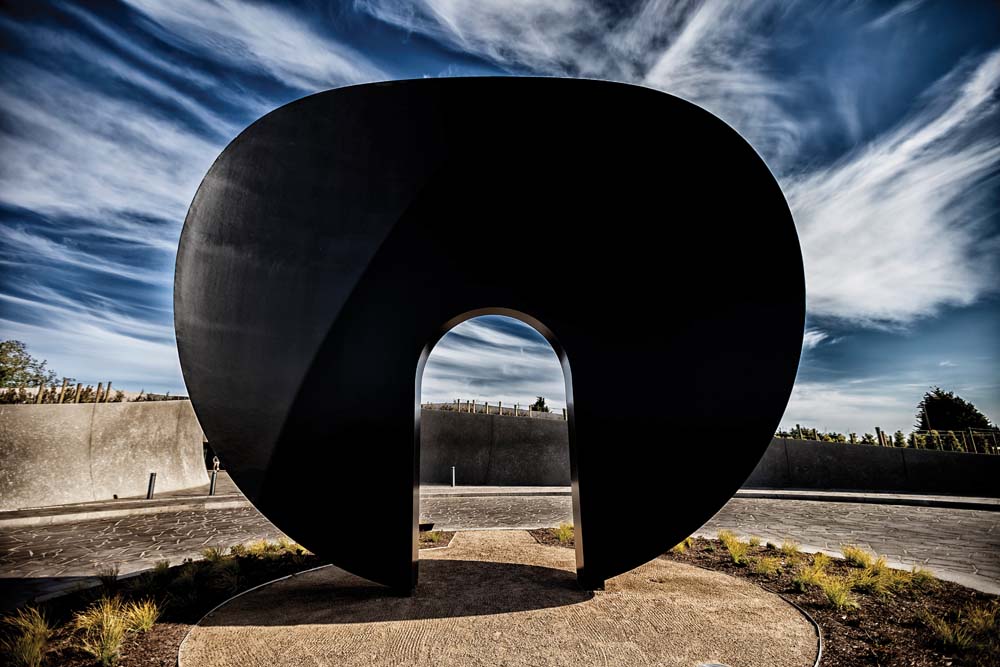 By Cameron McCullough   Photos Yanni
Pt. Leo Estate is a living, breathing exemplar of grandeur. Set on over 330 acres, with sweeping views over Western Port Bay to Phillip Island, its vision embraces the finest combination of art, nature, design, food and wine.
A cultural and culinary haven of many spectacular parts, Pt. Leo Estate features a monumental cellar door, 110-seat restaurant and what arguably became, on its opening day, one of Australia's, and perhaps the world's, foremost sculpture parks.
The building itself is a work of art. It blends into the hill from the entrance, and its grand scale alludes you at first.
The architects, renowned Melbourne-based firm Jolson, describe the building's entry as one of its standout features, its form being an abstract interpretation of wine pouring from a bottle.
Its curved form hides the entry and funnels you though an austere sweeping structure into a building that offers an assault of design and refinement and presents your first glimpse of a beautifully finished, sun-filled building with unrivalled panoramic vistas across the 10-year-old vineyards and sculpture park to Western Port Bay.
Once inside, you are presented with a cellar door and dining with seasonal menus created by celebrated Culinary Director, Phil Wood, and complemented by Pt. Leo Estate wines and a wine list with a focus on local Mornington Peninsula and Victorian producers.
The attention to detail is evident. And there is a fastidious presentation that speaks of the commitment of both the staff and the owners of Pt Leo Estate, and their passion for what they have created.
While billed as a "family-owned business", it is no small detail that Pt. Leo Estate is the long-held vision realised by Melbourne's Gandel family. In their own right, they have a long history of both philanthropy and patronage of the arts.
"The estate is a celebration of life's greatest pleasure – food, wine and art," said John Gandel. "And it has the people of Victoria and Australia at its heart".
It also showcases a passion for sculpture and the park contains Australia's best private collection; over 50 large-scale contemporary local and international works.
Sculpture Park curator Geoffrey Edwards, former director of Geelong Gallery and former senior curator of International and Australian sculpture at the National Gallery of Victoria, said that Pt. Leo Estate aims to have international clout.
"It's been landscaped from scratch as a sculpture park and it's the only one on the coast with a spectacular panorama," said Mr Edwards.
"The notion of established vineyards adding outdoor sculpture has become something of a modern phenomenon."
"But rarely in the world would you find this achieved with the same single-minded vision, grand scale, and on such a glorious site."
"Here we have been able to design and construct the park for the sculptures; not the sculptures for the park. We have been able to use the undulations of the land to enhance the experience and take visitors on a journey through the sculptures."
And while the tone is set as you arrive at the park, where renowned Australian sculptor Inge King's gigantic steel Grand Arch lies in wait, it is on the other side of the building that you find what is described as "an artistic and playful wonderland".
"It has been a great joy to work on this project," said Mr Edwards, whose knowledge of art, and infectious enthusiasm for the project shows though with bounds.
As per the Gandel family's brief, Mr Edwards has stopped at nothing with the meticulous design of the park, and careful placement of the works.
Visitors can opt to take self-guided walking tours or connect with an informative mobile app as they enjoy the park's serpentine layout, perched on a gentle slope covered in vineyards and rolling down to the sea. There are two winding paths that guests can follow on a walking tour of the works – one is about 90 minutes long, the other some 40 minutes.
Major works by prominent international figures including Tony Cragg, George Rickey and Jaume Plensa, and celebrated Australian pioneers of modernism including Inge King, Lenton Parr and Andrew Rogers are thoughtfully placed throughout the park.
Whether set against the panorama of grasslands sloping down to Western Port Bay or nestled in intimate 'outdoor rooms' framed by woodlands, the sculptures are positioned with a sense of theatre to challenge, stimulate and ultimately charm the visitor.
"This is a journey," said Mr Edwards. "Pt Leo Estate will continue to grow and evolve, with plans to acquire more major works over the coming years."
Indeed, recently arrived from Spain is internationally regarded Jaume Plensa's "Laura".
"It will be an exciting addition to the Pt. Leo Estate sculpture park that will add to its international clout," said Mr Edwards.
Framed by vineyards and hugged by the sea, it's hard not to fall in love with Pt. Leo Estate Sculpture Park. It is grand, wonderful, inviting and engaging. Even better, it is here, and will be a place that will attract visitors from all corners of Australia and the world.
---
Pt. Leo Estate, 3649 Frankston-Flinders Road. Merricks. 03 5989 9011.
The sculpture park is accessible for a small fee of $10 per person; for diners admission is complimentary.
Open seven days a week. Cellar Door & Sculpture Park open 11am – 5pm.
Pt. Leo Estate Restaurant open 12pm – 5pm Sunday to Wednesday, until 9.30pm on Thursday and until 10.30pm on Friday and Saturday evenings