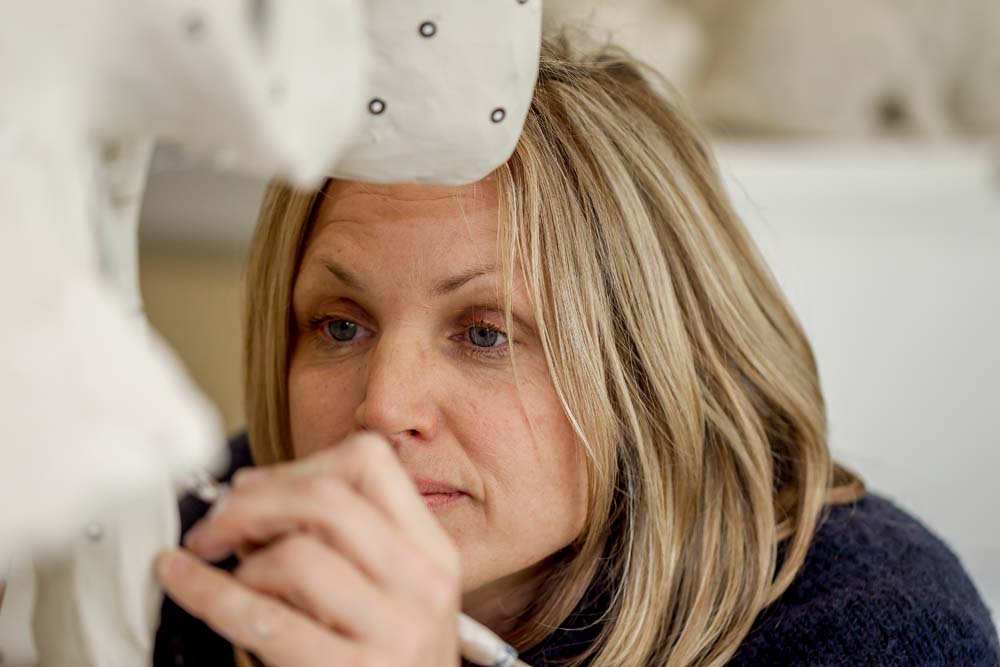 By Andrea Louise Thomas Photos Yanni
Merricks sculptor, Joanna Rhodes was born in Shropshire, England, but grew up on a farm outside of Bath. She's always been surrounded by spectacular scenery. She enjoyed a quiet childhood with her family, dogs and horses amidst lush rolling countryside. Her father worked as a civil engineer, but he also loved to draw and paint in his free time. Her mother worked for a big American firm as a spatial designer. As a child Rhodes was always making things so it's not surprising that she became a sculptor. It was what happened between that quiet childhood in England and her quiet life as a sculptor on the Mornington Peninsula that came as a surprise.
Concerned that her daughter hadn't found what she wanted to do after high school, her mother sent a photo off to a modeling agency. It wasn't long before the shy country girl was thrust into the bright lights of the fashion industry, travelling the world for photo shoots and catwalks. It gave her a chance to live in new and exciting places like New York and Paris. Rhodes became an in-demand model gracing the covers of Vogue, Elle, Glamour and Mademoiselle as well as featuring in international television commercials during the 1980's and 90's. "It was an amazing time in the fashion business because the supermodels were the celebrities of the moment, almost bigger than actresses and pop stars," she says.
After retiring from the fashion industry, Rhodes was travelling in Europe when she met and fell in love with a charming man from Western Australia so she moved to Perth. There she studied furniture design for three years. Once she got to the end of the course she realized it wasn't as exciting as she thought it would be. She hoped it would be more creative, but found it was more about engineering and less about creativity. It was then that she decided upon a career in sculpture instead, making her first sculpture in 2005.
Her previous study proved useful however, because as she explains, "It's all those skills that I learned in furniture design that I use in sculpting." Even her experience in the fashion industry was helpful in the sense that it developed her eye for proportion and shape. Working with her hands has always provided great satisfaction. When she was living in Paris and the stresses of modeling work got overwhelming, she would go down the road to get her hands on some clay making pots with the old Parisian women. Sculpture just comes naturally to her.
Rhodes ended up on the Mornington Peninsula because it reminded her of living in Gloucestershire with the green rolling hills and peaceful bucolic setting. She enjoys the sense of community on the Peninsula, but she can then retreat to the isolation of her acreage in Merricks. Proximity to the city is also a bonus. She feels the Peninsula offers the best of both worlds. She finds inspiration in the bird life, the colours and blissful quiet.
Animals are the focus of her sculptures from monumental kangaroos, bears and bulls shaped from rolls of corten steel to shimmering bronze koalas and large layered plywood rabbits in all manner of poses. Her sculpture of a horse rolling on its back shaped in corten steel band won the People's Choice Award in the 2012 Montalto Sculpture Prize. This sculpture, 'The Roll' was inspired by her own horse as he delights in rolling on the beach after a long ride. Rhodes loves animals for their sweet, funny, quirky individual characteristics. She captures them perfectly.
Many of her sculptures are built on a grand scale, but they all start their lives as a small clay maquette. She feels that scale has a huge impact on a piece, but she is just as happy creating something small. Moving forward, she would like to work in kinetic sculpture. She can imagine her wedge-tailed eagles or owls taking off. If the engineering were right the result could be magic.
Some of her biggest sculptures end up on large properties on the Peninsula. They fit perfectly into the landscape. In fact the only way to get hold of a Joanna Rhodes sculpture is by contacting the artist directly. She works by commission only. Regardless of scale, all her sculptures are made by hand and are one of a kind. Any fan of sculpture could not fail to appreciate the talent of this unique sculptor who, after a decade in the field has found her groove and the artistic love of her life.