By Erica Louise Photos Yanni and supplied
Look closely and you'll spot snippets of Kyle Brightside's distinctive artwork at live events and community spaces across the Mornington Peninsula.
Kyle's art captures the essence of 'old school' surf and skate culture. His work takes inspiration from the bright, bold and fun skate and surf art that is synonymous with the 80s and 90s.
His business BrightSide Art blends a history of creative endeavours. Kyle spent his adolescence finding discarded skateboards and surfboards and decorating them.
"The more I did, the better I became," said Kyle who ,despite failing art in high school, continued dabbling in his craft.
While completing a Business & Marketing degree at university, Kyle supplemented his studies with casual work in the events industry.
"I came to know people so many people that when I finished uni I stepped straight into events management. I worked at private sporting events and moved into the non-profit space, working in fundraising campaign management."
Kyle soon realised that office-based jobs weren't the best fit for him. Seeking alternative ways to make a living, he left the corporate world five years ago to start his creative business BrightSide Art. Kyle brings marketing campaigns to life by combining his professional background with his artistic flair.
"I do a lot of art activations with creative advertising agencies, such as painting live pieces. It's a different way to approach art as a business but I really enjoy it."
His work has been recognised on a national and international level, with invitations to paint murals and collaborate with brands all over the world.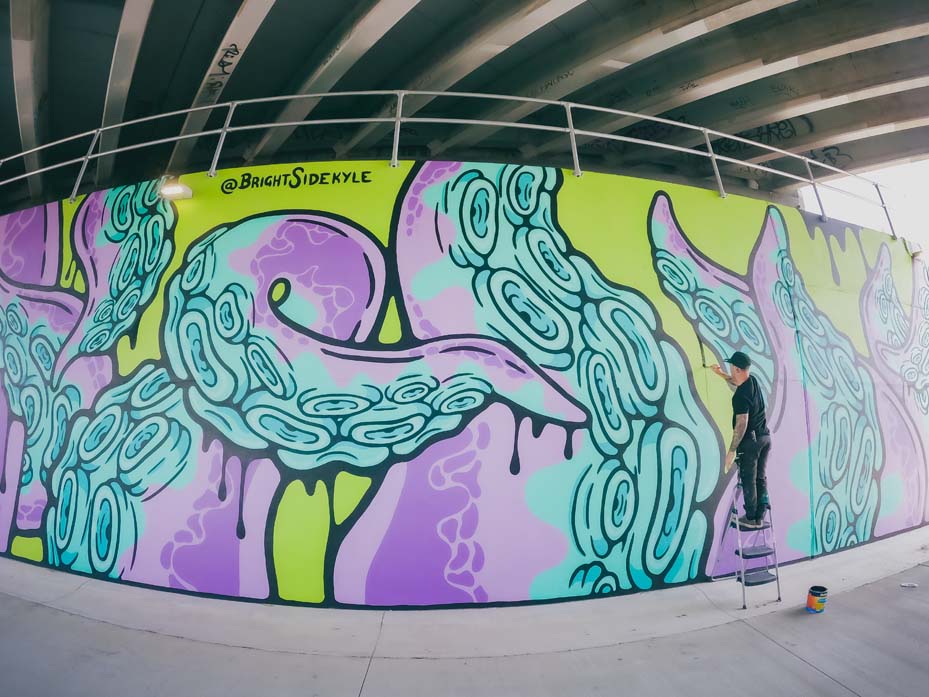 "I've travelled up and down the east coast of Australia from the Northern Beaches of NSW to Queensland, working with brands who've felt drawn to my bright and beachy artwork, perhaps because it suits their weather. I've also spent a fair bit of time working with numerous clients over in Los Angeles."
Kyle's artistic travels drew to a halt in 2020. The pandemic proved a challenge for creatives and BrightSide Art was not left untouched. With his ability to travel taken away, and paid gigs in Melbourne few and far between, Kyle's reliance on painting large scale murals was not sustainable. With time to reflect, he come up with the idea to sell self-paint skateboard art packs and polyester fabric wall decal designs.
"I spent most of 2020 looking for cool stuff, but couldn't find anything that was really cool, so I figured I'd make my own."
Still wanting a presence on the scene, his skateboard art packs allowed him to contribute and inspire the next generation of creatives.
"This has become quite a big motivator for me now; to have more of an impact on different people, particularly teens."
Kyle describes the first two years of his business as "productive, but a little bit all over the place." He experimented with Brightside Art in the beginning and was open to everything and anything.
Now he has established his style and proved his worth in the industry, he has a clear direction of where he wants BrightSide Art to go. He has been collaborating with The Mornington Peninsula Shire's Art & Culture team by working on activations across the region, the latest being a temporary live art piece in Rosebud.
"I have a 4-metre wall that I bring to an activation. I design and paint live in front of people while engaging with the community. This is a way to introduce mural artwork to people who might otherwise classify my work as graffiti. My work shows people that art can be diverse and that wall murals create a bright and happy presence."
Other projects on Brightside's horizon include digital artworks such as a cover for a Sydney-based music and skateboard magazine, and a series of designs for a line of skateboards owned by a Californian brand.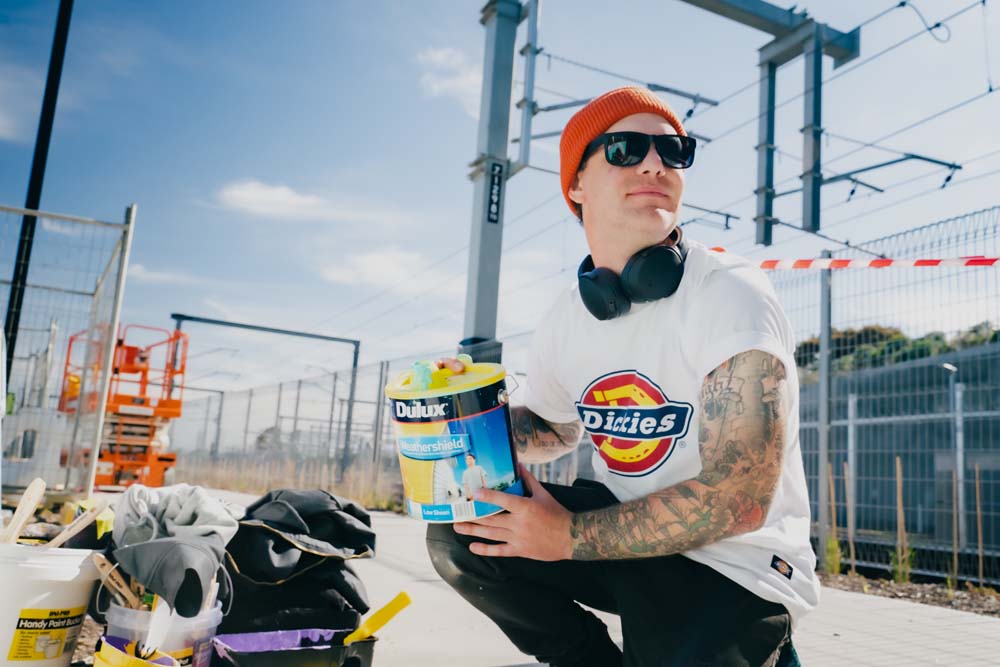 ---
Follow Kyle's artistic endeavours on brightsideart.com.au.
You can also check out BrightSide Art on Instagram @brightsidekyle.