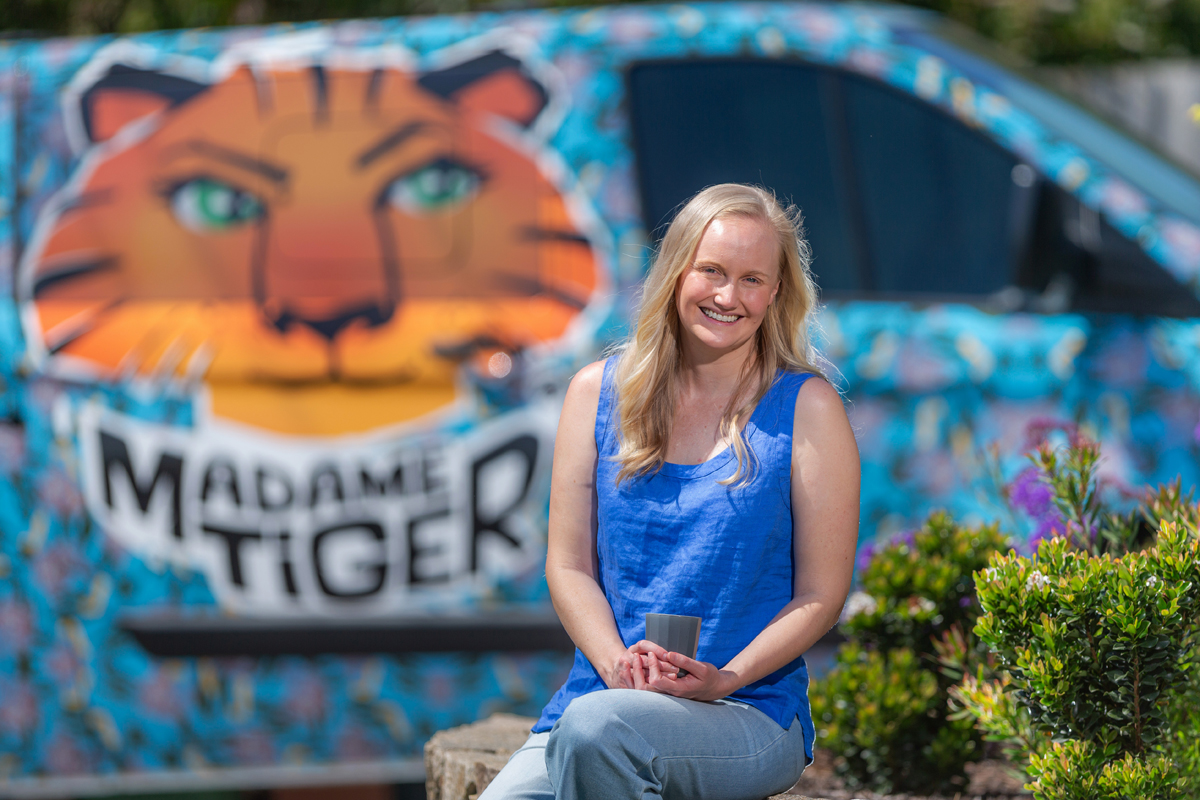 Born from a passion for healthy food and obsessively tinkering around with recipes involving weird and wonderful ingredients, Madame Tiger was founded by Mornington Peninsula mum Laura Hindson. The plant-based milk that is environmentally friendly, allergen-free, has the vitamins and minerals to rival cows' milk and tastes great in coffee.
Laura was first introduced to tiger nuts through her partner Yacouba's Malian-born father, and quickly realised tiger nuts would be the ideal ingredient for a plant-based milk. Madame Tiger Barista Tiger Nut Milk is the perfect low-climate footprint milk to add to a coffee, as tiger nuts only need rainwater to grow. Madame Tiger has measured their climate impact via the global tool, Carbon Cloud, and can confirm that their milk is seriously sustainable.
Sometimes called earth almonds, tiger nuts are not actually nuts; they are nutrient-dense little root vegetables or tubers which are also a safe option for people with allergies to nuts, gluten, dairy, or soy because they are allergen-free. Inheriting their name from the stripes on the tubers' exterior, tiger nuts are the size of a chickpea but wrinkly with a chewy texture and sweet nutty flavour similar to coconut. Madame Tiger's Original Tiger Nut Milk provides the same amount of protein, fat, vitamins, and minerals as full cream cows' milk, making it a suitable dairy substitute for children under the age of two.
Developed in her home kitchen, Laura's approach to the recipe was one of a home cook rather than a technical product developer, avoiding ingredients like gums, industrial seed oils, emulsifiers and e-numbers and opting for high-quality more natural ingredients like Australian extra virgin olive oil and locally grown and sustainably produced faba bean protein. Madame Tiger has set up a local manufacturing facility to produce their tiger nut milk in the South-eastern suburbs of Melbourne, affectionately named by their kids, 'The Tiger Factory'.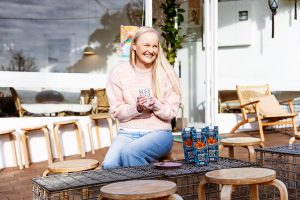 Photos: Gary Sissons
Laura recalls, "Our very first stockist was Tully's and there was something pretty special about stopping in to grab some bits and pieces to cook with on a Saturday afternoon and strolling down the fruit and plant-based milk aisle and seeing Madame Tiger front and centre. We've also had so much support from some fabulous local coffee spots like Corner Counter, Horribly Healthy, Prodigal Coffee Roasters, Mr Jacksons, A Good Little Thing, Laneway Espresso, Flat Blk and so many more."
Laura appreciates the love the brand is getting from the local community. "I love living in an area where businesses are keen to keep it local and support one another. I recently met with Sam Keck from Commonfolk last week and they'll soon be serving tiger lattes; he was super pumped to have a local plant-based milk business with a similar business ethos to theirs." Madame Tiger also makes regular appearances at the markets on the Peninsula, two of their favourites being Emu Plains and Red Hill.
Madame Tiger ethically sources the tiger nuts from a female-led farming collective in Burkina Faso, Mousso Faso. Laura explains: "It started out by us watching a documentary entitled "Tiger Nut, the Homeland of the Wholehearted Women", which was featured at the African Film Festival in Auckland, New Zealand. I got in touch with the filmmaker and started talking about all things tiger nuts and fair trade. It turned out his wife was involved in a charity supporting the female farming collective, Mousso Faso, and together we shared a fierce passion and determination to see these women and their families succeed. Madame Tiger has purchased Mousso Faso's entire harvest from 2020-2023."
The tiger nut milk coffee order, coined 'Tiger Latte' is the new coffee order among the oat latte or almond latte drinkers at cafes around Melbourne, on the Mornington Peninsula, in South Australia, popping up in coffee vans on the Sunshine Coast, and now available at specialist retailers across Australia.