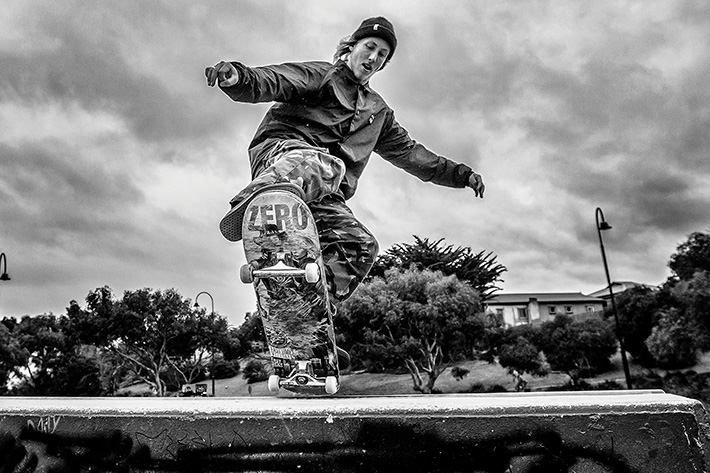 Photos YANNI
When Lenny Richardson was growing up, his mum always encouraged him to go skateboarding, because she could see how happy he was when he was on the board. Now twenty years later, while his mother has passed away, Lenny has handed on the tradition to youth on the peninsula with Janice Earth Skateboards.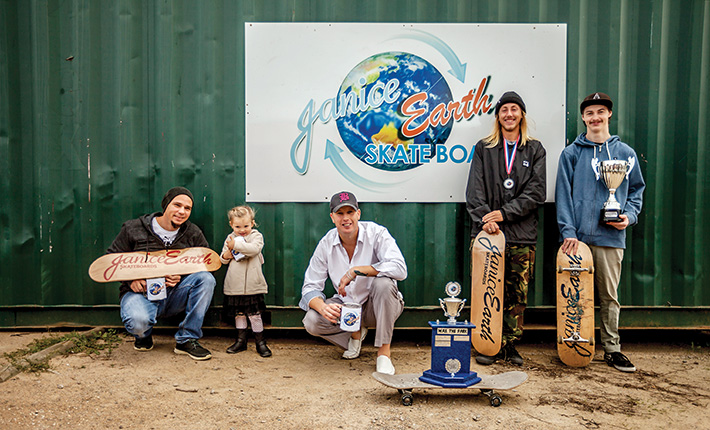 "I was lucky enough to have a wonderful positive role model in life in my mother, Janice Maria Richardson who was a local primary school teacher on the Mornington Peninsula," said Lenny, who named his store after his mum. "She was an extremely positive person and always out to look after the underdog or struggling student. Believing all people no matter where they came from, their education level or status in society, have something positive to offer the world. And will do so given the chance. This is the essence that is Janice Earth."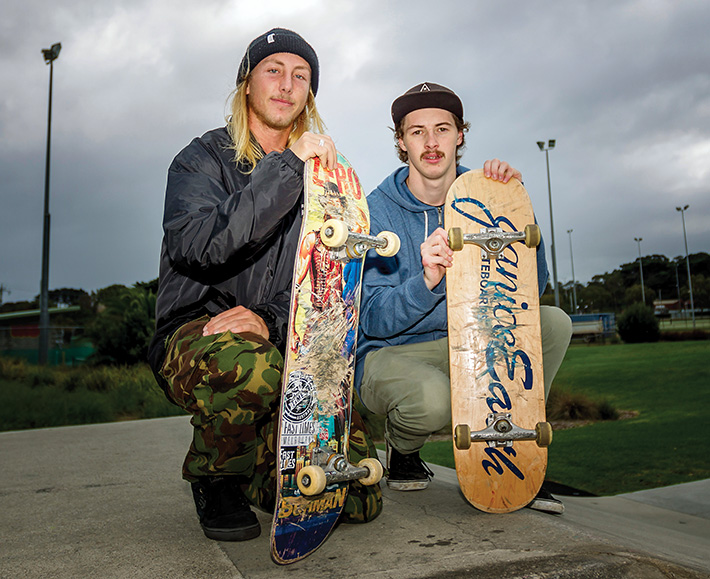 Identifying that skateboarding had  a positive influence on Lenny and his friends, Janice would always say if he was having a bad day 'go see your friends and go skating, you're always happy when you do'.
"Janice Earth Skateboards is more than just a brand and a shop. It is to honour my mother and try and encompass the spirit and essence of her and her kind-hearted work," said Lenny, who came up with the design for the Janice Earth logo with the planet and the
recycling arrows – to represent both skating and giving back to our planet. "I was going to go online with a store, but decided to open a Janice Earth skateboard shop in the old ice cream store across the road from Rosebud Skate Park. I wanted the shop to have an old board shop feel which I think we achieved. Having the Xbox set up for free gaming in the shop as well as a pinball machine and small pool table, meant the shop on wet weather days acted almost like a rec room and safe hang out for all the local skaters, especially the younger crew. It felt like the old pinball arcades I grew up with."
Before long Lenny was finding people coming to him with creative ideas and all age groups contributing to the evolution of Janice Earth. Before long the 'Janice Earth Community' 1st began to form, with people donating their time and skills to the charity.
"We had monthly competitions with free BBQ's, DJs and musicians providing entertainment in the shop. People also started to design stickers, skateboard decks and art pieces.  It was overwhelming and in 2013 alone we were able to assemble and donate just under 50 complete skateboards to charity. They actually went to Geelong and were given out via Judy Moyle a community worker over there to underprivileged youth and some refugees," said Lenny, who soon discovered that Janice Earth was not just a store but a vehicle to bring people together for fun healthy times and good.
Back in the real world rent rates were increasing and after two years the store was to close but, like his determined mum, Lenny was not giving up.
"I was concerned Janice Earth would die. I needed to come up with something to keep the name and movement going. So I came up with an idea to run a large annual skate festival. It would be known as 'Wax the Park'. At this point I met Jeanette Hursley and Nick Hosay from the YMCA and Rye/Peninsula youth, who agreed to co-host Wax the Park with Janice Earth. It is now held annually in January and is entering its 4th year with about 30 contestants and over 300 spectators at ourJanuary festival. Ron Vincent kindly provides live acoustic and singing for entertainment bringing with him a real festival vibe," said Lenny. "These days the Rosebud Salvation Army provides a free BBQ at all our events and we have assembled a project to install a skate rail in Rosebud Skate Park. We also raise funds via our collection tins and donations to design and install a quarter pipe and seating for skaters and parents in Rosebud Skate Park before our next festival in January."
For Lenny, skateboarding is a way kids and adults can express themselves, whether on their own or in the skateboard culture.
"There is also a sense of family in the skating community. It's a worldwide group that accepts everybody – race gender, religion, skill and age. With all the skate parks available to use now, all you need do is visit one to witness and feel the good vibes. It is a load of fun but also just such a positive outlet and lifestyle, it can really help people to deal with hard times in their life."
For Lenny and his skateboarding family, the next exciting adventure is the skate crate which he is setting up at the new headquarters in Sorrento.
""It is a 20 foot steel shipping container from the Docklands which is currently being renovated into our new Janice Earth headquarters, office and shop, set to take off from where our old shop ended. Opening mid-October this year and sitting behind Three Palms overlooking the Sorrento Skate Park, James McPherson and the members of the Janice Earth Community strongly believing it will be a positive place for the community and skateboarding."
---
Janice Earth Skateboards can be found on Facebook, Instagram and donations can be made via charity tins, Rosebud, Dromana and Rye Bendigo bank.
First published in Peninsula Essence – Winter 2016