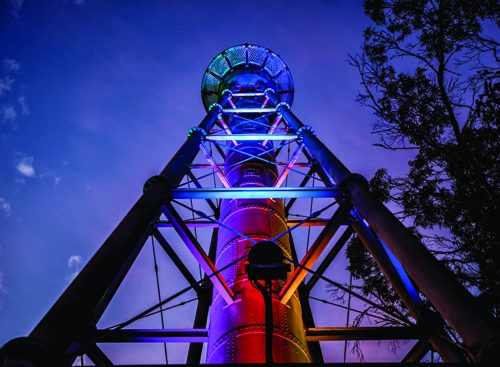 By Melissa Walsh   Photos: Yanni
For many years thousands of people have driven past the McCrae Lighthouse without knowing the marvellous history of this 1854 structure. However, in the last few years, Bru Jones, member of the McCrae District Lions Club, has decided to draw attention to the wonderful monument which is now lit up at night to commemorate special occasions.
"The original lighthouse was built in 1854 and was made out of timber," says Bru. "When it was dismantled it was taken up to the top of Arthurs Seat and used as a lookout. That was around 1882 and the new lighthouse was built in the UK and erected in McCrae in 1883. It is one of only two remaining lighthouses of this sort in Australia, and had a light that shone out to the Heads."
McCrae Lighthouse was used as a navigational tool for ships from the very early days, and has since been replaced by GPS navigation and another light that is in the middle of the channel.
"The new light is out there so the lighthouse was decommissioned in 1994. Our light doesn't go on anymore as it would confuse sailors. However we are still standing here and proud to say it is the tallest lighthouse in Port Phillip Bay at 33.5 metres. It has 120 steps to the top and the whole thing is constructed of riveted steel plates. It is 1.5 metres in diameter and the lantern is 30.8 metres above sea level," says Bru, of the lighthouse that was listed by the Victorian government as a historical building in 1998. "The government did a complete restoration on the building. They  cleaned it, removed any rust and preserved it so it could be here for another 100 years."
These days, this monument to history shines its light in a different way.
"First time we lit it up was Christmas last year. We started it up on the Sunday night and we had about 200 people turn up. We have to make sure the lights point in an upright direction as it is important they do not point out to sea. We actually imported the lights from a specialist lighting company and since then have done light displays for other special occasions and events like Australia Day and New Year's Eve. We also have charities that would like it lit up in their colours including Autism Awareness Day, Red Nose Day and Blue Ribbon Day, and Pink Ribbon Day."
If you would like to be a sponsor or prospective member phone 5982 1364.