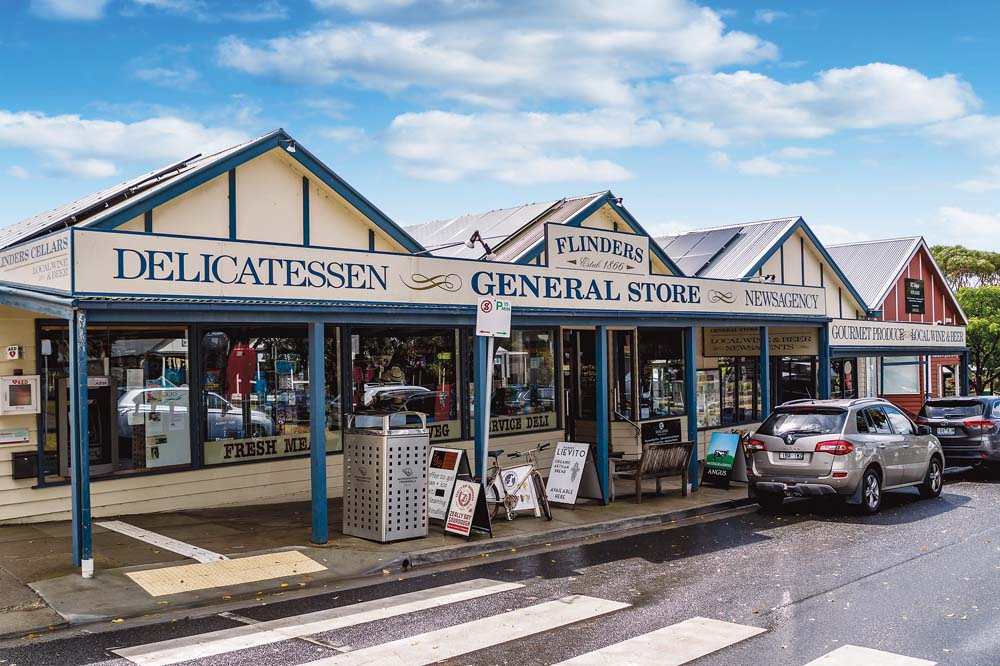 By Melissa Walsh  Photos Yanni
It's a little slice of history right in the main street of Flinders that has withstood the test of time; a monument to its predecessors that date back to 1866. It is the Flinders General Store and it has been providing goods for the people of Flinders and acting as a community hub for nearly 150 years.
Many locals fondly remember the shop as a dark and rambling labyrinth of shelves piled high with everything you could ever imagine. Whilst it is no longer dark and rambling, the store does stock a little bit of everything in true general store fashion.
While many things change, some things don't. Kids still call in on their way home from school every day; the store still has accounts and sells bait to fishermen, and there is even a member of the Commons family working there.
Pam Commons has been working at the store for 30 years and has a significant association from over 60 years ago when Olive Commons, married to Frank Commons, bought a share of the business in 1951. It then became 'Murray and Commons', with Olive working with her uncle while Frank had a job elsewhere.
"Frank and Olive are my husband's parents and they bought Alf Murray out in 1959, and stayed on until 1987," said Pam, who now looks after papers, magazines and alcohol.
"My husband finished working in the store when his parents sold it but I began after working in the education department for many years after my children started school."
For Pam, who has a four generation attachment to the area, she remembers going to the general store as a child. "My mum was born in a shop above Cook and Norman just a few doors down from the general store. I remember going into the store as a little girl and now it is wonderful to have been working here for three decades."
Pam says the manager, Kate Parton, and new owners, have made a huge difference to the store and brought it back to life.
"With the combination of the new owner as well as Kate our manager, the shop has changed dramatically, and been brought back to its previous incarnation as a wonderful general store," said Pam.
For Kate, managing the Flinders General Store is a passion, and she could not be more proud of the changes they have made.
"We have been determined to bring it back to the store it was originally, a one stop shop for everyone in the town and we have achieved that," she said. "Just before Christmas our deli section was renovated and we have a lot more stock in the shop. We have made a lot of improvements based on customer feedback and you can get everything from tap washers to French cheese. We focus on local produce as the peninsula quality is of the highest standard. I am proud to say it is a shop for all the people," said Kate who also has a strong family link to the area, with her first introduction to Flinders in 1964 when the family emigrated from India.
"We are an old fashioned general store with a good touch of the modern, providing everything you could need from toothbrushes and toilet paper, to fruit and vegetables, gourmet produce and yummy treats. We have a great range of local produce, an excellent range of meats including free range and grass fed local and imported cheese, and everything you need to cook dinner. We have fishing licenses, gas bottles and ice, bait and tackle, as well as wood and kindling for those chilly nights, as well as beer, spirits and a wide range of local Mornington Peninsula wines, with tastings held on a regular basis."
---
Flinders General Store is at 48 Cook St, Flinders
www.flindersgeneralstore.com.au